Brazilian GP: Encouraging Qualifying for Williams Martini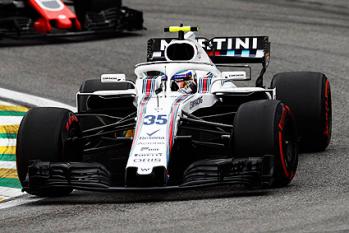 By Andrew Hooper
November 11 2018
Qualifying for the 2018 Brazilian GP would see an encouraging result for the Williams Martini team. Sergey Sirotkin was able to get into the second period of qualifying and would finish the session in 15th. For team-mate Lance Stroll his session was not as productive finishing in 19th. Sergey will start the race in 14th as a result of other drivers grid penalties. Sunday's race is another opportunity for the Williams team to secure further points, in particular with Sergey, but again it will be a up hill task.
Williams Martini Brazilian GP Qualifying
Team Summary:
Qualifying for the 2018 Brazilian GP would see both Ricciardo and Ocon to receive five place grid penalties prior to the session. There would be a rush of drivers coming out for the eighteen minute period as there was a chance of rain. Everyone was on the supersoft tyre. A 1m:08.863 from Bottas only to have Leclerc go quicker with a 1m:08.844. Hamilton would go quickest with a 1m:08.464 but Raikkonen was now quickest with a 1m:08.452. Verstappen would move ahead with a 1m:08.205. The Torro Rosso cars were last to come out. With twelve minutes remaining the top ten was Verstappen, Raikkonen, Hamilton, Vettel, Ricciardo, Leclerc, Bottas, Ericsson, Magnussen, and Hulkenberg tenth.

Leclerc would spin at Turn 10 but was able to recover. The Williams drivers were now 19th and 20th with Sergey leading Lance. Both Williams drivers would pit after three lap runs. With nine minutes remaining both Williams drivers were back out. Magnussen would improve to be fifth and Grosjean now eighth. Five minutes remaining and the Williams drivers were in 13th and 18th. This would become 14th and 19th with both drivers out for a third run. Sergey would remain in 14th but Lance despite setting an improved time would remain in 19th. this would see a Williams make it into the second period of qualifying which is a great result for the Williams team.

With the first times it would be Verstappen who was quickest from Ricciardo but Bottas would go quickest with a 1m:07.727 followed by Hamilton, Verstappen, Ricciardo, Ericsson, Gasly, Leclerc, Perez, Ocon and Magnussen tenth. Raikkonen would go fourth running on the soft tyre while Vettel would go second also on the soft tyre. Both Mercedes had changed to the soft tyre but would fail to improve seeing them having to start the race on the supersoft tyre. With the end of the second period it would be Bottas from Vettel, Hamilton, Verstappen, Raikkonen, Ricciardo, Grosjean, Leclerc, Ericsson and Gasly tenth. For the Williams team qualifying like the final practice was a mixed time with Lance only managing 19th while Sergey was able to get into the second period finishing in 15th.
Lance Stroll:
Lance would be first out in the opening period running on the supersoft tyre. His first timed lap was a 1m:10.477 that would see him 18th behind his team-mate. This would become 20th as he pitted. He would return on a new set of supersoft tyres. Lance would set a 1m:09.566 to be only 18th. He would also pit after a three lap run. Lance had dropped to 10th and with rain falling more it was going to be difficult but he was back out on a new set of supersoft tyres. Lance was on an improved lap but would only finish with a 1m:09.441 to remain 19th. This was the 3end of his Brazilian qualifying.

Sergey Sirotkin:
Sergey was also out running on the supersoft tyre. A 1m:10.252 from Sergey would see him 17th. This would become 19th as he pitted. Sergey would also return running on new supersoft tyres. Sergey was on a good lap setting a time of 1m:09.259 to be 13th. Sergey would pit after a three lap run. Sergey would dropt o 14th with Perez in front and Ocon behind. Sergey would also return on another set of supersoft tyres. He would pit after just one lap returning to his pit. A very good job from Sergey. With the start of the second period Sergey would be the last to leave the pit lane running on used supersoft tyres. Sergey would set a sow 1m:10.381 to be 13th. Sergey would be involved in an incident with Hamilton who was running slowly forcing Sergey to run off the track to avoid him. This would see Sergey pitting dropping 15th as he was in his pit.
View a Printer Friendly version of this Story.
Brazilian GP: Encouraging Qualifying for Williams Martini
Williams F1 (IP Logged)
11/11/2018 06:32
What do you think? You can have your say by posting below.
If you do not already have an account
Click here to Register
.
Sorry, only registered users may post in this forum.