Azerbaijan GP: FP2 Kubica lone runner for ROKiT Williams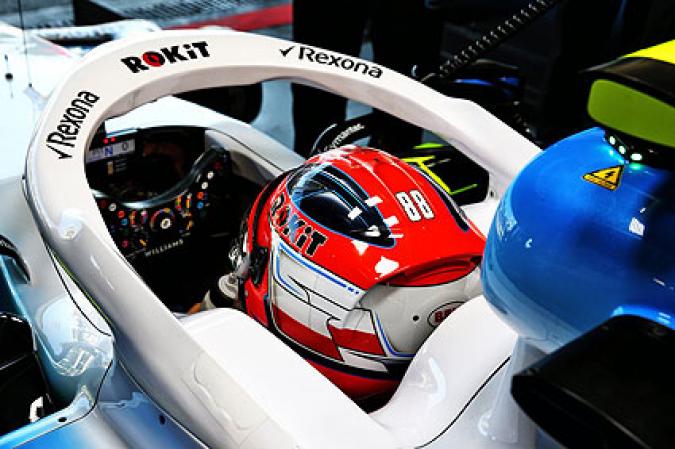 By Andrew Hooper
April 26 2019
The second Friday practice session for the 2019 Azerbaijan GP would see only the single Williams car take part in the session, that of Robert Kubica. Team-mate George Russell would be forced to sit out the session as the team worked through the massive task of repairing his broken FW42. Such was the damage it would require a replacement chassis. For Robert his session would see him finish last in the field having completed 27 laps. There was an element of the team been very careful making sure that Robert did not have any issues that would see the team having to contend with any further damage.
ROKiT Williams Azerbaijan GP Friday 2nd Practice
Team Summary:
After the issues with the drain cover with George Russell it was confirmed by the FIA that all the covers had been checked. The second Friday session would see Just Robert Kubica running for Williams. With the start of the session the track would become very busy as teams aimed to make up for lost time. The quickest time would fluctuate quickly as the track was cleaned. Raikkonen would set a 1m:47.652 only to see Magnussen set a 1m:47.450. But Leclerc was now finding pace setting a 1m:46.144 to go quickest. Hamilton was now fastest with a 1m:46.110 running on the medium tyre.

Quite a few drivers were taking to the run-off areas including at Turn one. Leclerc was second followed by Bottas, Raikkonen, Magnussen, Albon and Vettel eighth. But Leclerc would go quickest with a 1m:44.748. The session would be red flagged as a result of Stroll crashing his car after been too late in backing out of entering the corner seeing his left front wheel make contact with the wall. The session would go green seeing several drivers coming out. It would become very busy with the sole Williams also out on the track. Leclerc was now quickest on the soft tyre with a 1m:43.598 followed by Vettel, Bottas and Hamilton. Vettel would move ahead of Leclerc with a 1m:43.196 but quickly Leclerc would take the top spot with a 1m:42.872.

Hamilton was now third from Bottas, Gasly, Magnussen, Albon, Verstappen, Giovinazzi, and Perez tenth. Lots of drivers were running off the track taking to the run off areas. Verstappen would move up to fourth splitting the Mercedes. But again the session would be red flagged when Kvyat would put his car into the wall after the rear end came around throwing the car into the barrier. The session would restart with Robert returning for Williams with fifteen minutes remaining. The session would end with Leclerc remaining quickest from Vettel, Hamilton, Verstappen, Bottas, Kvyat, Sainz, Albon, Gasly, and Norris in tenth. For Williams the lack of pace from the FW42 was even more noticeable at this track with Robert finishing last with a time considerably off the pace.
Robert Kubica:
Robert would come out for his first laps running on the medium tyre. Robert's frist time was a 2m:01.397 on a slow lap. Robert would improve with a 1m:54.855 as he continued to lap the circuit. A 1m:52.041 from Robert but he was currently slowest. His next lap would again see improvement with a 1m:51.031. After a six lap run Robert would pit. As the session went green it would be Robert out first running on the soft tyre. Robert would set a 1m:48.856 to be 18th. He would continue to lap the circuit and would pit after an eight lpa run. With thirty five minutes remaining Robert would return again on the soft tyre. He would set a 1m:48.111 but remained slowest by a considerable margin. After a four lap run Robert would pit. After a red flag period Robert would return on a new set of soft tyres but after a lap would switch to the medium tyre. Robert was on a longer run as the session drew to a close. With the end of the session he would complete a eight lap run.
George Russell:
George would not be running in the second Friday session as the Williams team worked on getting his car repaired for the Saturday practice.
| Pos | Driver | Car | Time | Gap | Laps |
| --- | --- | --- | --- | --- | --- |
| 1 | Charles Leclerc | Ferrari | 1m42.872s | - | 28 |
| 2 | Sebastian Vettel | Ferrari | 1m43.196s | 0.324s | 28 |
| 3 | Lewis Hamilton | Mercedes | 1m43.541s | 0.669s | 31 |
| 4 | Max Verstappen | Red Bull-Honda | 1m43.793s | 0.921s | 24 |
| 5 | Valtteri Bottas | Mercedes | 1m44.003s | 1.131s | 31 |
| 6 | Daniil Kvyat | Toro Rosso-Honda | 1m44.177s | 1.305s | 9 |
| 7 | Carlos Sainz Jr. | McLaren-Renault | 1m44.183s | 1.311s | 27 |
| 8 | Alexander Albon | Toro Rosso-Honda | 1m44.216s | 1.344s | 33 |
| 9 | Pierre Gasly | Red Bull-Honda | 1m44.240s | 1.368s | 24 |
| 10 | Lando Norris | McLaren-Renault | 1m44.295s | 1.423s | 32 |
| 11 | Kevin Magnussen | Haas-Ferrari | 1m44.901s | 2.029s | 25 |
| 12 | Antonio Giovinazzi | Alfa Romeo-Ferrari | 1m45.366s | 2.494s | 31 |
| 13 | Sergio Perez | Racing Point-Mercedes | 1m45.436s | 2.564s | 28 |
| 14 | Kimi Raikkonen | Alfa Romeo-Ferrari | 1m45.482s | 2.610s | 30 |
| 15 | Daniel Ricciardo | Renault | 1m45.483s | 2.611s | 15 |
| 16 | Romain Grosjean | Haas-Ferrari | 1m45.618s | 2.746s | 31 |
| 17 | Nico Hulkenberg | Renault | 1m46.717s | 3.845s | 24 |
| 18 | Lance Stroll | Racing Point-Mercedes | 1m47.875s | 5.003s | 8 |
| 19 | Robert Kubica | Williams-Mercedes | 1m48.111s | 5.239s | 27 |
View a Printer Friendly version of this Story.
Azerbaijan GP: FP2 Kubica lone runner for ROKiT Williams
Discussion started by Williams F1 , 26/04/2019 16:05
Williams F1
26/04/2019 16:05
What do you think? You can have your say by posting below.
If you do not already have an account
Click here to Register
.
Sorry, only registered users may post in this forum.