I was actually working on the Williams FW10 while i took a break out to make the two Lotus figures. Below are WIP photos of the FW10.
Drilled holes and test fit all the suspension arms before putting on the primer.
i've applied about 3 coats of grey and another 3 coat of white primer to the body. Now i'm working on painting the uner-body black. I wanted to paint this area first as it's easy to mess up the exterior body if i'm not careful. So i wanted to get this out of the way before any colour paint or decal is applied.
the underneath black is done and i've now sprayed about 3 coat of white paint to the body.
now is onto the difficult but interesting bits. i've previously photocopied the decal sheet and i'm using this as a template to cut out the masking area for my masking tape.
this is the masking tape
applied onto the body to cover up area that i don't want to get the yellow colour.
here is the result
Next up is the blue area.
alot of working was going into the masking to ensure there's no bleeding through to the yellow and white area - this is critical. if not done properly, would require a un-do and re-do of the whole process.
here is the result - i'm mldly satisfied with it, with someo the blue paint was not straight due to the very tight area around the cockpit sides, luckily, there's the red thin line to cover up the imperfections.
After applying a couple coats clear coat (to seal the paint), now i can apply some decals onto the body. Note that i've also brush painted the interior cockpit black, this is a very difficult task (for me) as it's easy to mess up the exterior color if not careful, very very worrying when i was working on it and it took a lot of revisions / touch up to achieve a reasonabe result.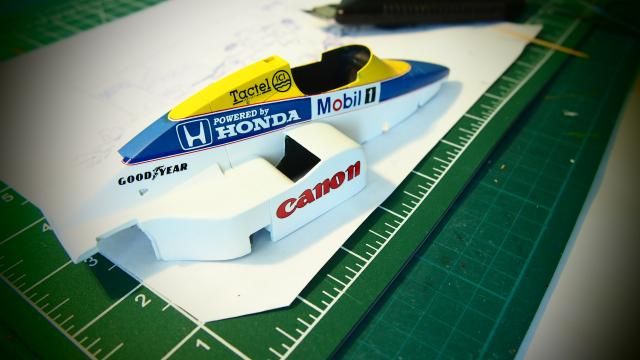 Keke is eagar to get into the car, but there's still a long way to go.
You may optionally give an explanation for why this post was reported, which will be sent to the moderators along with the report. This can help the moderator to understand why you reported the post.