Jonathan Rea's first SBK win at Mondello Park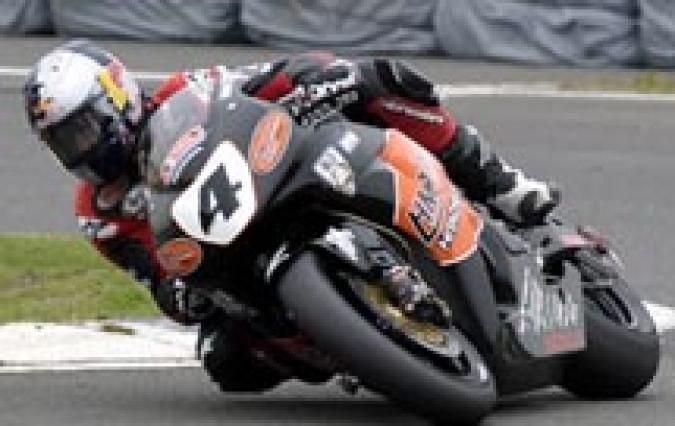 Raceline Photography
By Dan Moakes
June 17 2007
British Superbike competition resumed four weeks after the Snetterton round, where HM Plant Honda's riders had been in control. Round six was held at Mondello Park, with the fifth visit to the Irish circuit, but of course all racing there had been cancelled in 2006 due to bad weather. This year the Airwaves Ducati riders would be looking to hit back at their main title rivals.
The track is one of twists and turns, with straights that are relatively short. Any power advantage would likely be negated in favour of bike manoeuvrability, although overtaking spots would seem relatively few. But the rain was an added factor, as once again wet conditions intervened throughout Friday and Saturday. Ryuichi Kiyonari was quickest in practice with the HM Plant Honda on Michelin's wet tyres, but his team-mate Jonathan Rea found enough of a 'home' advantage in qualifying, with the Ulster rider securing another pole position.
Rea and 'Kiyo' had been busy in the BSB schedule break, winning the Suzuka 300km race together, over in Japan. Meanwhile, Steve Plater and Michael Rutter had been among those contesting the centenary Isle of Man TT races; but Rutter was missing from Mondello with injuries, and his MSS Kawasaki was ridden by Stuart Easton, with BSB experience in 2004 - and a Mondello Supersport win the year before. Easton would be the only Scot in the field, in contrast to a few years back. Meanwhile, Hudson Kennaugh had become a more permanent replacement for Virgin Yamaha's James Haydon.
The grid saw Rea and Kiyonari at the front, joined by another Honda and the leading Ducati. The Italian bike was that of Leon Haslam, third in his Airwaves colours; and the wet allowed Karl Harris to take fourth for his first front row start with the Hydrex team. Three more Honda riders appeared on the second row, but led by the Rizla Suzuki of Cal Crutchlow. Then came Shane Byrne (Stobart), Leon Camier (Bike Animal) and Tom Sykes (Stobart). Sykes was another former 600cc winner at the circuit, in 2005.
Chris Walker had been in World Superbikes from 2003 to 2006, and therefore was making his Mondello début. He took P9 for Rizla, from Tommy Hill (Virgin Yamaha) and Ollie Bridewell (NB Suzuki) in a good eleventh. Title challenger Gregorio Lavilla was a lowly twelfth for Airwaves, and had crashed on Friday; but he had also won from that kind of position during 2005. Then came Plater (AIM Yamaha), Easton, Scott Smart (Hawk Kawasaki) and Dean Thomas (Samsung Suzuki). Like Kiyo and Lavilla, Smart is another former Mondello race winner.
Prior to the first race, the only dry weather running had been during the Sunday warm up session. This meant tyre choice for race distance would have to be somewhat of a gamble. In contrast to the 2005 races here, when Rea had won his first pole, the Ulsterman made a good start and led away. Kiyonari was second as far as the first right-hand hairpin Honda corner, where Haslam overtook. Byrne, Walker and Harris followed.
Rea's lead lasted only as far as Turn 7A, part of a double right-hander where they brake after a fast left kink through Daly's Drift. Haslam took his position on the inside for the corner. Meanwhile, team-mate Lavilla was also starting to make progress, moving past Camier for eighth. The early stages saw Rea making some quick times, although he was challenged by Kiyo when running wide at the long looping left Holiday In Ireland bend, the fifth turn on the course.
Haslam started to move into a clear lead with the Ducati 999, leaving a group of Hondas to race for second. Byrne split the HM pair by passing Kiyo at 7A, but at around this time his Stobart team-mate Sykes was retiring to the pits with technical problems. Lavilla had moved through to join in behind Rea, Byrne and Kiyo, leaving Walker to head the next group, from Harris, Crutchlow, Camier, Hill, Ollie Bridewell, Guy Martin, Kennaugh, Tommy Bridewell and Thomas.
Haslam continued to lead, with team-mate Lavilla looking to try and improve his own situation. The Spaniard took a tight line on the inside for the right-handed Birrane's Bend, which follows the short straight after Turn 7B and becomes an immediate left-hander. This allowed him to squeeze past Kiyonari for fourth; and meanwhile Byrne took second from Rea at a left-hander. Tommy Bridewell, winner of the Mondello 125 race in 2003, had just come to grief in a notable highside crash.
Small gaps separated the leading five, with Haslam from Byrne, Rea, Lavilla and Kiyonari. Shane set a new lap record as he closed in on Leon, and Gregorio was soon attacking Jonathan. He passed on the inside for 7A, going on to move clear of the HM Plant Honda duo. Haslam and Byrne were on their own in the victory battle by the last lap, with the Honda man on the attack. Leon was working hard enough to run wide out of Turn 7A, but held off Shane by fractions to the flag.
Lavilla was in a clear third by the end, as Dunlop-shod machines filled the rostrum positions. Rea and then Kiyo followed, on the wrong Michelins for track conditions, as it turned out. Harris just got sixth in front of Camier, who had already dealt with Walker (ninth) and Crutchlow (eighth). Harris therefore equalled his best finish of the season. Hill was tenth.
The second race gave Rea and Kiyo the opportunity to change their tyre choice, and in the Japanese rider's case he also went to the grid on his second Honda. Rea led again, with Haslam trying on the outside at Honda corner. He settled into second, from Byrne, Crutchlow, Kiyonari, Harris, Walker, Hill, Lavilla, Sykes, Camier and Ollie Bridewell. Rea started to open a small advantage over Haslam and Byrne, and Kiyo passed Crutchlow at Honda, leaving the Suzuki in fifth and falling away from the first four. Lavilla quickly dealt with Hill.
Kiyo set the fastest lap as the first four motored on, but Emco-NSF rider Neil Faulkner crashed out at this stage. A more serious incident soon occurred when part of the Yamaha fairing of Aaron Zanotti clipped the kerb as he leant in when cornering at a right-hander. He went down, and the following Kennaugh could not avoid being caught up in the accident. The safety car was brought out while the scene was cleared, and this gave rise to a very close restart with everyone on top of one another again.
Rea led Haslam, Byrne, Kiyonari, Crutchlow, Lavilla, Harris, Walker, Hill, Sykes, Camier, Ollie Bridewell and Martin, but the close shuffle saw Sykes now emerge eighth, from Hill and Walker. Haslam passed Rea on the inside for 7A, but the Honda rider went back inside for 7B. In fact, this was enough delay to let Byrne go past them both at Birrane's; and there soon followed at clash between Crutchlow and Harris at Dunlop corner, the tight right that ends the lap.
Leader Byrne posted a new lap record again, as the first quartet once more started to pull clear of Crutchlow and the rest. Lavilla went by the Suzuki, and he took the record as he closed on Kiyo. Byrne and Rea each developed a gap to the next man, setting new lap records in turn, with the race now on between Haslam, Kiyo and Lavilla for third. Ryuichi attacked at Dunlop, but fell victim to a familiar move from Gregorio at 7A. He then tried to get by his team-mate, this time at 7B, but Leon managed a robust defence.
There was more action between the 2006 title challengers when Haslam took a wider line at Dunlop corner. Lavilla tried to get into the gap for the run onto the start-finish Marlboro Straight, but clipped the rear of the other Ducati with his own - and therefore lost a place to Kiyonari. He regained this at Turn 7A, and the Airwaves pair now began to drop Ryuichi behind them, but the race was also on ahead of them.
Byrne still led from Rea, with 'Shakey' hoping to secure a first win for the Stobart (ex-MonsterMob) team since their switch from Ducati to Honda. He went wide at Honda corner, but still stayed ahead of his young rival. Blasting out of Daly's Drift, Rea went to the outside of Byrne, and this gave him the inside to pass into 7A. Shane repaid the favour on the inside at 7B, but Jonathan got his move on the inside at Dunlop.
20-year-old Rea, with four laps remaining, now set a new fastest lap or two as he started to build a handy lead over Byrne. The Stobart rider began to feel pressure from the advancing Haslam, but soon this was replaced by pressure from Lavilla, after the Spaniard took third at 7A. Rea duly secured his first victory in Superbikes, whilst Byrne defended from Lavilla at 7A on the last lap and was just second, with Haslam close by in fourth.
Kiyonari ended up with another lacklustre fifth, but was well clear of the next man. Sixth went to Camier, who had passed Harris and Hill. Leon took Crutchlow's place in the late stages, on the inside at Dunlop, then Cal crashed out on the final lap. Walker had already done the same on the other Rizla GSX-R machine. Sykes was close to Camier at the flag, then came Harris, Hill and Smart at short intervals.
Jonathan Rea, in his 58th British Superbike race, had secured his first victory from his fifth pole position. The tyre dilemma for race one had done for his chances earlier on, but at least he had been in front of his team-mate Ryuichi Kiyonari in that outing. His race two success had looked to be on the way for a while, and made him the first new winner in two years. It also marked Northern Ireland's first race win in the series since Mark Farmer early in 1994. Rea's performance was the perfect way to sign off temporarily before his imminent wildcard entry for Team Roberts in the British Grand Prix at Donington Park.
Kiyo's pair of fifths were in contrast to a three-three for series rival Gregorio Lavilla, and reduced his lead to just a single point. Like Rea, Leon Haslam had recorded a win and a fourth, so that these two also closed the margin to leader Kiyonari. With all 2007 wins having previously gone to Kiyo and Lavilla, the Irish races offered the first British winners of the season. Shane Byrne actually had the best scoring result of the weekend, with his second and second, albeit he must have felt that at least one win was possible, but it seemed to be mixed fortunes for the remaining top ten men. Who will do the job next time?
Standings after twelve races: Kiyonari 212; Lavilla 211; Rea 187; Haslam 169; Camier 136; Byrne 127; Sykes 115; Walker and Hill 83.