Styrian GP: Tough race for Williams Racing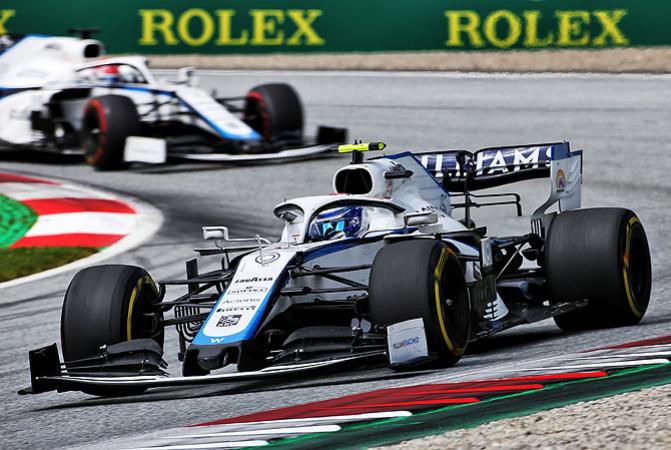 By Andrew Hooper
July 13 2020
The 2020 Styrian GP would turn out to be a tough race for the Williams Racing Team. After coming off the positive results from qualifying which would see George Russell start from 11th, the race itself would be a challenge for both Williams drivers. For George his race would see him very early on make a mistake while fighting with Magnussen seeing him take to the gravel dropping down the order. For team-mate Nicholas Latifi his race would see him run at the back of the field along with George. For the team the pace that was believed to be possible did not show itself in the race. George would aploogise to teh etam for his mistake while Nicholas felt there was a lot to learn.
Williams Racing Styrian Grand Prix Race Review
The grid for the 2020 Styrian Grand Prix would see the Williams Racings start from 11th with George Russell and 18th for Nicholas Latifi. For the team the prospects for a good result were present but with the race been run in dry conditions it would would depend on a variety of factors. On pole would be Hamilton on pole from Verstappen, Sainz, Bottas, Ocon, Albon, Gasly, Ricciardo, Norris and Vettel in tenth. Giovinazzi would start from the rear after a gearbox change. Behind George would be Stroll, Kvyat, Leclerc, Magnussen, Raikkonen, Perez, Nicholas, Giovinazzi and Grosjean starting from the pit lane after a parc ferme breach.

The drivers would have a free choice on what tyres to start on. Of the top ten the only one to not start on the soft tyre would be Ricciardo and Vettel For Williams George on the soft and Nicholas the medium. The only other drivers on the medium tyre would be Kvyat, Raikkonen, and Giovinazzi. The grid would move away and would complete their parade lap. With the start it would be Hamilton leading while for Williams George would get to tenth but dropped to 11th. For Ferrari their race would be ruined as they would make contact with Vettel ending up with a broken rear wing in a messy Turn two moment with his team-mate Leclerc. Both Ferrari's would pit with Leclerc returning and Vettel retiring. With the debris the Safety Car would come out. Leclerc had a new front wing and changed to the hard tyres.
Nicholas was now 16th behind Perez and George 11th behind Stroll. At the front Hamilton was leading from Verstappen, Sainz, Bottas, Albon, Ocon, Ricciardo, Gasly, Norris and Stroll. Stroll was able to pass Norris for ninth. But it would all go wrong as George would go wide at Turn six taking to the gravel in a fight with Magnussen seeing him drop to 18th. Leclerc would retire with damage to his car as Nicholas was now 15th. Bottas would move into third seeing Sainz fourth. Nicholas would drop to 16th behind Grosjean. The Williams drivers were now running 17th and 18th with Nicholas ahead of George. Reports had George losing the car rather than making any contact.

Lap twenty six and pit stops would start to be made. Verstappen would stop changing to mediums returning in third. Bottas was now second Gasly had pitted taking on hard tyres dropping to 17th. Ocon would retire in the pits on lap twenty eight. Hamilton would pit on lap twenty nine taking on the medium tyre returning in second behind Bottas. Nicholas and George were now in 15th and 16th. Lap thirty two and Bottas was still leading from Hamilton, Verstappen, Albion, Sainz, Ricciardo, Stroll, Perez, Norris, and Kvyat tenth. Nicholas had pitted taking on the soft tyre now in 17th. Bottas had also come in taking on the medium tyre and dropping to third.
Lap thirty seven and George would pit taking on the medium tyre and dropping to 17th. Nicholas was now 16th. With the majority of pitstops completed the order was Hamilton, Verstappen, Bottas, Albon, Ricciardo, Stroll, Perez, Sainz, Raikkonen, and Norris tenth. Lap fifty three and the Williams drivers were now in 15th and 16th with George leading Nicholas. They would drop to 16th and 17th with twelve laps remaining. At the front of the field it was still Hamilton from Verstappen, Bottas, Albon, Perez, Ricciardo, Stroll, Sainz, Norris and Kvyat in tenth. Norris and Sainz would swap positions with Norris now ninth.
Bottas would get past Verstappen using his DRS but Verstappen would fight back remaining in second and Bottas third. But eventually Bottas would get past Verstappen making tit a Mercedes 1-2. The race would be completed with Hamilton taking an easy win from Bottas, Verstappen, Albon, Norris, Perez, Stroll, Ricciardo, Sainz and Kvyat tenth. the last lap had seen Norris been able to join in to the fight with Perez, Stroll and Ricciardo and the McLaren driver would be able to get past them and move into fifth at the finish. For Williams the promise from qualifying quickly evaporated when George would run off the track and into the gravel. they would finish in 16th and 17th. It was very much a tough race for the Williams team with both cars been lapped at the finish. It was very much a case of the pace that the team seemed to have on Saturday simply did not translate in a race that was run in dry conditions. George would later on apologise to the team for his mistake but made it clear that it came from his desire to move forward.
View a Printer Friendly version of this Story.
Styrian GP: Tough race for Williams Racing
Discussion started by Williams F1 , 13/07/2020 08:10
Williams F1
13/07/2020 08:10
What do you think? You can have your say by posting below.
If you do not already have an account
Click here to Register
.
Sorry, only registered users may post in this forum.