70th Anniversary GP: Expected Qualifying for Williams Racing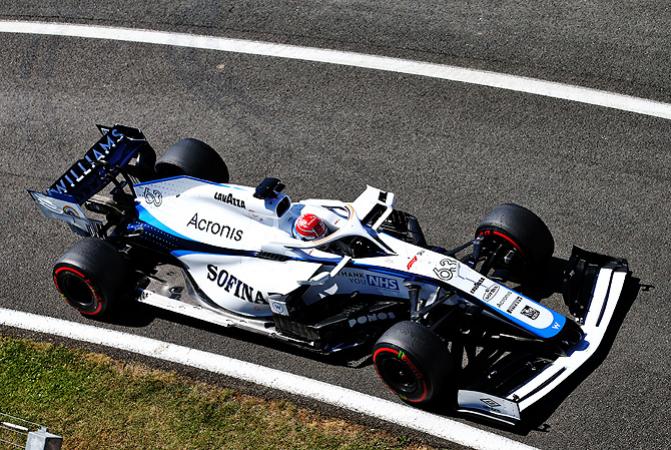 By Andrew Hooper
August 8 2020
The results of qualifying for the 70th Anniversary GP would see the Williams Racing Team produce what one could say was what was expected given their current level of performance. Again George Russell would make it into the second period but despite been as high as 12th he would drop to 15th. Team-mate Nicholas Latifi would finish down in 18th. Both drivers would set their quickest times on the soft tyre even though George would use the medium briefly in the opening period. Overall the team will start Sunday's race from positions where they will have free choice of tyres but unfortunately the top ten had also set their times on either the medium or hard tyre so strategy is going to be difficult.
Williams Racing 70th Anniversary GP Qualifying
Team Summary:
Qualifying for the 2020 70th Anniversary Grand Prix would be a question over tyres as the soft tyre was struggling in the conditions. The first eighteen minute period would most likely see the soft tyre been used but beyond that there are questions. With the start of the period we would have both Haas cars out on the medium tyre and Hulkenberg the soft. The first time was a 1m:28.798 from Magnussen but Grosjean was quicker with a1m:28.456. Hulkenberg was now fastest with a 1m:27.729. More drivers were coming out all on the soft tyre. Both Alfa Romero's were slowest of the times set. Leclerc was now second followed by Norris, Vettel with George now sixth as Hamilton went quickest with am1:27.231. But Bottas was now quickest with am1:27.175. Verstappen was now fastest with a 1m:27.154 followed by Bottas and Hamilton. But the order would change as Hamilton improved to be fastest with a 1m:26.818 followed by Bottas.

Third was now Verstappen followed by Hulkenberg, Leclerc, Ricciardo, Gasly, Kvyat, Ocon and Norris tenth. The tarck was now empty as the first cars returned. On the soft tyre drivers were doing very slow preparation laps. Bottas was able to move to the top of the times with a 1m:26.738 followed by Hamilton, Albon, Verstappen, Gasly, Stroll, Norris, Ocon, Hulkenberg, and Leclerc tenth. Now the big question would be on what time to use in the second period.
With the start of Q2 both Mercedes were out early running on the medium tyre. They were joined by the rest of the field except for Verstappen who was on the hard. Ocon would set a 1m:27.292 followed by Grosjean. But Hamilton and Bottas would set times with Bottas quickest with a 1m:25.785. Ricciardo now third followed by Verstappen fourth. Stroll was fifth followed by Albon, Norris, and Ocon eighth.

The remaining Williams would now be 12th after his first timed lap but this would become 15th as other drivers went quicker. The top ten would be Bottas, Hulkenberg, Hamilton, Gasly, Ricciardo, Albon, Stroll, Leclerc, Verstappen, and Norris. Of the top ten all had set their times on the medium tyre except for Verstappen who was able to make it onto the top ten using the hard tyre. The final period of qualifying would see Bottas take pole from Hamilton, Hulkenberg, Verstappen, Ricciardo, Stroll, Gasly, Leclerc, Albon, and Norris tenth. For Williams racing their qualifying would see them finish in 15th and 18th. The result is very much in line with the FW43's current performance. George would again be able to get more from the car which is the expected result from the British driver.
George Russell:
George would also be suing the medium tyre expecting a better lap time than on the soft. He would set a 1m:28.442 to be second but 1.1 off the quickest time. George would pit after a five lap run but would not improve his time and would pit currently 15th. George would be the subject of an investigation as he was hampered by Ocon. George would return but this time on the soft tyre. he would complete his preparation lap and would start his flying lap. George would jump up to eighth with am 1m:27.757. But he would quickly drop to 14th. This would become 15th as he pitted. he would make it into the second period. With the start of Q2 it would be well into the period before George would come out running on the soft tyre. George would be the only car running. He would finish with a with a 1m:27.455 to be 12th. George would pit after a three lap run as he dropped to 15th.
Nicholas Latifi:
Nicholas was out on the soft tyre following a different strategy to his team-mate. Nicholas would set a 1m:30.089 on his first timed run. Nicholas had either made a mistake or had been hampered as he pitted after a three lap run. Nicholas was now slowest as he returned again on the soft tyre. Nicholas would set a 1m:28.430 to be 17th dropping to 18th. He would pit seeing his qualifying over.
View a Printer Friendly version of this Story.
70th Anniversary GP: Expected Qualifying for Williams Racing
Discussion started by Williams F1 , 08/08/2020 15:19
Williams F1
08/08/2020 15:19
What do you think? You can have your say by posting below.
If you do not already have an account
Click here to Register
.
Sorry, only registered users may post in this forum.