Spanish GP: Williams positives despite poor race results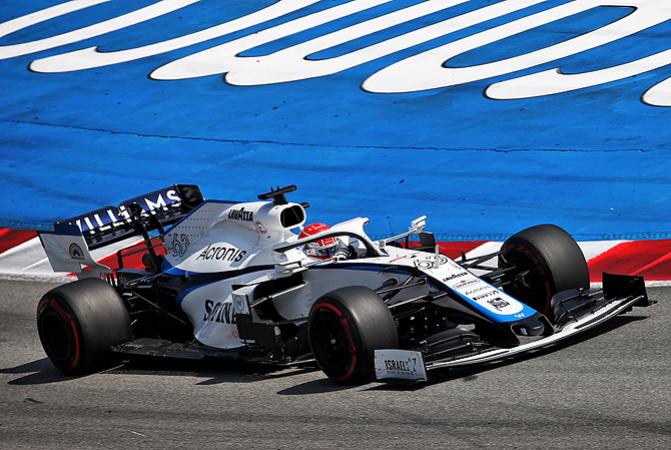 By Andrew Hooper
August 17 2020
The results of the 2020 Spanish GP would see the Williams Racing Team come away with a 17th and 18th with George Russell finishing ahead of team-mate Nicholas Latifi. Despite the poor results with both drivers having issues with tyre strategies as well as the tyres themselves there were some positives to take away from the race with the main been the pace that the team was able to find for Sunday's race after having difficulties duruing practice. There was the feeling that the race would turn out to be far worse than what the team was able to produce on Sunday.
Williams Racing Spanish Grand Prix Race Review
The grid for the sixty six lap 2020 Spanish Grand Prix would see the Williams Racing Team have their drivers start from the rear of the grid with George Russell and Nicholas Latifi 18th and 19th. Both drivers had difficult days leading up to Sunday's race with their performances suffering with a car that on this track was not at its best. On pole was Hamilton from Bottas, Verstappen, Perez, Stroll, Albon, Sainz, Norris, Leclerc and Gasly tenth. The top would all start on the soft tyre while those outside them were a mix with Nicholas on the medium and George soft tyre. Kvyat and Magnussen were the only other drivers on the soft tyre the rest were on the medium.

The parade lap would be completed and with the start it would be Hamilton leading as Stroll moved in to third behind Verstappen. The Williams drivers were running in 18th and 20th with George leading Nicholas. Bottas was now in fourth followed by Perez, Albon, Sainz, Gasly, Leclerc and Norris tenth. Using the DRS Bottas would pass Stroll for third seeing Stroll and Perez fourth and fifth. George would pass Grosjean for 17th. Unfortunately Nicholas was dropping away running at the rear of the field.
Lap fourteen and the Williams drivers were in 17th and 20th and not looking like they would make any real impression in the race. George was a few tenths of Magnusson's soft tyre time and was dropping away from 16th placed Ocon. Lap nineteen and Albon would pit changing to the hard tyre. He would return in front of George. George would pit on lap twenty one switching to the hard tyre. He would not be running last. Nicholas would move up to 18th as Raikkonen pitted. George was now 19th with Raikkonen behind the Williams pair still on the medium tyre. More drivers would pit including Verstappen, Gasly, Norris, Kvyat and Giovinazzi. Nicholas was now 16th and George 18th.

The order was now Hamilton from Bottas followed by a distant Verstappen. Both Mercedes would pit on lap twenty five with both switching to the medium. Hamilton would remain leader with Verstappen second ahead of Bottas. With the stops Stroll was now fourth followed by Perez, Leclerc, Vettel, Ricciardo, Magnussen and Ocon tenth. Albon was now 11 th followed by Sainz, Gasly, Norris, Kvyat, and Grosjean. George was now 17th having been able to get past Nicholas. Nicholas had dropped to 19th as he struggled with worn tyres. Stroll would pit on lap twenty nine changing to the medium returning in eighth. Nicholas had been assed by both Alfa Romeo's to again be last. Lap thirty and Nicholas would pit joined by Magnussen. George was now 16th while Perez, Leclerc and Vettel also came in.
Lap thirty two and the order was Hamilton, Verstappen, Bottas, Ricciardo, Stroll, Perez, Sainz, Ocon, Albon, and Gasly tenth. Ocon would pit dropping to 18th. George would move up to be 14th after others made pit stops. But George would pit on lap thirty eight taking on the medium tyre again. Leclerc would spin with an engine issue seeing him drop to the rear of the field and he would pit. George and Nicholas were now 17th and 19th with both been lapped. At the front the order was Hamilton from Verstappen, Bottas, Stroll, Perez, Sainz, Gasly, Norris, Kvyat and Vettel tenth. Albon had pitted dropping to 11th on the medium tyre. Verstappen would pit on lap forty three returning in third running on the medium. Sainz would pit dropping to tenth.
Stroll would pit from fourth returning in eighth running on the soft tyre. Gasly had also come in now eleventh. Raikkonen would pit returning in 19th while George was now 16th behind Ocon. Verstappen was now third followed by Perez, Vettel, Stroll, Sainz, Albon, Gasly, and Norris tenth. Giovinazzi had also pitted seeing George and Nicholas now 15th and 17th. The Alfa Romeo's were now 18th and 19th. Bottas would pit returning in third behind Verstappen. Hamilton would also pit taking on the medium tyre and returning in the lead. Nicholas had also pitted switching to the soft tyre for the run to the flag. Lap fifty eight and the order was still Hamilton leading from Verstappen, Bottas, Perez, Stroll, Vettel, Sainz, Albon, Gasly and Norris tenth. The Williams drivers were running in 15th and 19th with George leading Nicholas. But George would also be passed by Giovinazzi to now be 17th.
The final stages of the race would be completed and it would be Hamilton who would take victory from Verstappen and Bottas. The Williams Racing team drivers would finish in 18th and 19th after having dropped down the order as other drivers had been able to pass them in the closing stages of the race. For Williams Racing it was a race that produced little in terms of substantial results but for the team it still showed that progress is still be made with George in particular been able to race with other drivers at various stages in the race. There was also the additional positive in that the race was far better in light of how poorly the cars had performed in the practice sessions.
View a Printer Friendly version of this Story.
Spanish GP: Williams positives despite poor race results
Discussion started by Williams F1 , 17/08/2020 10:03
Williams F1
17/08/2020 10:03
What do you think? You can have your say by posting below.
If you do not already have an account
Click here to Register
.
Sorry, only registered users may post in this forum.