Russian GP: Another tough race for Williams Racing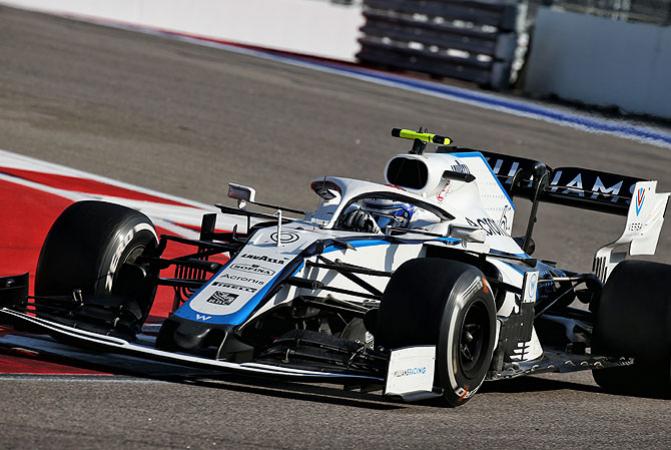 By Andrew Hooper
September 28 2020
In what would turn out to be another difficult race for the Williams Racing Team their drivers would finish in 16th and 18th with Nicholas Latifi finishing ahead of George Russell. For Nicholas his race was uneventful but it was a race that again saw him suffer difficulties in particular getting his tyres to work. For George his race would see a promising start from 13th on the grid but he would be forced wide at Turn two and would lose places upon returning to the track. With a Safety Car he would pit early switching to the hard tyre and from there it was a difficult race which included a brake lockup while on the hard tyres which forced him to pit again switching to the mediums. Overall a tough race for both drivers.
Williams Racing Russian Grand Prix Race Review
The Williams Racing drivers would start the fifty three lap 2020 Russian Grand Prix from the 13th and 20th grid positions. Nicholas Latifi had suffered a five grid place penalty for a gearbox change but George Russell has benefited from a driver in front of him receiving the same penalty. On pole was Hamilton from Verstappen, Bottas, Perez, Ricciardo, Sainz, Ocon, Norris, Gasly and Leclerc tenth. Of the top ten it would only be Bottas and Verstappen who would start the race on the medium the rest would be on the soft except Leclerc in tenth was on the medium. The Williams drivers would also start on the medium tyre. Outside the top ten they would be joined by Stroll, Vettel, Grosjean, Giovinazzi, and Magnussen. On the hard were Kvyat in 11th and Raikkonen in 19th. As he had made it into Q3 Albon was required to start on the stop from 15th. Prior to the start it was announced that Hamilton was under investigation for a race start practice breach.

The grid would complete the parade lap and would form up and with the start it would be Hamilton leading but as Bottas tried to get past there would be cars running wide and further incidents at Turn two. Both McLaren's had terrible starts and would be involved in an incident that would see Sainz retired after his car was damaged hitting the wall on attempting to return to the track. He would be joined by Stroll whose car had been hit and spun into the barrier. The Safety Car would be brought out in order to clear up the damaged cars. George had been forced wide at Turn 2 and was required to run through the bollards to return to the track seeing him lose a significant number of places. Norris had also dropped down the order and was now in 18th.
At the front it was Hamilton from Bottas, Verstappen, Ocon, Ricciardo, Perez, Gasly, Leclerc, Magnussen and Grosjean tenth. The Williams drivers were in 14th and 16th. The Safety Car would be brought in and the race would restart with Hamilton fending off Bottas. George would pass Raikkonen in the restart but Raikkonen was able to get back past. It was announced that Hamilton would get a ten second penalty for his practice race start infractions. Hamilton was now 1.6 seconds ahead of Bottas as Raikkonen would pass Nicholas for 14th. Nicholas and George were now running 15th and 16th with a fast closing Norris in 17th. George was involved in a fight with Albon and Norris with George eventually keeping in front but a brake lockup and Albon would pass. George would now be passed by Norris and was now running in 18th. Nicholas was now in 15th.
George would pit on lap seventeen and would switch to the medium tyre. Ricciardo had also pitted returning in 14th as Albon passed Nicholas for 15th. The Williams drivers were now running in 16th and 18th. Hamilton would pit on lap eighteen taking the ten second penalty and switching to the hard. Hamilton would start his drive back to the front currently been tenth. Nicholas would pit on lap nineteen taking on the hard tyre. With pit stops starting Hamilton was now seventh behind Magnussen. The Williams drivers were in 17th and 18th. The last of the soft tyre drivers to pit was Perez but the top four had yet to pit with Bottas leading from Verstappen, Leclerc and Kvyat. Hamilton was now fifth followed by Perez, Vettel, Ocon, Ricciardo, and Raikkonen tenth.

Verstappen would pit returning on the hard now in fourth. Bottas would also pit on lap twenty seven seeing him retain his lead over Leclerc. Ricciardo had passed Ocon but in the process had run wide over the kerb so would receive a five second penalty for not returning to the track correctly. Albon would pit switching to the medium and was now in sixteenth. Leclerc would pit on lap thirty and would return in seventh ahead of Ocon. Bottas was now leading Verstappen, Kvyat and Hamilton but Kvyat had yet to pit. He would pit on lap thirty two taking on the medium tyre and returned in eighth. Gasly would pass Raikkonen for ninth with Raikkonen yet to pit. He would pit on lap thirty eight dropping to 16th.
Gasly would pit on lap forty five seeing him drop to 11th while Grosjean would pit coming out behind both Williams cars which were now 16th and 17th. Norris, Albon and Gasly would be involved in a fight for the final points positions but Gasly would eventually move into ninth and Albon ten. Norris would have to pit on lap fifty one dropping to 15th. On fresher tyres Grosjean would pass George for 17th seeing the Williams drivers 16th and 18th. George would pit late in the race switching to the soft tyre coming out in 18th. The final laps would be completed and it would be Bottas who would take victory from Verstappen, Hamilton, Perez, Ricciardo, Leclerc, Ocon, Kvyat, Gasly and in tenth Albon. In what was a difficult race the Williams drivers would finish in 16th and 18th. Despite having made a great start George would suffer from been involved in the chaos at Turn two. At least both drivers would make it to the finish which especially for Nicholas was a valuable experience. But overall they again lacked the pace to fight with their main rivals.