Honda to replace Earth livery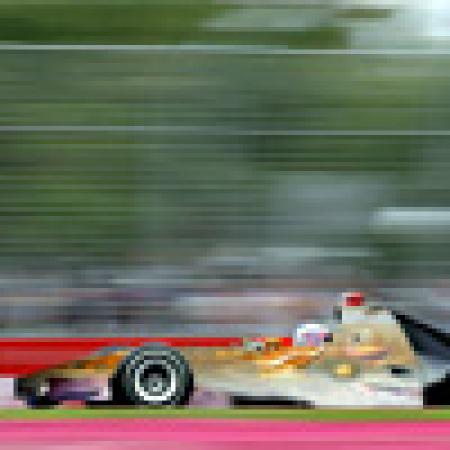 By Joe Kinnaround
April 1 2007
Honda Racing F1 are to replace the radical earth livery as early as the Malaysian Grand Prix, replacing the picture of our planet with images from other planets, and RealHondaF1.com snapped a picture in secret testing at Sepang yesterday morning. First up will be Jupiter, the gas giant, selected as it better represents the current performance of the Honda Racing F1 team. Orbiting the Sun every 11.86 years, the planet comprised of hot air is considerably slower than some of the rival planets, such as Mars or even Earth itself. Fortunately, Jupiter still laps the Sun quicker than the likes of Saturn or Neptune.


The new 'Jupiter' livery.
"This is a fantastic new direction for the Honda Racing F1 team," explained Shirley Knot, Honda's Planetary Alignment Officer, "and shows the world that we're serious about challenging for the title, and not just about attracting attention through bold liveries and audacious marketing campaigns.
"It's also an opportunity to extract a bit more cash from our fans, through the soon to be launched myjupiterdream.com website. This new site will allow our fans to donate money while making pledges, such as promising to heat their homes using natural gas, or create a generally stormy atmosphere."
The team will be changing the image on the car from race to race, relative to the performance against our on track rivals. For Malaysia and Bahrain, the team have readied Jupiter and Saturn images, while the Spanish Grand Prix is expected to see the team using Uranus.
The French Grand Prix is expected too see the use of Mars, the red planet being just 0.88 years an orbit slower than the current Earth livery. By the time the Formula One championship reaches Hungary, home of Jenson Button's win last season, the expectation is to be using Venus, the brightest planet in the sky, and 0.385 years per orbit quicker than Earth.
Only when the world championship is in sight will Mercury be used.
UPDATE:
The planetary concept has now been abandoned, and the team will continue with the Earth livery, as
revealed by RealHondaF1.com last Monday
. Something to do with the date, apparently.
Thanks to ManuStudio for the artwork - it's greatly appreciated ;-)