Hayden wins it again at Laguna Seca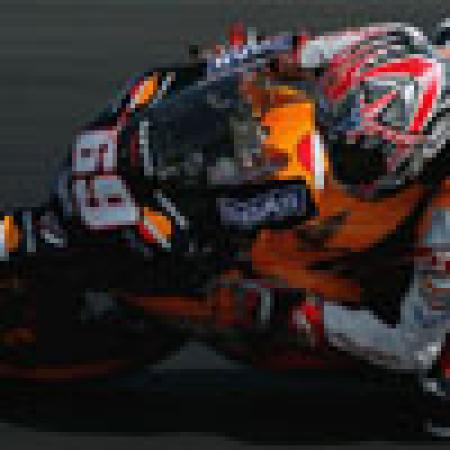 © Getty Images
By Dan Moakes
July 24 2006
Valentino Rossi had fought his way back to second in the MotoGP standings, but now the series moved on to the home race of championship leader Nicky Hayden. The Repsol Honda rider had taken his first win at Laguna Seca in 2005, so had to be a big favourite for this year's event.
This was the second United States Grand Prix of the current 990cc four-stroke era, and so most riders and teams arrived at the spectacular circuit with prior knowledge of the task ahead of them. Those who didn't have this luxury were the three 250cc graduates, as no GP support races were run at the meeting last year, as was also the case in 2006. But at least Dani Pedrosa and Randy de Puniet had teams and team-mates who knew the way round, as Casey Stoner and LCR Honda certainly did not.
However, the two Honda rookies took to Laguna without too much difficulty, both within the 0.6s margin that separated the top nine riders. For Pedrosa, fourth put him ahead of partner Hayden, on the opposite end of row two. Stoner was next in P7. Weather conditions were not ideal, given the high temperatures and, despite the addition of more run-off areas, resurfacing work had made more bumps and patchy tarmac. But this didn't appear to worry Rizla Suzuki's Chris Vermeulen. A double winner on his Superbike début at the track, the 24-year-old Australian recorded his first dry weather GP pole position.
Colin Edwards, second in this race last year, led the way for Yamaha in second on the grid. And another home rider joined the Texan on row one, with Kenny Roberts keeping up his recent form in third. The second Suzuki was ridden by another American, in John Hopkins, and he split the pairing of Pedrosa and Hayden in fifth. Stoner was followed by the Kawasaki of Shin'ya Nakano and the Fortuna Honda of Marco Melandri.
For the fourth successive race, Rossi would be starting from off the first three rows. This time the Camel Yamaha rider was tenth, just ahead of Tech 3 customer 'colleague' Carlos Checa. Toní Elías appeared before the first of the Ducatis, with both Loris Capirossi (13th) and Sete Gibernau (16th) finding the going tricky. Makoto Tamada and de Puniet split this pair, with Alex Hofmann, James Ellison and José Luís Cardoso the last three men.
With the condition of the track a worry, the local AMA support races were put off until after the GP had been run. The race start saw Roberts, from the inside line for the left curve of turn one, lead the field away. Vermeulen and Edwards were next, with Hayden quickly moving up to third. Stoner and Pedrosa were next, while seventh placed Hopkins was about to lose out to both Melandri and Nakano. Rossi, Capirossi and Gibernau were next in line.
Vermeulen took over the lead from Roberts on the inside at turn eleven, the tight left-hander that takes riders back onto the start-finish straight. Setting some fastest laps, and with a medium compound rear tyre to the hard ones of his main rivals, Chris was soon building a lead that would go out to around two seconds. Meanwhile, the main group behind him was packed with Hondas. Roberts led on his Honda-powered machine, from Hayden, Stoner, Yamaha's Edwards, and the tussling Pedrosa and Melandri.
The first three behind Vermeulen managed to pull away from Edwards and his pursuers, but the rapid Pedrosa finally got the best of Melandri, then passed Colin to join in with Roberts, Hayden and Stoner. Dani and Casey resumed their battles of old as the two ahead looked to try and ease away. It would turn into a three-way affair for third, but only after Hayden had got by Roberts to go after Vermeulen. It happened at the famous tight left and descending right of the Corkscrew corner. Nicky pulled ahead on the inside going in.
The race between Roberts, Stoner and Pedrosa took some dramatic turns, with Dani moving into fourth on the inside for the uphill turn five left-hander. He then went by Kenny at turn eleven, only to see his two rivals power ahead as he faltered on the way out. The battle went on at turns two and three, and the following right-hander saw Stoner go to the outside of Roberts, with Pedrosa inside them both. It was now 27 from 26 from 10, and next we saw Dani run wide at the Corkscrew. He managed to hold off Roberts, but lost touch with Stoner for now.
Vermeulen still led, but his margin over Hayden was coming down. Before too long they were together and, with the Suzuki man surely in tyre difficulties, a change was on the cards. Chris ran wide at turn four, and Nicky needed no second invitation as he prepared to power into an unassailable lead. Indeed, Vermeulen's race was reminiscent of Honda mounted Niall Mackenzie's performance in the 1988 race, when he led for a long time until his pace faded and some of the big boys homed in.
Stoner and Pedrosa had cleared Roberts, who then came under pressure from Melandri. Joining in behind them all was the surging Rossi, who had taken a while to find the speed to deal with Nakano, Hopkins and team-mate Edwards. But this race changed shape nearing half-distance, when Stoner slid down and out as his Honda spun into the gravel at turn five. Pedrosa was soon into a clear third after his rival's mistake.
The first three were separated, with Vermeulen able to maintain a useful pace in second. But Pedrosa was pushing on, and would ultimately edge nearer and nearer to the Suzuki. Behind, Melandri had overtaken Roberts, with Rossi now in tow. The reigning champion pulled a good move on the way out of turn four, to take the inside at five, and he did the same trick twice to move into fourth. But the gap to Pedrosa looked a step too far by this stage.
With Hayden pushing a four-second lead, Pedrosa finally got his opportunity for second as Vermeulen went wide at turn five. Chris hung in to stalk the Spaniard at first, but soon the youngster was creeping away, and perhaps moving a touch nearer to his leading team-mate. Before the Australian could worry about Rossi, the champion hit trouble. With the left side of his rear tyre degrading in the late laps, Valentino had to slow. He lost out to Melandri and Roberts, but worse was to come as his engine blew with a couple of laps to go. He kept on going for points, but was back to P11 when it gave out entirely.
The first two places had been decided for the Repsol boys, but Vermeulen was dropping into range of Melandri and Roberts, and both men got by towards the close of play. Hopkins had raced steadily and passed the troubled Edwards for a final sixth, with Colin in the end ninth behind Checa and Capirossi. It was a strong ride for Carlos on the Dunlop tyres, and he was of course the first of the Yamaha riders home, as well as taking his best result of the year to date.
Gibernau was tenth, from Tamada, de Puniet, Ellison and Hofmann. Elías had run into the gravel on the outside of the Corkscrew, where the Honda then tipped over, and was way back in fifteenth as he finished the race, with only Cardoso behind. Nakano was the other man to retire, mechanical problems dropping him out of a possible seventh.
Nicky Hayden's win, and Valentino Rossi's retirement, meant that the American hero stretched his points lead to 34, with Dani Pedrosa and Marco Melandri both passing the Italian. The same Honda trio that had taken the podium places occupy the same positions overall. Kenny Roberts made it five strong meetings in a row with his father's bike; and the Suzuki boys also did good, with Chris Vermeulen taking a best yet of fifth, despite fading from the lead. Capirossi, Edwards and Gibernau could only really say that they'd salvaged points. But the big question is, can Rossi now make up 51 points over the last six races?
Standings after eleven races: Hayden 194; Pedrosa 160; Melandri 150; Rossi 143; Capirossi 126; Stoner 91; Edwards 84; Roberts 79; Hopkins 74; Nakano 67; Tamada 64; Elías 59; Gibernau 58; Vermeulen 57; Checa 53.
Honda 246; Yamaha 181; Ducati 129; Suzuki 92; Roberts-Proton 79; Kawasaki 75.