Marco Melandri wins flag-to-flag MotoGP race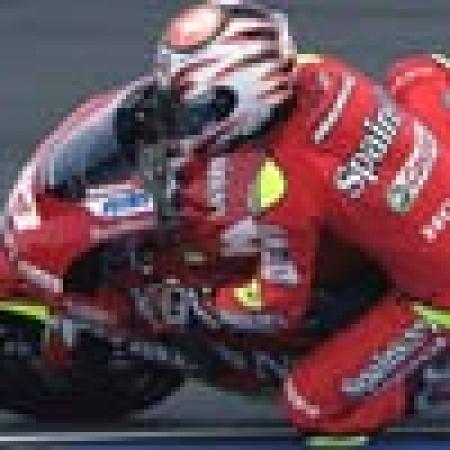 Raceline Photography
By Dan Moakes, blue2bikes
September 19 2006
The 2006 Australian Grand Prix proved historic in MotoGP competition, with the first example of the 'flag-to-flag' wet weather rules being enacted. Mixed conditions plus pit stops shuffled the pack, in an all important race as the championship charge enters its closing stages.
The meeting at Phillip Island was the fourteenth of seventeen rounds, and five riders arrived at the circuit with the possibility of becoming World Champion. The preceding Malaysian race had seen challengers Dani Pedrosa and Valentino Rossi move closer to points leader Nicky Hayden, and now they returned to a venue where Rossi had won seven Grands Prix in eight years. Pedrosa had also won there last season.
Dani was thought to be around 90% fit, following his pre-race tumble at Sepang, but on this occasion he would start the race from tenth position. His two main rivals qualified on the front row of the grid, with Repsol Honda team-mate Hayden taking his first pole position of the season. Rossi's Camel Yamaha lined up third, with Kawasaki's Shin'ya Nakano matching his best for the year in second.
Nakano had managed to save his Bridgestone qualifying tyres before putting in his fast lap, but others were struggling with the same rubber. His team-mate Randy de Puniet was the only other Bridgestone man in the top eleven, with P9. This meant the Ducati and Suzuki teams were not too well off, with the Italian bikes of Sete Gibernau and Loris Capirossi twelfth and thirteenth, and the men in blue fifteenth and sixteenth, John Hopkins leading local man Chris Vermeulen.
All of which saw the Honda and Yamaha runners towards the front. Kenny Roberts was fourth with the KR-Honda, ahead of Colin Edwards and the second Camel Yamaha. Joining them on row two was Carlos Checa, in a best yet of sixth with the Dunlop-shod Tech 3 Yamaha. The Hondas of Marco Melandri and Casey Stoner slotted in ahead of de Puniet and Pedrosa. Filling out the order were Makoto Tamada (11th), Toní Elías (14th), and at the rear Alex Hofmann, James Ellison and José Luís Cardoso.
Changing conditions delayed the start of the race, which was declared wet after a touch of rain intervened. The flag-to-flag rules came into effect, meaning that teams were allowed to prepare second machines for each rider, set up for alternative conditions and with the relevant tyres. All competitors started on slicks, but could opt to pit and swap machines in the event of the rain setting in - which we would duly see.
Pole man Hayden made a poor start in the slightly uncertain conditions, but the man next to him got it all right. Nakano shot into the lead, pulling away from the rest consistently on the opening lap. Edwards was second, from Roberts, Melandri, Pedrosa, Capirossi (up seven places), Rossi, Gibernau and Stoner. The early shuffle saw Melandri move ahead of Roberts, with a move at the third turn - a tight right-handed hairpin called Honda Corner. Meanwhile, Gibernau made quick progress up to fifth, while Rossi lost a couple more positions.
As Nakano stretched his advantage impressively, the early race was on for second. Melandri passed Edwards at the fast Doohan right-hander, or turn one, with Gibernau also attacking the Yamaha rider. Sete overtook both his former Gresini Honda team-mates, with the pass of Marco for second happening at Honda. Colin now headed Pedrosa, with the fast rising Hopkins now leading the pursuit, from Roberts, Stoner and Rossi. Hayden was back in 16th.
Nakano's lead was as much as 3.5s after two laps, his second being the fastest so far. 'Rain master' Gibernau was establishing a clear second, albeit with no rain falling, whilst Rossi was inevitably starting to come good. He took care of Stoner at MG hairpin, a tight right-hander at the foot of the descent from the left of Lukey Heights. His next move saw him deal with both Hopkins and Roberts on the inside at Doohan, to go into sixth, along with his own fastest lap.
Meanwhile, Pedrosa relegated Edwards with a pass across the start-finish line on the Gardner Straight; and Capirossi started to re-gain lost positions in getting by tenth man Checa at the left loop of Siberia, just after Honda Corner. Next Rossi overtook team-mate Edwards at Honda, and soon took his turn at Pedrosa at Siberia. Valentino was onto Melandri in no time, going ahead around the outside of the long curve of Swan Corner, the left-hander onto Gardner, then getting into some place swapping with Marco at Doohan.
Rossi completed a seven place charge by taking Gibernau's second at Honda, but more rain was now falling and the spare bikes were being prepared in the pit lane. The old rivalry was rejoined as Sete passed Valentino over the line, with the Italian fighting back on the inside of turn two, the long left-handed Southern Loop. As the track surface got wet, lap times slowed accordingly. Hopkins was on the up, with the reverse true of Pedrosa. Behind Nakano, Gibernau now led Rossi, Melandri, Hopkins, Edwards, Pedrosa, Roberts, then Stoner and Hayden, de Puniet, Vermeulen as, on lap seven, the first pit stops were made.
First to stop were Ellison and Cardoso, with next man Checa the first of the top ten runners to switch to his wet weather bike - the conditions likely to suit his known talents. Edwards didn't have the chance, as a crash accounted for him at this stage. With such a healthy lead, Nakano opted to stay out next time round, but the next group made the same call to a man as they pitted with the rain becoming much heavier. Hopkins had already taken fourth from Melandri at Honda before all this pit lane activity.
When the riders resumed the track, and the new pecking order started to be established, Checa's strategy had put him up into a race with Rossi and the Suzuki pair, all of whom he overtook as they got used to the grip levels. Meanwhile, after a slow lap, Nakano made his bike switch to emerge second behind Gibernau. But his understandable initial caution left him vulnerable to Checa, Vermeulen and the rest. Chris quickly overtook both these men, to the crowd's delight, first with a move on Carlos at Honda.
It didn't take long for Vermeulen to establish himself in a clear second, with Gibernau a way in front. But meanwhile Nakano was now losing out to the Hondas of Melandri and Stoner, with Checa about to suffer the same fate as he dropped back - Marco's move at MG earning him third. And things got even more interesting as Vermeulen started to get a bit closer to Gibernau, with Melandri homing in from behind; while title contenders Hayden and Rossi went past Checa to challenge Nakano's fifth place.
With half the race still to run, Gibernau's lead over Vermeulen was fluctuating at somewhere around two seconds. Melandri was soon in place to attack the Australian, and he made it through on the inside going into Swan. By now the rain had stopped, but of course the track was still treacherous. Nakano was catching back up to Stoner in fourth, while Rossi had passed Hayden on the inside at Honda.
Into second, Melandri now homed in on leader Gibernau. He overtook on the inside as the fast right of Hayshed ran into the left at Lukey Heights, and despite at least one big slide was able to stretch away from the Spaniard. Vermeulen soon followed suit, working the move on the inside at MG. Behind, Stoner and Nakano swapped places, first at Doohan corner, but with Rossi closing in, Hayden and Capirossi not far off.
Melandri's lead was approaching four seconds, but compatriot Rossi was also on the move. The champion gained fifth place from Stoner at Honda, then fourth from Nakano coming out of Lukey Heights on the right of the Kawasaki. Shin'ya lost another slot to Casey at Doohan, with Hayden following him past, and Capirossi soon to do the same. Meanwhile, Checa was out of the race. His wet tyres wrecked, he'd made another stop for a new wet plus rear intermediate, but would go on to crash.
Rain came in again around the time Hayden passed Stoner on the inside at Hayshed. This put Nicky just one place behind championship rival Rossi, but with Pedrosa struggling in the wet and only 14th. Dani would be lapped by Melandri in the last few laps, by which time the Fortuna Honda man would have built an unchallenged nine-second lead. There were dry lines on some parts of the circuit by the time Marco came sideways out of Swan Corner to secure the victory.
Vermeulen was losing ground to the next four guys in the late stages, but was still there for a remarkable second in only his 16th Grand Prix. At the death, Rossi made a vital move to secure the final podium slot, powering ahead of Gibernau out of Swan Corner. Fifth man Hayden therefore lost five points to Valentino on the day. Stoner was sixth, from Capirossi and Nakano.
Ninth went to Elías, with the 23-year-old only emerging in the top ten during the latter stages. Similarly Tamada, who was next home. In eleventh was de Puniet, the same place he'd been after the stops, whereas Hopkins was back to P12 after his brief spell in fourth before the heaviest rain. Hofmann, Roberts, Pedrosa, Ellison and Cardoso were the other finishers, with Kenny and Dani the biggest losers from the early stages.
So, Marco Melandri's unique accomplishment was to become the first man in the history of MotoGP to win a race on two different bikes. The new ruling, which stated that a race would not be stopped due to rain and allowing pit stops, had been introduced at the beginning of last season - but this was its first practical application. Marco's win was his third of the season, but his first since sustaining a broken collarbone during the Catalan GP in June. It owed everything to his pace in the wettest part of the race, which saw him finish ten seconds ahead of the rest at the flag.
Chris Vermeulen was the other big hero, with his first GP podium coming on his home circuit - although team-mate John Hopkins might have done it instead if the rain had held off enough. Meanwhile, Valentino Rossi was able to once again defeat his 'enemy' Sete Gibernau, but more importantly close in a little more on championship leader Nicky Hayden. But at the same time, Dani Pedrosa dropped from second to third in conditions he obviously does not like.
However, surely the biggest disappointment has to be reserved for Kawasaki and Shin'ya Nakano. With such good speed to begin with, stopping a lap too late certainly cost the Japanese rider his track position, and also his momentum. He may not have held on to win, given Melandri's performance, but there must be a good chance that some more laps in front would have helped him to be among the podium contenders at the end. It seems that the biggest risk with flag-to-flag is for the man well ahead. He can only lose if he pits and the rest stay out, so must be tempted to stay out and wait for them to make the move - by which time it could be too late. What do you think?
Standings after fourteen races: Hayden 225; Rossi 204; Pedrosa and Melandri 193; Capirossi 180; Stoner 119; Roberts 103; Hopkins 97; Edwards 96; Vermeulen 86; Nakano 83; Gibernau 82; Tamada 75; Elías 71; Checa 58.
Honda 303; Yamaha 242; Ducati 187; Suzuki 131; Roberts-Proton 103; Kawasaki 94.