Elías wins GP as Hayden gets taken out in Portugal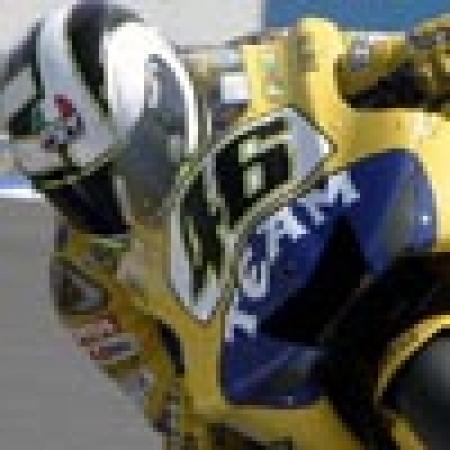 Raceline Photography
By Dan Moakes
October 15 2006
The critical final phase of MotoGP 2006 was heating up as the teams and riders returned for the final pair of European events. Repsol Honda's Nicky Hayden held the advantage over Camel Yamaha's Valentino Rossi (pictured), a four-time winner at Portugal's Estoril venue.
A recent surge from Rossi had reduced Hayden's advantage to just twelve points, but both riders showed good form in practice to get onto the front row of the grid in qualifying. Indeed, both men's teams were up at the front, with Rossi's pole position backed up by team-mate Colin Edwards' second. Third man Hayden was just a place in front of confirmed 'rookie of the year' team-mate Dani Pedrosa. A third Honda RC211V was next, ridden by LCR's Casey Stoner.
Four different machines occupied the next four slots, with sixth man John Hopkins (Suzuki) heading Shin'ya Nakano (Kawasaki), Sete Gibernau (Ducati) and Carlos Checa (Tech 3 Yamaha). Previous race winner Loris Capirossi was down in tenth with the second Marlboro Ducati, from Toní Elías (Fortuna Honda) and Chris Vermeulen (Suzuki).
Kenny Roberts was in P13 with the KR-Honda, despite better form through practice. Honda riders Makoto Tamada (for Konica Minolta) and Marco Melandri (Fortuna) were then followed by Randy de Puniet (Kawasaki), James Ellison (Tech 3 Yamaha), and the Pramac d'Antín Ducati pair Alex Hofmann and José Luís Cardoso.
Perhaps of greater interest than all those ahead was the bike of 20th man Garry McCoy. The five GP winning Australian was back after a couple of World Superbike seasons, and he came to the track with the first of the 2007 800cc bikes, that of new entrant Ilmor Engineering - long term manufacturers of the Mercedes-Benz Formula 1 engine. It would be interesting to see how the X3 would fair and, in the long term, whether they might get the jump on their rivals for next year.
The race got under way in dry but dull conditions, and with rain always a possibility, although this never came to pass. Rossi kept his number one place off the start, with Edwards, Pedrosa and Hayden following. Pedrosa was quick to intervene where any Yamaha team tactics might be concerned, taking over second from Edwards. Behind Hayden came Stoner, Capirossi, Gibernau, Elías, Vermeulen, Roberts and Hopkins. Nakano had been in the group, but was to crash on the first lap. He had to be stretchered away, but it was later confirmed that he had not been seriously hurt.
Going into the second lap, Hayden also overtook Edwards, around the outside of the tight right-handed Curva 1. Colin didn't take too long to respond, but even by then the picture had changed significantly. Stoner crashed out when his Honda's front end went down under braking, and the following Gibernau was caught up in the incident. Capirossi inherited fifth with this drama, but only until Elías found a way past.
Rossi set the fastest lap so far as the first four established a margin over the rest. But in fact the Italian was starting to pull away, leaving a three-way race for second. Edwards took the initiative with a pass on the inside of Pedrosa at the tight Saca-Rolhas hairpin, an uphill left-hander towards the end of the lap. Hayden followed on with a forceful move on the brakes for the left looping Parabolica Interior at the end of the back straight. Elías and Capirossi were now followed by Roberts, with Checa moving past the Suzuki pair for eighth.
Pedrosa's response to team-mate Hayden would provide the most dramatic moment of the race, with one possible exception, and had a huge impact on the championship chase. Quite literally, in fact, as Dani's mistake at the Interior corner took Nicky out of the running. Braking to get through on the inside, perhaps without quite the room needed, his front wheel went down and the second Honda bundled the first one off the circuit. Hayden's obviously distraught and angry reaction, not actually directed towards Pedrosa at this stage, spoke volumes.
Rossi's position suddenly looked incredibly comfortable, his lead going out to two seconds by half-distance, his main rival gone, and with his team-mate leading the pursuit. Elías was now up to third behind Edwards, as they began to pull away from Capirossi and Roberts. Loris seemed to be struggling for pace, so Kenny overtook at the hairpin and chased the two ahead, as the Ducati rider was now caught by Checa, Hopkins and the rapid Tamada.
Roberts recorded a new fastest lap, taking this accolade from Tamada, and tagged on behind Edwards and Elías. At this stage Toní was looking forceful, making an attack at the tight VIP left, before the back straight. He seemed to have braked too late at Parabolica Interior, when he went past Colin, but kept control to make the turn and just hold the position. Edwards took it back at the hairpin, but Elías made a similar manoeuvre to regain second.
23-year-old Elías was in the MotoGP race of his life as he now started to reduce Rossi's lead and ease clear of Edwards and Roberts. The gap first to second was around 0.8s with ten laps to go, even with the Spaniard's spectacular rear slides, with the back tyre swiping the kerbs as he braked at Curva 1. And it was with a moment of this sort that Toní would overtake Valentino at the same turn. Not long after he let the Italian back through at VIP and, when Roberts had got by Edwards at 1, this left Elías vulnerable as KR then got him at the hairpin.
There was a 'moment' for Elías with four laps to go, and this meant that Rossi led Roberts, with a brief gap to Elías and Edwards. Kenny took Team KR's Honda-powered machine into the lead for the first time, on the brakes at Curva 1 into the penultimate lap. He led the close foursome all the way around the lap, which he later admitted he'd thought to be the last, and was able to resist Rossi's out-braking attempt at 1. However, Elías was in the process of going in even deeper, and he again kept it together to go from third to first.
Rossi followed Elías past Roberts at the right-handed Curva 3, and set about the Spaniard as the final lap unfolded. The Saca-Rolhas hairpin was the place for his move, on the inside, and it was successful. Valentino went deeper into the left-hander, and had to cut across more acutely for the following tight right apex, at which point Toní was ahead again on the outside with the conventional line. But Rossi had the inside and was ahead for the Esses and immediate long right-handed Parabolica Ayrton Senna. The Honda fired out of the corner for the long final straight, Toní hoping to out-drag Valentino to the line on his right. It just worked - by 0.002s!
Roberts was a close third, with Edwards there in fourth. Behind, Capirossi had quickly dropped through the second group to eighth, and would lose out further. A good race from Tamada saw him record fifth, whilst Hopkins also got the better of Checa for sixth. Seventh still equalled the best result for Carlos this year. Meanwhile, Melandri recovered from a gravel trap excursion for eighth, ahead of Vermeulen, who'd taken to the grass at one point.
First Ducati home was that of customer rider Hofmann, a place ahead of lacklustre works rider Capirossi, and Ellison was next, from Cardoso. McCoy was the last to finish on the new Ilmor, therefore scoring a single point. However, the lapped Australian had actually been leading Cardoso before a long pit stop for an electrical problem - which necessitated a change of battery for the V4 machine. Of course, the non-finishers were Hayden, Pedrosa, Stoner, Gibernau and Nakano.
Nine-time small class Grand Prix winner Toní Elías had put in by far the best race of his two-year MotoGP career, making it ten GP wins in all. And his dramatic last gasp success took five points away from Valentino Rossi. But still the Italian overtook the tally of Nicky Hayden, whose chances now look rather slimmer from eight behind, and through no fault of his own. The question of team orders came up, as HRC had apparently seen no need to issue any. With Colin Edwards admittedly prepared to help Rossi, Hayden had experienced the reverse situation with Dani Pedrosa - if accidentally. Elías' triumph may have helped his fellow Honda rider a touch, but of course the Spaniard was understandably racing for himself and his future prospects.
The last race is to follow at Valencia, in Spain. Rossi only needs to follow Hayden home, whereas the American needs someone else to get in between the pair. Rossi has won five times this year, and Hayden twice. Who is your money on?
Standings after sixteen races: Rossi 244; Hayden 236; Melandri 217; Capirossi 209; Pedrosa 202; Roberts 126; Stoner 119; Edwards 117; Hopkins 111; Elías 106; Vermeulen 98; Gibernau 95; Tamada 92; Nakano 83; Checa 69.
Honda 344; Yamaha 282; Ducati 217; Suzuki 146; Roberts-Proton 126; Kawasaki 100; Ilmor 1.