Lavilla starts BSB 2007 with Brands Hatch double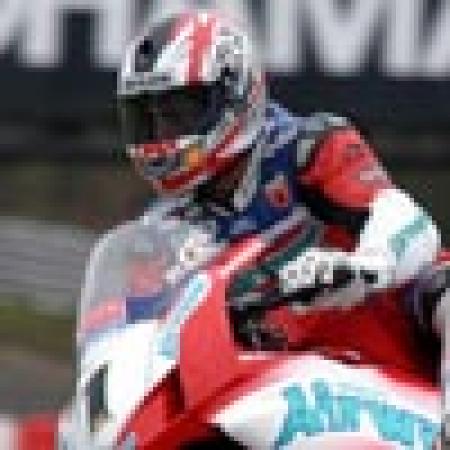 Raceline Photography
By Dan Moakes
April 16 2007
The 2007 racing season has only started now that the Bennetts British Superbike Championship is up and running. Brands Hatch on Easter Monday was the setting, with the Kent venue's Grand Prix circuit playing host as a 'new era' for the series got underway.
Some things remain the same, of course, even if many others have changed. For one, the three title challengers during last season have been retained by their teams. Which means that Airwaves Ducati (GSE Racing) field Gregorio Lavilla and Leon Haslam again; and that HM Plant Honda (HRC-backed Honda UK) are led by reigning champion Ryuichi Kiyonari. The latest Ducati 999 will again run on Dunlop tyres, with the works Honda CBRs on Michelin. The new man with 'Kiyo' is former satellite Honda runner Jonathan Rea.
There are other familiar link-ups, but more notable are all the new partnerships. 2004 champion team Rizla Suzuki have gone for a complete change, with returning fans' favourite Chris Walker as number one rider. 'The Stalker' has been on World Championship duty for six years, but prior to that had four-and-a-half years, and twenty race wins, on British Superbikes. From 1997 to 2000, Chris was the series runner-up every season, racing 750cc four-cylinder bikes from Yamaha, Kawasaki and Suzuki. The Rizla deal sees him back with the Crescent Racing team, who ran him in a heartbreaking season seven years ago.
Walker's team-mate on the GSX-R1000 is Cal Crutchlow, the reigning British Supersport Champion, with six wins in 2006. Cal is joined in Superbikes by two more top men from the Supersport class. Leon Camier was the series winner in 2005, and also took the British 125cc Grand Prix championship in 2001; he now races for bikeanimal Honda. Last year's Supersport runner-up was Tom Sykes, who made a brief BSB appearance in 2003, and now joins Stobart Honda.
Paul Bird's other rider, on the Stobart FireBlade, is his 2003 team leader - Shane 'Shakey' Byrne, who was the BSB champion that year with a MonsterMob Ducati, before heading into MotoGP. Shane took a single victory for Rizla Suzuki last season, and will obviously hope for more this time. The changes at Stobart have led to Michael Rutter racing for MSS Discovery Kawasaki in 2007. Rutter first raced in British Superbikes in 1992, and is clearly the most experienced rider in the field.
Other race winners to relocate are Sean Emmett, James Haydon, Steve Plater and Scott Smart. Sean races the PR Branson Honda, Steve the AIM Yamaha, and James returns to the Virgin Yamaha team, run by Rob McElnea - where he was during the 2001 and 2004 seasons. Retained for duty on the other Pirelli-shod new R1 is Tommy Hill. Meanwhile, Scott makes the link again with his 2003-04 team, Hawk Kawasaki, where youngster Peter Hickman stays in place.
Rea's move to the HM Plant team was made possible by the fact that Karl Harris was let go, and the Yorkshireman takes over another FireBlade in the Muir/Appleyard-run Hydrex team. Now a one rider team, this means that former works riders Glen Richards and Gary Mason find themselves out of the series, and the same is also true of top challengers Michael Laverty, Billy McConnell and Craig Coxhell. Dean Thomas returns to the Dienza Performance outfit, for whom he once sat on pole position with a customer Ducati.
There was familiarity on the front row of the grid for round one, with the top four qualifiers being split between Honda and Ducati machinery. On pole position for the fourth time in his BSB career was Rea, but with the other leading Honda being the race-kitted semi-official bike of rookie Camier. The 20-year-old would start from third position, where he spilt the Airwaves riders Lavilla (second) and Haslam (fourth).
Also in common with last year, the second row was split between more Hondas and the two Rizla Suzukis. Walker and Crutchlow led the way on the blue bikes, with Byrne's green Honda in seventh. This meant that Kiyonari was only the fourth man on a Honda in eighth, but second row starts in 2006 had not held him back much. Sykes, Thomas, Simon Andrews (Jentin Yamaha) and Hickman were on row three.
The start of the first race went well for Honda, but it was Camier going into the lead rather than pole sitter Rea. Walker got into an attacking ride in second, from the Ducatis of Haslam and Lavilla, and then came Byrne. The Airwaves boys made the early running, as Leon tried to overtake Walker at Paddock Hill Bend, the descending first right-hander. Haslam went by on the inside, but late braking took him wide so that Chris dived back through. Then Gregorio got the better of his team-mate with a move at Sheene's corner, a right-hander at the back end of the track.
The action behind him allowed first-timer Camier to pull out an early lead, but this began to be reduced by Lavilla after a pass on Walker at left-handed Graham Hill Bend. Now Walker and Haslam resumed their battle, with Rea having moved up again to run in fifth. Lavilla forged into contention behind Camier, and the two men actually clashed as the Honda rider turned in from a late apex on the exit of right-handed Druids Hill Bend hairpin. Gregorio was trying to get inside the race leader at the time, but the pair survived the incident without consequence.
The wily Lavilla had better luck with his next challenge, at the tight and rising left-handed Surtees corner. Gregorio's crisp line took him just inside Camier, where he could dictate the Englishman's turn-in position and complete the passing manoeuvre. Before long the experienced Spaniard had made enough ground to feel safe from a return challenge, and he duly pulled out sufficient margin for his 16th BSB race victory.
Team-mate Haslam was not in such a good position during the race's latter stages, as he began to drop back from third placed Walker. A slide from Leon then let Rea take over in fourth, and more instances of running wide brought Byrne onto the Ducati's exhausts. Shakey made his pass on the inside at right-hander Westfield Bend, with Haslam seemingly unable to turn right into his apexes.
Rea was having no such problems with the Honda CBR1000RR, and had chased down Walker's Suzuki. The HM Plant rider looked threatening as they crossed the start-finish line, along the banked and curving Brabham 'Straight', and he was to get ahead braking on the inside for Druids on the penultimate lap. Chris tried his luck to recover third at Surtees, without success, and then found Byrne on his tail.
The final lap began with the two World Superbike race winners in close contention, and with Byrne going for it. He made a pass braking going into Druids, only for Walker to get it back on the way out. But a subsequent slide for Chris meant that Shane did make it through, and he held onto fourth at the finish. Walker had gone from third to fifth in two laps. Meanwhile, Haslam ended up fifth home, heading Sykes, Kiyonari, Hill and Rutter.
Race two again saw Rea drop places at the start, as Lavilla led Haslam, Walker, Camier and Kiyonari. Walker overtook Haslam into Druids, only for the reverse move to follow on the way out, with Camier also getting by the Ducati. As Gregorio pulled away into a comfortable lead, Leon and Leon swapped again, as Haslam regained third. Hill was an early retirement.
Lavilla left the others to fight it out for second, with Walker, Haslam, Camier and Kiyonari followed by Rea, Byrne and Crutchlow. Haslam took second at Paddock Hill, but as earlier ran wide and lost out to both Walker, right away, and Camier, at Druids. The leading Honda rider now got onto the case of 'the Stalker', having an attack at Paddock, and getting by on the brakes for Druids, but temporarily. He tried the outside at Paddock, the inside at Druids, but went wide, and then using that line to make it stick for the following Graham Hill Bend.
Rea was on the move again, taking fifth away from Byrne in the middle of the six man group. Jonathan's next move pushed Walker wide at Paddock, which meant the Suzuki rider also lost places to Byrne and Haslam. Second was now to be contested by four Honda pilots, with Camier, Kiyonari, Rea and Byrne getting away from Haslam and the Suzukis, followed by Rutter, Harris, Sykes and Thomas. At the same time, a new fastest lap took Lavilla even further clear, until the safety car was sent out to control the pace.
Malcolm Ashley had crashed, and of course all of the Spaniard's advantage was gone for the restart, with six laps to run in the extended race distance. Kiyo was the man to suffer in this late period. Team-mate Rea overtook at the right-handed Hawthorn Bend, at the end of the fastest stretch up from Pilgrims Drop. And Ryuichi was progressively demoted thereafter by Byrne, Haslam and Walker, before fading down the points list.
Lavilla re-established a lead over the rest, with Honda boys Camier and Rea contesting second. The latter made fastest lap to go on the attack, and he took second place at the red flag, which brought an early end due to someone's engine failure. Haslam had attacked Byrne's fourth, with the Stobart rider making a mistake that sent him across a gravel trap, to eventually take P13. Sykes took fifth away from Harris and, behind Rutter, Walker defended against Andrews for eighth, with Thomas tenth, from Kiyonari.
Things can always change, but for now the signs for Gregorio Lavilla and the number 36 Airwaves Ducati are very encouraging. He of course came close to retaining the championship in 2006, but is clearly not ready to let any mistakes intervene this year. Meanwhile, a pair of twenty-year-olds look ready to challenge the former title holder, series rookie Leon Camier making the best impression with his undaunted riding at the front. Jonathan Rea might have put up a more troublesome fight if not for his starts, so these two Honda men will need to be watched.
The older hands were not quite where they would want to be, but Chris Walker will always get the British fans' hearts racing, and Shane Byrne has the same kind of determination to succeed. Michael Rutter had solid performances to get his Kawasaki ZX-10R ahead of the 'works' bikes from Hawk. But likely title contenders Leon Haslam and Ryuichi Kiyonari probably had most reason for disappointment, compared to their team-mates' races. Will there be a 'young gun' winner next time?
Standings after two races: Lavilla 50; Camier and Rea 36; Haslam 23; Sykes 20; Walker 19; Byrne 16; Rutter 15; Kiyonari 13.