Jonathan Rea takes Superbike double at Knockhill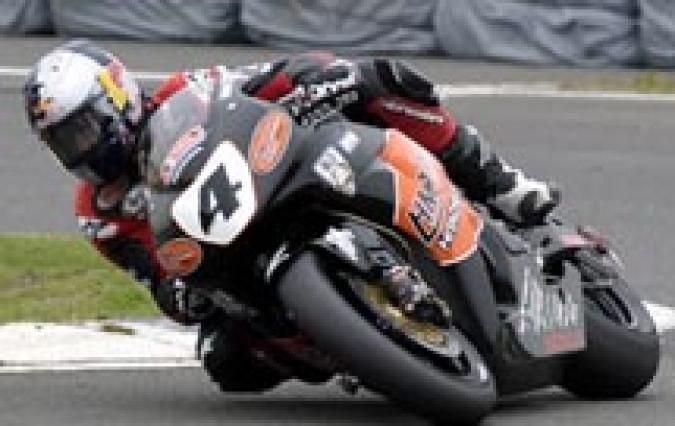 Raceline Photography
By Dan Moakes
July 12 2007
British Superbike racing had recently seen its ninth new race winner in six years, as Jonathan Rea had defeated all contenders at Mondello Park. The 20-year-old was starting to look like a real threat to his points leading HM Plant Honda team-mate, Ryuichi Kiyonari, not to mention Airwaves Ducati challenger Gregorio Lavilla. How would they stack up at Knockhill?
The circuit in Scotland is a short and challenging one, with tight corners and contrasting fast blasts, and notable elevation changes. The venue, where Kiyonari had won three of the last four, would host the seventh round in 2007, not to mention hosting the inclement weather. But that would wait for race day.
The run up to the Knockhill round had seen former British champion Neil Hodgson back in BSB action. The 2003 Superbike World Champion had tested for Rizla Suzuki at Cadwell Park, the team of his big rival in 2000, Chris Walker. This had led to talk that 'the Stalker' might be in danger of getting replaced, but the team were more than happy to confirm their commitment to running Walker for the balance of the championship. Hodgson's efforts were made to try and give the team a boost with their current GSX-R1000 motorcycle, and he had since signed to race once again in the AMA series in the United States.
Qualifying at the event resulted in another pole position for Rea, a row ahead of team-mate 'Kiyo'. Honda took three of the first four places, with Tom Sykes a best yet of third for Stobart Motorsport and Leon Camier fourth for Bike Animal. The inevitable interloper was a Ducati - that of Mondello winner Leon Haslam. His Airwaves partner, Lavilla, was as far back as ninth.
Three Hondas also lined up on row two, with Kiyo first in P5. He was alongside Walker on the Suzuki, with both riders having set the same lap time. Karl Harris was seventh for Hydrex Honda, and Shane Byrne eighth for Stobart. Behind Lavilla came the first of the Yamahas, with Virgin team leader Tommy Hill tenth. The red bikes had a tartan-flavoured livery this time out, with Hudson Kennaugh in P14.
Following Hill came Cal Crutchlow (Rizla Suzuki), Chris Martin (Red Viper Honda), Steve Plater (AIM Yamaha) and Kennaugh. In P15, Stuart Easton again filled in for Michael Rutter on the MSS Kawasaki, and the next row also included a substitute rider. Sean Emmett was racing the Samsung Suzuki in the absence of Dean Thomas, moving back to his Superbike home from the same sponsor's Superstock squad. Thomas had cracked some ribs in an incident on the Friday.
Sunday provided a further test for the riders - from the weather. A shortened race one had a delayed start after some very heavy rain. This had passed as they lined up, but a wet race was declared. Conditions were drying, with a backdrop of sun but clouds, and the bikes had wet tyres fitted from their respective Dunlop, Michelin or Pirelli suppliers.
Before they could get going, Hill found himself stranded at the final Taylor's (or Real Radio) Hairpin at the end of the sighting lap, possibly with electrical problems, and he pushed in to make a late start on his spare R1. Meanwhile, the HM Plant pair were away into the lead, Rea heading Kiyonari. Walker was of course fast off the line to go third, but was soon relegated by Camier, at the third corner. This is McIntyre's (or Scotsmans), a right-hander where they start to climb from the lowest point on the circuit. Haslam, Sykes, Harris, Byrne and Lavilla followed.
Haslam moved from fifth into fourth along the kinked Hislop (or Daewoo) Straight, where they speed into the heavy braking zone for the tight, uphill Taylor's right-handed hairpin corner. This put Walker back another spot. But up front Rea was really motoring in the uncertain track conditions, setting the fastest lap a couple of times and almost immediately pulling away from the rest. Kiyo was not matching this pace, but still stretching away from Camier, Haslam and the rest.
The Superbikes motored on, their passing causing the track to start drying, quite a lot in some places. Behind Rea and Kiyo, and the battling Camier and Haslam, came Walker, who was getting away from the next group. Byrne had taken sixth from team-mate Sykes, then came Lavilla. Ollie Bridewell would soon relegate Harris; from Crutchlow, Emmett, Kennaugh, Plater and Easton, the last two who would also swap places.
Clark Curve is a right-hander on a crest, leading onto Hislop Straight. Haslam passed Camier here on the inside, as Walker was catching the pair of Leons. Before Chris could challenge the 20-year-old Bike Animal rider, Camier crashed out, sliding off at McIntyre's. Approaching half-distance for the race, the leaders were already getting in among the backmarkers, on this 1.3-mile circuit in the mixed conditions. The traffic posed an additional problem as the fast men also raced one another.
Rea and Kiyo were each on their own by now, but Walker was not far off Haslam, and Byrne had caught the Suzuki rider. Sykes' sixth now came under threat from Lavilla, and the Honda man was not prepared to hang about lapping slower riders. Harris was now behind both Bridewell and Crutchlow, and ahead of Emmett and Kennaugh.
Byrne took fourth from Walker, but at this stage, three-quarters distance, the rain started again. The track became wet once more, and the question of tyre grip again came into focus, depending on who had kept dry track wear to a minimum. The leaders spaced out more, and soon Rea was lapping late starter Hill. Lavilla lost touch with Sykes, and meanwhile Quay Garage Honda rider James Buckingham crashed out.
Rea duly recorded a convincing win, with Kiyonari second. They both felt their Michelin tyres had been particularly good - despite the fact that Dunlop were employing a multi-compounded treaded tyre. Haslam was third, and then came Byrne, whose visor had given him problems in the spray. Walker, Sykes, Lavilla, Bridewell, Emmett, Harris, Crutchlow, Kennaugh, Hill and Easton were the next finishers.
Race two was another wet race, but full length, with the bikes again on full wet tyres, even though it wasn't raining. Walker chose a different rear tyre than he'd used earlier, and meanwhile Hill was still employing his spare Yamaha. Rea led Kiyonari again, with Haslam, Sykes, Harris and Walker leading the pursuit. One of the men towards the back crashed out at the turn five Glenvarigill (or John R Weir) chicane, where the road goes left-right up a steep incline.
Rea's Knockhill prowess was established as he again went straight into a decent lead over the rest, as Kiyo and Haslam started to ease clear of Sykes and Harris. Hill was sixth until running wide at Taylor's, where Walker went through, holding off Tommy's reply for the downhill right-handed turn one Duffus Dip. Then followed Camier, Byrne, Plater, Crutchlow, Lavilla, Bridewell, Emmett and Easton.
Lavilla had not previously recorded a first or second place at Knockhill, and his 2007 chances were short-lived in this race, as he crashed out. At the exit of the chicane, the Spaniard ventured just too far onto the slippery kerb, and lost control. He later suggested visibility problems as well. Team-mate Haslam was soon established in a clear third, with Sykes fourth, and Harris and Walker getting away from Hill.
Walker attacked Harris, but meanwhile, behind Hill, the race was on for eighth. Byrne challenged Camier on the left hand side along the up-and-down main straight, but his move worked on the inside for McIntyre's. Shane then pulled away to chase after Walker, Harris and Hill. His job was made easier when Karl ran off track after going wide at Clark, and he rejoined behind Tommy. The Yamaha man would soon crash out, not long after Crutchlow had done the same thing.
Track conditions were obviously still difficult, and again Rea was getting up to the tail end riders before half-distance. He soon found himself lapping Malcolm Ashley, Tom Tunstall, Aaron Zanotti, Paul Barron and Marty Nutt, some of whom were in the points. Barron would be the next man to crash. Meanwhile, Byrne had passed Harris for sixth, and would begin to home in on Walker as a drying race line emerged. Behind, Harris and Camier joined battle, ahead of Emmett, Bridewell, Easton, Plater and Kennaugh.
The race clearly looked to be Rea's, and Sykes was in a fairly secure looking fourth, but Haslam had raced up to second man Kiyo, and the contest was on. Leon was evidently after a way past through the backmarkers, and he had a try at Clark. But his best bet turned out to be on the inside braking for Taylor's Hairpin, and he got through with five laps to go and started to pull away. By the finish he was well clear, but Rea was out of range, and he won again despite easing off on the drying track.
The late stages saw Sykes in determined pursuit of his first BSB podium, after two fourths at Snetterton. The 21-year-old was just 1.5s from Kiyonari with two laps to go, and it was a second with one to go. Tom was clearly pushing the works Honda man, but in the end was just behind at the flag. Meanwhile, Byrne got by Walker in the late moments, to be followed home by Camier, Harris, Emmett, Bridewell, Easton, Plater, Kennaugh, Tristan Palmer, Nutt and Zanotti.
Three consecutive wins from Jonathan Rea helped the youngster to jump ahead of Gregorio Lavilla, and close the points gap to Ryuichi Kiyonari. This now stood at eleven, with Kiyo and Leon Haslam sharing the other podium places. Lavilla's single seventh dropped him to third, with Haslam getting nearer in fourth. Shane Byrne and Tom Sykes made it a pretty good weekend for Stobart Honda, and Sykes made his mark in race two. Byrne took one more point overall on the day. Not so happy were Leon Camier and Tommy Hill, but things will no doubt switch around at the next meeting.
Standings after fourteen races: Kiyonari 248; Rea 237; Lavilla 220; Haslam 205; Byrne 151; Camier 145; Sykes 138; Walker 104; Hill 86.