Biographical rider entry list for MotoGP in 2010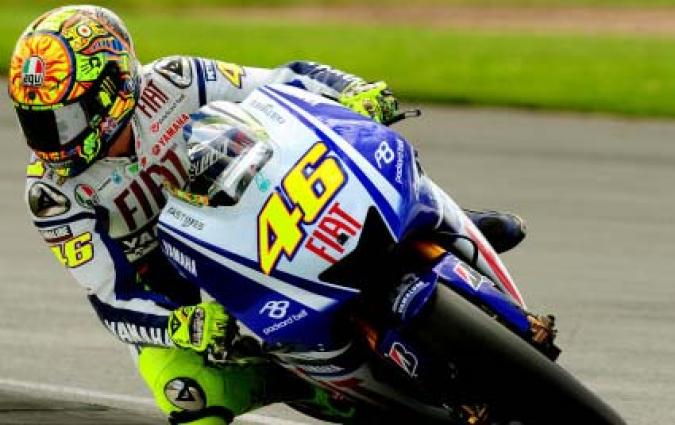 © Empics / PA Photos
By Dan Moakes
March 15 2010
The 2010 FIM MotoGP World Championship series: The new season of racing starts on the 11th of April, in Qatar, when Yamaha M1 rider Valentino Rossi will start the defence of his latest title. Here are the essential details on who's who among the riders this year.

The 2010 FIM MotoGP World Championship:
The new Grand Prix season will see the usual mix of talented racers in the premier class, with various levels of experience and previous success. There are five new names, four of them moving up from the now defunct 250cc GP support class, with one coming in from Superbikes; and one man is returning after three years off. Almost every rider has won at least a single Grand Prix race, and there are thirteen world champions in the field. Here is a biographical rundown for all the contenders.
Loris Capirossi, Italy
age 37 · first GP 1990
racing number: 65
GP entries: 302, total points: 3128
GP wins: 29 (125cc, 250cc, 500cc, 990cc, 800cc)
GP podium results: 99
World Champion: 125cc 1990, 1991 · 250cc 1998
best season in MotoGP: 3rd 2001, 2006
Garry McCoy, Australia
age 37 · first GP 1992
racing number: 24
GP entries: 144, total points: 677
GP wins: 5 (125cc, 500cc)
GP podium results: 17
best season in MotoGP: 5th 2000
Valentino Rossi, Italy
age 31 · first GP 1996
racing number: 46
GP entries: 227, total points: 4026
GP wins: 103 (125cc, 250cc, 500cc, 990cc, 800cc)
GP podium results: 164
World Champion: 125cc 1997 · 250cc 1999 · 500cc 2001 · MotoGP 2002, 2003, 2004, 2005, 2008, 2009
National Champion*: Italian 125cc 1995
Marco Melandri, Italy
age 27 · first GP 1997
racing number: 33
GP entries: 195, total points: 1993
GP wins: 22 (125cc, 250cc, 990cc)
GP podium results: 62
World Champion: 250cc 2002
best season in MotoGP: 2nd 2005
National Champion*: Italian 125cc 1997
Randy de Puniet, France
age 29 · first GP 1998
racing number: 14
GP entries: 183, total points: 1117
GP wins: 5 (250cc)
GP podium results: 24
best MotoGP result: 2nd
best season in MotoGP: 11th 2007, 2009
best season in GPs: 3rd 2004 250cc
National Champion*: French 125cc 1998
Hiroshi Aoyama, Japan
age 28 · first GP 2000
racing number: 7
GP entries: 105, total points: 1112
GP wins: 9 (250cc)
GP podium results: 27
World Champion: 250cc 2009
National Champion*: Japanese 250cc 2003
Dani Pedrosa, Spain
age 24 · first GP 2001
racing number: 26
GP entries: 149, total points: 2132
GP wins: 31 (125cc, 250cc, 990cc, 800cc)
GP podium results: 79
World Champion: 125cc 2003 · 250cc 2004, 2005
best season in MotoGP: 2nd 2007
Casey Stoner, Australia
age 24 · first GP 2001
racing number: 27
GP entries: 132, total points: 1582
GP wins: 27 (125cc, 250cc, 800cc)
GP podium results: 54
World Champion: MotoGP 2007
Andrea Dovizioso, Italy
age 24 · first GP 2001
racing number: 4
GP entries: 133, total points: 1549
GP wins: 10 (125cc, 250cc, 800cc)
GP podium results: 43
World Champion: 125cc 2004
best season in MotoGP: 5th 2008
European Champion: 125cc 2001
Mika Kallio, Finland
age 27 · first GP 2001
racing number: 36
GP entries: 132, total points: 1175
GP wins: 12 (125cc, 250cc)
GP podium results: 33
best MotoGP result: 7th
best season in MotoGP: 15th 2009
best season in GPs: 2nd 2005, 2006 125cc
Héctor Barberá, Spain
age 23 · first GP 2002
racing number: 40
GP entries: 124, total points: 1246
GP wins: 10 (125cc, 250cc)
GP podium results: 32
best season in GPs: 2nd 2004 125cc & 2009 250cc
National Champion*: Spanish 125cc 2002
Jorge Lorenzo, Spain
age 22 · first GP 2002
racing number: 99
GP entries: 129, total points: 1498
GP wins: 26 (125cc, 250cc, 800cc)
GP podium results: 56
World Champion: 250cc 2006, 2007
best season in MotoGP: 2nd 2009
Marco Simoncelli, Italy
age 23 · first GP 2002
racing number: 58
GP entries: 118, total points: 991
GP wins: 14 (125cc, 250cc)
GP podium results: 29
World Champion: 250cc 2008
European Champion: Minibike 2000 · 125cc 2002
Álvaro Bautista, Spain
age 25 · first GP 2002
racing number: 19
GP entries: 117, total points: 1188
GP wins: 16 (125cc, 250cc)
GP podium results: 46
World Champion: 125cc 2006
National Champion*: Spanish 125cc 2003
Colin Edwards, United States
age 36 · first GP 2003
racing number: 5
GP entries: 119, total points: 951
GP podium results: 11
best MotoGP result: 2nd
World Champion: Superbike 2000, 2002
best season in MotoGP: 4th 2005
National Champion*: AMA 250cc 1992
Nicky Hayden, United States
age 28 · first GP 2003
racing number: 69
GP entries: 117, total points: 1091
GP wins: 3 (990cc)
GP podium results: 26
World Champion: MotoGP 2006
National Champion*: AMA Supersport 600cc 1999 · AMA Superbike 2002
Aleix Espargaró, Spain
age 20 · first GP 2004
racing number: 41
GP entries: 72, total points: 233
best MotoGP result: 11th
best GP result: 4th (250cc)
best season in MotoGP: 18th 2009
best season in GPs: 12th 2008 250cc
National Champion*: Spanish 125cc 2004
Ben Spies, United States
age 25 · first GP 2008
racing number: 11
GP entries: 4, total points: 29
best MotoGP result: 6th
World Champion: Superbike 2009
best season in MotoGP: 19th 2008
National Champion*: AMA Formula Xtreme 2003 · AMA Superbike 2006, 2007, 2008 · AMA Superstock 2007
---
There are also these possible reserve riders, who were all active in the 2009 season:
Sete Gibernau, Spain
age 37 · first GP 1992
racing number: 15
GP entries: 181, total points: 1346
GP wins: 9 (500cc, 990cc)
GP podium results: 30
best season in MotoGP: 2nd 2003, 2004
Gábor Talmácsi, Hungary
age 28 · first GP 1997
racing number: 14
GP entries: 146, total points: 1019
GP wins: 9 (125cc)
GP podium results: 25
best MotoGP result: 12th
World Champion: 125cc 2007
best season in MotoGP: 17th 2009
National Champion*: Hungarian 125cc 1999
Alex de Angelis, San Marino
age 26 · first GP 1999
racing number: 15
GP entries: 165, total points: 1291
GP wins: 1 (250cc)
GP podium results: 33
best MotoGP result: 2nd
best season in MotoGP: 8th 2009
best season in GPs: 2nd 2003 125cc
Toní Elías, Spain
age 27 · first GP 1999
racing number: 24
GP entries: 164, total points: 1347
GP wins: 10 (125cc, 250cc, 990cc)
GP podium results: 35
best season in MotoGP: 7th 2009
best season in GPs: 3rd 2001 125cc & 2003 250cc
Yuki Takahashi, Japan
age 25 · first GP 2001
racing number: 72
GP entries: 75, total points: 555
GP wins: 2 (250cc)
GP podium results: 7
best MotoGP result: 12th
best season in MotoGP: 20th 2009
best season in GPs: 5th 2008 250cc
National Champion*: Japanese 250cc 2004
Michel Fabrizio, Italy
age 25 · first GP 2002
racing number: 84
GP entries: 29, total points: 18
best MotoGP result: 10th
best season in MotoGP: 20th 2007
European Champion: Superstock 2003
Chris Vermeulen, Australia
age 27 · first GP 2005
racing number: 7
GP entries: 72, total points: 521
GP wins: 1 (800cc)
GP podium results: 7
World Champion: Supersport 2003
best season in MotoGP: 6th 2007
James Toseland, England
age 29 · first GP 2008
racing number: 52
GP entries: 35, total points: 197
best MotoGP result: 6th
World Champion: Superbike 2004, 2007
best season in MotoGP: 11th 2008
Niccolò Canepa, Italy
age 21 · first GP 2009
racing number: 88
GP entries: 15, total points: 38
best MotoGP result: 8th
best season in MotoGP: 16th 2009
FIM Champion: Superstock 1000 Cup 2007
* Winner of a national championship title at the most senior level