History in the making for Valentino Rossi & Yamaha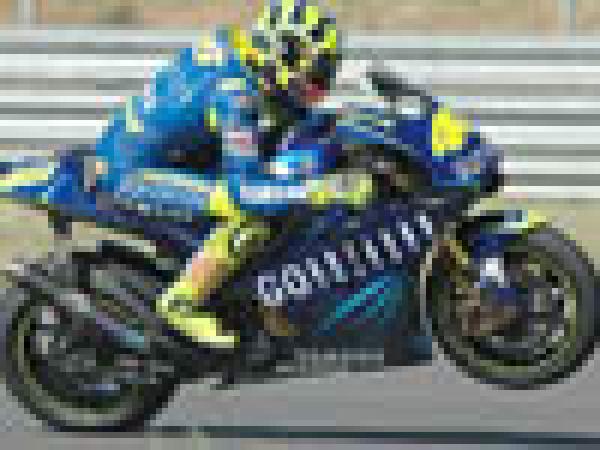 Pic SportsPics.co.za
By Dan Moakes
April 24 2004
Even with good testing times behind them, nobody was quite sure what to expect from Valentino Rossi and Yamaha in their first race together. But the South African Grand Prix saw history made as the champion took back-to-back wins on two different bikes, relegating most of the Honda men to also-rans.
It is not unusual to see Rossi starting from pole position, but his 21st start from P1 was also the first for a Yamaha rider since Max Biaggi in the last race of 2002. With the new three-by-three grid formation taking effect, Rossi was joined on row one by his two main rivals from 2003 - Sete Gibernau (Telefónica Honda) and Biaggi (Camel Honda). Two more RC211V riders led the pursuit, with Nicky Hayden (Repsol) ahead of Colin Edwards (Telefónica), but there was a surprise sixth place man in the shape of Shin'ya Nakano and the latest Kawasaki Ninja.
Row three had a mix of machinery, with Marco Melandri (Yamaha), Alex Barros (Honda) and Loris Capirossi (Ducati) in places seven to nine. The two Suzukis of Kenny Roberts and John Hopkins came next, from Makoto Tamada (Honda), Alex Hofmann (Kawasaki), Carlos Checa (Yamaha) and Neil Hodgson (Ducati). The second works Ducati of Troy Bayliss was down in 21st, behind the Aprilia and Proton runners.
Rossi got the start right, leading away from the Hondas of Gibernau, Biaggi and Hayden, but Max quickly moved ahead of the Spaniard as he looked to put pressure on Rossi. The next men through were Melandri, Edwards, Capirossi, Roberts and Barros, but Roberts made it by Capirossi, and Edwards demoted Melandri on lap two. Even from the very start it was clear that the first three could run at a faster pace than the rest of the riders, and Biaggi was right with Rossi as he began mounting an attack on 'the Doctor'.
The action at the front was pretty hot early on, and Biaggi set fastest lap as he challenged Rossi. The Roman made it to the front by going for the inside through a fast right-hander, but he was demoted again as Rossi went back inside for the following more acute right. Gibernau followed him through, but Max repaid the compliment by jamming his Honda inside Sete's for the next left.
When Biaggi ran wide it gave Gibernau the chance to go back past, but the Italian fought back quickly through a fast right, and proceeded to chase Rossi before he could get too far clear. The Honda rider was soon mounting the offensive again and, although Gibernau was able to stay in touch for some laps, Sete eventually began to drop to 1.5s behind, then 2.3s, then 3s, and it ultimately became a two-way race between the high profile Italian rivals. A choice of harder rear tyre had not paid off for the Spaniard.
Setting another fastest lap, Biaggi had another go at Rossi at the same place as before, and this time he held onto the position. We would now see whether the Honda had more pace than the Yamaha, and it was quickly clear there was nothing in it. Rossi kept up the attack, and on lap eight he retook the lead by going tighter through a right-hand corner. This put Biaggi in the attacking position, and he kept the pressure on consistently. He improved on the fastest lap yet again in the process.
With five laps remaining, Biaggi lunged by Rossi on the brakes and, even though he then went a little wide, Max defended his position and was ahead again. Rossi continued to push his rival and, with two to go, dived inside the Honda and ran Biaggi out to the edge of the corner as the Roman tried to respond. It was decisive but fair and, although Max redoubled his attack, Valentino now upped the pace very slightly. Going into the final lap, there was now just enough margin between the two, and Biaggi couldn't find anywhere to attempt another pass.

Valentino Rossi, Gauloises Fortuna Yamaha - photo by www.SportsPics.co.za
It had been a tight race between the two big rivals, but Rossi had won on his Yamaha début. It was only the third victory for the M1, but it also represented the first time any rider in the premier class had won consecutive races after switching between two manufacturers. Meanwhile, Honda men filled the next four places, with Gibernau a lonely third behind Biaggi, and the works Repsol machines next home.
Fourth place was an encouraging result for Alex Barros, as he had worked his way through from ninth in the early stages, passing Roberts, Capirossi and, in one go, Edwards and Hayden. However, the experienced Brazilian was 18s away from Rossi at the flag which, with theoretically the best bike in the field, will have given Honda cause for concern. Hayden brought the sister machine home fifth, six seconds behind Barros.
Edwards, who opted for the 2003-spec RCV, as the satellite teams had not had much testing of the '04 updates, lost out as the race progressed. He hung onto Hayden initially, but then dropped away and could not resist the attentions of Barros and, later, Capirossi. Loris brought the first Ducati Desmosedici home in sixth, with Colin seventh and last Honda man Makoto Tamada eighth.
Barring Rossi, the Yamaha riders had a disappointing time of it. Norick Abe, Carlos Checa and Marco Melandri were next home after Tamada, with Checa almost forty seconds adrift of his race winning team-mate. Melandri had been doing well in the opening laps, but eleventh was six places down on his lap one position. Similarly, Nakano's twelfth came after falling back, as his Kawasaki couldn't maintain its qualifying pace.
The Suzuki team had a more encouraging showing than expected, but Kenny Roberts dropped out after running eighth off the start, and John Hopkins could do no better than thirteenth. Bayliss was a puzzling fourteenth, his Ducati having run behind Neil Hodgson's customer version, but the two d'Antín bikes of Hodgson and Rubén Xaus fell victim to mechanical glitches. The last point went to Shane Byrne in his first GP, and he beat Aprilia team-mate Jeremy McWilliams into the bargain.
After all the speculation, Valentino Rossi had proved that he could make the Yamaha M1 into a winner, despite the strength in depth of Honda. What's more, he had done it at the first attempt, and there was only one man able to offer him any challenge. Max Biaggi rode a strong race, but he will know that he has a big job on his hands, and will have to score wins whenever possible. The rest of the field, and Honda's technicians, have a lot of work ahead of them to match up to the two Italians.
Standings after one race: Rossi 25; Biaggi 20; Gibernau 16; Barros 13; Hayden 11; Capirossi 10; Edwards 9; Tamada 8; Abe 7; Checa 6