Frankie Chili blitzes the WSBK field at Misano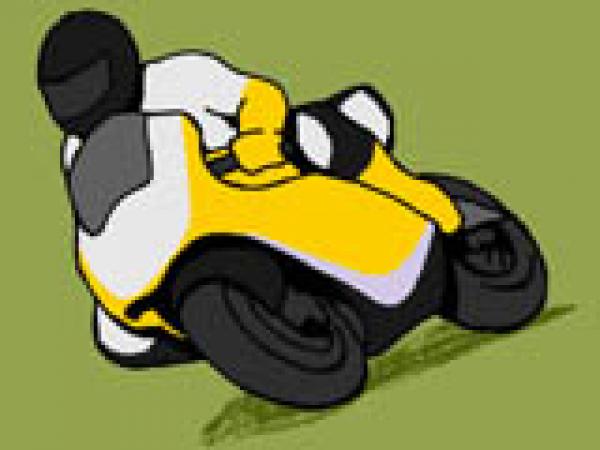 Win number 17
By Dan Moakes
April 26 2004
It could so easily have been another dominant display by the works Fila Ducatis, but mixed weather conditions at Misano, for the San Marino round, helped spice up an already exciting championship. 39-year-old Pier-Francesco Chili may have been on his 2003 Ducati, but you wouldn't have known it.
Wet qualifying conditions didn't prevent an all-Ducati front row, but the line-up wasn't entirely to form. On this occasion, DFX team rider Steve Martin was sat on pole, ahead of Régis Laconi on the Fila 999, Chili's 998 RS and Lucio Pedercini on a similar machine. Row two had none of the Italian bikes, as Mauro Sanchini (Kawasaki), Troy Corser (Petronas), Chris Vermeulen (Honda) and Chris Walker (Petronas) lined up next.
Four more Ducati runners made up the third rank, with Leon Haslam (Renegade), Marco Borciani (DFX), Noriyuki Haga (Renegade) and Gianluca Nannelli (Pedercini) in that order. Missing from the list of quick men was championship leader James Toseland, on the other Fila-liveried 999 F04. The English rider had encountered set-up difficulties throughout practice and qualifying, ending up twentieth. Against all precedents, James therefore did not make it into the superpole session, and would start from the wrong end of row five.
Between Nannelli and Toseland came Piergiorgio Bontempi (Suzuki), Garry McCoy (Ducati), Gianmaria Liverani (Ducati), Ivan Clementi (Kawasaki), Luca Pini (Suzuki), Warwick Nowland (Suzuki) and Giuseppe Zannini (Ducati) - a list that included three of the seven wildcard entrants.
After a false start, race one got underway on a damp but drying track, and it was Chili that took the lead, from Laconi, Corser and Walker. The two Foggy Petronas men made quick work of Laconi and, in fact, Corser was soon past Chili and into the lead. Behind the first four came Sanchini, Martin, Haga, Haslam, Pedercini, Borciani and Vermeulen. Toseland rose to seventeenth off the line, but faced an uphill task in uncertain conditions.
His last victory three years behind him, Corser nevertheless looked comfortable up front, and he began to stretch out a lead over Chili and Walker. Meanwhile, Laconi was going in the opposite direction, losing out to both Sanchini and Martin, and then falling victim to Haga and Pedercini as well. An early battle developed for second place, with Chili, Walker and Sanchini together, and the Kawasaki man was looking particularly racy. In only the fifth race for the new bike, Mauro took it past Walker into turn one, and started to attack Chili for second.
Frankie had a moment as he slid on the kerbing coming out of the final corner, and that was enough for Sanchini to go ahead down the straight. In a Ducati dominated field, the Petronas FP1 and Kawasaki ZX-10RR were leading the way. As Sanchini and Chili moved clear, now Laconi came back into play. The Frenchman had built some momentum, and was now putting Walker's fourth place under pressure. Going inside for a left-hander, Régis moved ahead and then caught up to the two in front.
Laconi's progress was impressive, and in no time he was through into second, and setting the fastest lap as he chased Corser. With half the race remaining, Régis got the gap down to 1.4s, and then to 0.7s. When he got onto the Australian rider's tailpipes there were still ten laps, and Laconi went through on the inside at a left-hander. He then proceeded to pull away and was unchallenged to the flag. In this case it was the red flag, as sudden heavy rainfall caused an early stoppage. Enough distance had been covered for this to be declared the result.
Behind Corser - who would record the best finish for the FP1 to date - Sanchini had got in front of Chili by 1.1s when the Kawasaki man dropped out. This left Frankie to worry about Haga, who was going quickly in fourth, but the home favourite maintained third. The next finishers were Vermeulen, Walker, Martin, Nannelli, Bontempi, Toseland, and Clementi, whilst others to have dropped out included Fuertes, McCoy and Pedercini. The last of these fell late on when running eighth.
The big story of the day came in race two, which began in the rain, and with the track already wet. Most riders had fitted intermediate tyres, as the circuit certainly wasn't waterlogged and improvements were expected. This time Martin made better use of his pole position, but it was Laconi who quickly took up the initiative, pushing the Australian back to second. But the most impressive performance in the early stages came from Sanchini. Fourth at the start, Mauro passed Walker and was soon grappling with Laconi.
Sanchini took the Kawasaki into the lead, going by Laconi in a right-hander, but the Ducati man came back at him. These two began to pull clear of Martin and, although Laconi now set the fastest lap, Sanchini overtook again on the inside for a left-hander, and soon set a fastest lap himself. The French rider made a couple of minor errors in trying to get back at the green machine, at one point getting inside but running wide. However, he finally made a move stick and began to move clear in search of his first double victory.
The start had seen Laconi, Martin, Walker and Sanchini pursued by Haga, Haslam, Vermeulen and Pedercini. Chili was demoted to tenth by Corser, while Toseland was up to eleventh after a better getaway. Martin maintained third during the early stages, with a comfortable gap over Walker, and as conditions improved was able to come back to Sanchini. The slippery circuit meant that fortunes altered rapidly behind.
Haslam dealt with both Haga and Walker, but then lost out again, finding himself down to seventh, behind these two and Vermeulen. Corser passed Pedercini for eighth, while Chili fell victim to Toseland and Borciani. Nannelli ran onto the grass and fell, joining early casualty wildcard Berto Camlek on the sidelines. Ivan Clementi pulled into the pits with troubles of his own.
The turning point for the race came as the track surface began to dry out in parts. Suddenly Chili began circulating faster than everyone else and, from twelfth, began to work his way forward again - initially in the tracks of Toseland. At the same time, Haga went past Vermeulen and then Walker, and began to chase third man Martin. Before long these two had Sanchini in their sights, the Kawasaki rider being demoted to fourth as the conditions went against him.
Chili's progress took him past Borciani and Vermeulen, with the Honda man then opting to go in for a rear slick tyre to be fitted. He rejoined some way down but gambled on being well placed to speed forwards again. Frankie maintained a cracking pace as he began to despatch such as Pedercini, Corser and Sanchini. With the track now drying quickly in most places, Chili caught and passed Toseland and improved on the fastest lap twice as he pursued Haslam.
Once through, he then cut down the two seconds that would take him onto the tail of the scrapping Martin-Haga duo. At this stage, Laconi had a lead of almost ten seconds over the DFX rider, with only ten laps of racing remaining. Chili moved past Haga on the straight and Martin at turn one, and then set about reducing the lead of Laconi, which was now up to eleven seconds. In just nine laps, it looked a fairly tall order.
But Frankie was obviously on top form, his bike was working well, and he had a partisan crowd right behind him. Reducing the fastest lap time still further, he began to bring the gap down steadily. At this stage, Laconi was in trouble with his tyres, and reduced grip was causing him to slide the bike. The lead went from 9s to 8s to 7.3s and to 5.6s with five to go. Laconi pushed on and was able to up his pace, but was looking ragged and smoking his rear tyre.
Still Frankie came at him. With just two laps remaining, the lead was down to 1.7s. Chili seemed to get caught up behind Bontempi after Laconi had lapped the Suzuki rider, but with a lap to go Frankie was onto Régis' tail. Obviously in an attacking mood, the PSG-1 rider went to the inside at the left-hander following the back straight, and there was no way his Fila-backed rival could resist. Frankie was too quick, and got clear almost immediately. He improved his fastest lap on the final circuit, and duly recorded his 17th career victory. It may just have been one of his best rides ever.
Laconi had to be satisfied with second, with Martin, Haga and Haslam taking the next three spots. Toseland had come through strongly to make it a Ducati top six, but his overall performance had seen him lose the points to lead to the consistent Chili. Sanchini had been unable to sustain his wet weather performance and, similarly, Vermeulen and Walker had also dropped back during the race - although the Honda man had made ground again after his tyre stop. These three ended up in places eleven to thirteen, with Corser, Pedercini, Luca Pini and Borciani rounding out the top ten behind Toseland.
With his 55th and 56th podium visits, Frankie Chili was now leading the championship. A tenth and a sixth meant that James Toseland was now twenty points down, and not far ahead of his resurgent team-mate, amongst others. The previous race winner, Garry McCoy, recorded two non-finishes and fell away to sixth. There may have been doubts over the changed WSBK rules, but it has proved anything but predictable so far.
Standings after six races: Chili 97; Toseland 77; Vermeulen and Laconi 70; Haga 69; McCoy 55; Martin 54; Walker 52; Borciani 49; Corser 48; Haslam 40; Sanchini 32.