A rain hit race thrills the GP crowds in Italy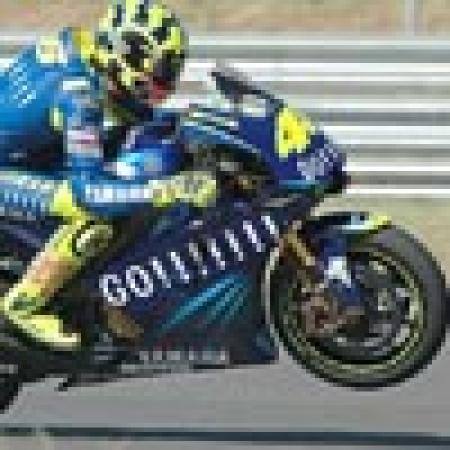 Pic SportsPics.co.za
By Dan Moakes
June 8 2004
The Italian crowds at Mugello were surely hoping for an exciting Grand Prix, but would have taken any kind of race so long as one of their heroes came out on top. In fact they will have been satisfied on both sides, as a rain hit race was won dramatically by World Champion Valentino Rossi.
picture by www.SportsPics.co.za
Qualifying was once again all about Honda and the best of the Yamahas, as two M1 bikes and five of the six RCV machines filled the top seven spots on the grid. Taking his fourth career pole position was series leader Sete Gibernau, on the Gresini Telefónica Honda. The works Repsol bikes of Nicky Hayden and Alex Barros were not far behind (second and fourth respectively), split by Rossi's Gauloises Yamaha. Marco Melandri had his Fortuna example in fifth, ahead of Max Biaggi and Makoto Tamada on the two Camel Pramac RCVs.
Loris Capirossi (Ducati), Kenny Roberts (Suzuki) and Shin'ya Nakano (Kawasaki) brought a mix of colour to the next three places, ahead of a gaggle of different machines including the two Aprilias on row six, Shane Byrne heading Jeremy McWilliams. The final positions were filled by the usual Proton and Harris WCM bikes, this time joined by wildcard Andrew Pitt on the Moriwaki-Honda. John Hopkins and Chris Burns were both absent.
A thrilling race started with Rossi and Biaggi getting in front by turn one, from Capirossi, an attacking Melandri, Tamada, Gibernau, Carlos Checa, Roberts, Norick Abe and Barros. Capirossi suffered a slide that caused him to lose out to Melandri, and it was the start of the slippery slope for the Ducati rider. The yellow-clad members of the crowd still had the pleasure of watching Rossi and Biaggi battle it out, and the first stage of combat saw Max go to the inside of Valentino over the start line, and pull ahead, only for 'the Doctor' to get back through on the inside at turn one. It was a series of moves that would become familiar but never fully predictable.
As things became relatively settled after the intitial mêlée, Rossi led Biaggi, then Melandri and Tamada, followed by Hayden, Capirossi, Gibernau, Checa, Barros, Roberts, Abe, Nakano and Colin Edwards. Loris soon fell victim to Sete as the Spaniard went inside through a right-hander and chased after Hayden. Meanwhile, Tamada copied Biaggi's use of Honda power on the main straight, but had to give way again as Melandri echoed Rossi's response at the corner.
The race resolved into a six-way fight for glory, with Tamada initially the man on the move. Again he overtook Melandri, this time just holding off the Italian while taking the outside approach for turn one. He then settled his attentions on team-mate Biaggi, looking threatening as the Bridgestone-shod Honda tracked its Michelin stablemate. Rossi now led Biaggi, Tamada, Hayden, Melandri and Gibernau in that order, and Checa became the first to fall at this stage.
Tamada's next move was to take him past Biaggi, going inside for turn one and pushing the Roman wide to hold him off. He then fixed onto the rear of Rossi as Max and the others were momentarily dropped back as a result. Gibernau set the fastest lap so far, as Hayden and Melandri were swapping places ahead of him. Then Tamada powered into the lead along the main straight, to Rossi's left, but allowed the champion the line to recover at the corner. At the same time Gibernau took the chance to relegate both Hayden and Melandri.
The action continued as Hayden and Melandri kept up their battle, and Tamada now got it right to keep the lead going into the first corner, only to find Rossi determined to outdo him around the other side of the circuit. But the next development depleted the lead group by two, with Hayden dropping his Honda into a gravel trap and losing time as he tried to get on course again. Melandri was sufficiently delayed to lose touch, and soon had the rapidly approaching Barros to worry about. Hayden ultimately pulled out of the race.
The racing remained tight, with Tamada regaining the point twice on the same lap, and Biaggi following Gibernau past Rossi soon after. But Valentino wasn't settling for that, passing Biaggi turning right, and soon after doing the same to Gibernau and getting Tamada to boot in the following left. There was to be no let up, as Rossi and Tamada fought over the lead, although now Biaggi seemed to start dropping back from Gibernau a touch. By now the fifth man was 2.8s back, but at this point it was now Barros, with a small margin over Melandri.
Rossi sought to up his game and pull clear of Tamada, and Gibernau saw this as his cue to depose the Japanese, jamming the blue Honda inside the yellow one, and go after his rival. Drama was heaped upon drama with a frightening looking crash involving Nakano and the Kawasaki. An apparent Bridgestone tyre failure going along the main straight launched bike and rider in different directions at around 200mph, fortunately without serious injury to the 26-year-old.
However, even as Gibernau was passing Rossi at turn one, Tamada became the second Bridgestone victim. Pulling up beyond the pit lane exit, Makoto thumped his Honda in the knowledge that a career best GP result had been on the cards. With Gibernau and Rossi now just out of range of Biaggi it looked like a two-man affair. Indeed, Barros had put 3.5s between himself and Melandri, suggesting that Max could soon be facing a challenge from the experienced works rider.
Rossi and Gibernau got on with the task in hand, obviously enjoying their tussle. They took the lead away from one another in turn with, at one point, several quick exchanges in as many corners. Rossi was passed at turn one, had a go back but ran wide, and the pair of them clashed elbows briefly as Gibernau regained the advantage - but not for long. However, with five laps remaining, rain started to fall. Rossi and Biaggi both put up their hands and the race was stopped. Sete did not look too happy with the decision.
The backdated positions showed Rossi ahead, from Gibernau, Biaggi, Barros and Melandri. Capirossi's backward progress had been in contrast to the work done by team-mate Bayliss, who had relegated the likes of Rubén Xaus, Edwards and Norick Abe in his rise to sixth place. The last two named had done a similar job, joining Troy in a close race, the Yamaha man winding up seventh, with Colin coming in ahead of Xaus, Capirossi, Neil Hodgson, Alex Hofmann, Byrne, McWilliams, Nobuatsu Aoki, Pitt and Michel Fabrizio. The Roberts brothers had both retired.
But it quickly became apparent that this wasn't the end of proceedings. Although seventeen laps represented over two-thirds distance, the rules meant there would be a new race over the remaining six laps. The result of this would count for the final positions, negating all the work done by the leaders to that point. Grid slots followed the result of part one, and the teams had some time to change settings and tyres for the conditions.
As it happened, the rain was not sufficient to go onto full wet tyres, although it continued to fall. This time it was Abe who went into the lead, from Biaggi, Rossi, Barros and Gibernau, with Melandri passing Bayliss to lead both the Australian and Xaus after the first group. However, the wet-dry conditions led to an all action race, with place changes almost too numerous to keep up with.
The wet inevitably suited some riders more, with the Ducatis of Xaus and Bayliss making their way to the front even as the positions of such as Abe, Barros and Biaggi fluctuated from one moment to the next. These three all took a turn in front, but then Xaus moved past Bayliss, Gibernau and then Barros in almost no time to take over. Barros fought back for a moment, but then former team-mates Bayliss and Xaus took over the fight. Behind the third-placed Brazilian came Gibernau, Rossi, Biaggi, Capirossi, Abe and the impressive Byrne, who quickly moved up to run seventh.
Bayliss passed Xaus around the outside, holding off the Spaniard's counter attack, and then Rubén saw Gibernau, Barros and Biaggi all go by. Rossi was also moving up again, and Byrne went around the outside of several men at once. For a short period it seemed Bayliss would pull clear of the pack, but Rossi had other ideas. Moving through, he passed Troy to lead, setting up another great battle as the Ducati rider used his bike's speed on the straight, but lost P1 again at the first corner. Gibernau, Biaggi, Xaus, Byrne and Barros were still in close attention, while Capirossi and Abe lost ground.
As the circuit began drying out in places, Rossi started to move clear of his pursuers. Again Gibernau saw this as the moment to strike, and went inside Bayliss for second at a right-hander. Xaus followed his lead at the next left, but soon fell victim to Biaggi. Rossi was on his own as time wound down, but Gibernau chased him in search of a late opportunity. He got closer, but the result saw Valentino first, Sete second, and then Biaggi, Bayliss, Xaus and Barros. Abe got the better of Capirossi in the second group, and Melandri wound up a disappointing ninth, from Byrne, Hodgson, Edwards, Aoki, Hofmann, Fabrizio, McWilliams and Pitt.
It had been a truly exciting race, and another impressive win from Valentino Rossi, but there was the feeling that Sete Gibernau had not played his final cards as the rain stoppage was announced. The 'new' race scenario had certainly helped the likes of Bayliss, Xaus, Abe and Byrne get in on the main action but, at the same time, Marco Melandri was one man who had lost out, having run strongly up until the red flag. The rider who had made the biggest impression was surely Makoto Tamada, and it seems we will see more of him before too long.
Standings after four races: Gibernau 86; Rossi 76; Biaggi 72; Barros 48; Checa 36; Edwards 33; Capirossi 28; Hayden 27; Bayliss 23; Melandri 22; Abe 21; Tamada 15.