Tamada wins as points leaders fall in the Río GP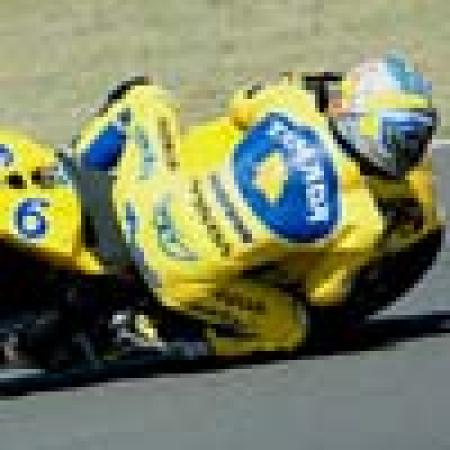 Pic SportsPics.co.za
By Dan Moakes
July 23 2004
Sete Gibernau and Valentino Rossi went to Brazil level on points at the head of the MotoGP field. The race at the Jacarepaguá circuit in Río de Janeiro was expected to be between these two and Max Biaggi, but a couple of 'outsiders' made their mark in the event, while the top two hit trouble.
The big surprise of qualifying saw a Suzuki rider secure pole position for the first time in 58 races, with Kenny Roberts ending a drout of over three years for the marque. The remainder of the first two rows were all Michelin tyre runners, and the first four behind Roberts were all Honda men - Max Biaggi leading Nicky Hayden, Sete Gibernau and Alex Barros. The last of these went into his home race still carrying shoulder injuries following his crash at Assen.
Loris Capirossi's Ducati lined up sixth, in the bike's best performance of the year to date, ahead of Makoto Tamada's Bridgestone-shod Camel Honda. Valentino Rossi was again lead Yamaha rider, for the sixth time in seven outings, but the six-time Jacarepaguá GP winner was only eighth. He was followed by Shin'ya Nakano (Kawasaki), Colin Edwards (Honda), Troy Bayliss (Ducati), Carlos Checa and Marco Melandri (both Yamaha). The usual Aprilia, Proton and Harris WCM entrants were found towards the rear of the grid.
The start of the race went Biaggi's way, but not for long. As Max ran wide at the first bend, Roberts slotted through to lead, with Biaggi now ahead of Hayden, Barros, Rossi, Gibernau, Tamada, Melandri, Edwards, Capirossi, Rubén Xaus, Nakano and Bayliss. The first lap saw Edwards overtake Melandri, and Gibernau get ahead of title rival Rossi on the inside at a tight right-hander.
Roberts' lead was short-lived as, on the back straight, Biaggi drafted past the Suzuki rider to pass him on the outside. At the same time, Hayden went into second on the inside of the GSV-R. The stage was set for a seven strong lead group to battle it out, but that all changed when Gibernau went out of the race early, his RCV's front end sliding out from underneath him. It promised to be a costly mistake in the Spaniard's championship assault.
Now we had Biaggi leading Hayden, Roberts, Barros, Rossi and Tamada, with Edwards starting to drop away. Capirossi headed the midfield pack, but was already out of touch with the leaders. Team-mate Bayliss was soon in worse shape, as his Desmosedici ended up in the gravel trap for his third no-score in a row. Meanwhile, the crowd had something to get excited about as Barros put in the fastest lap and passed Roberts on the back straight into the bargain.
It looked like Biaggi, Hayden, Barros and Roberts were threatening to break clear of Rossi, who had his hands full with Tamada. The Japanese rider, a podium finisher at this track in 2003, went inside the champion at turn one, only to run wide and let Valentino back through. The Suzuki GSV's lack of straightline speed told as these two homed in on Roberts, with Rossi going ahead at turn one and Tamada following him at the end of the back straight.
Barros' promised heroics didn't materialise and, as Biaggi and Hayden moved just out of reach, the Brazilian had to keep an eye on the chasing Rossi. Sure enough, 'the Doctor' dived inside the Repsol Honda rider at a left-hander, whereupon Alex's problem became the rapid Tamada, who was setting a new fastest lap. Makoto's chance came when Barros ran wide through a fast right-hander, leaving the inside line for the Pramac Pons rider to overtake on.
Biaggi and Hayden had made a gap on their pursuers through all this, but Rossi and Tamada began to bring this down again, with Barros unable to match their pace. Tamada was the man in a hurry, and he continued to harry Rossi, attacking at turn one. When Valentino went wide on the exit of this corner, it was all Makoto needed to move into third. He then caught up to the two men ahead, leaving Rossi to drop back a bit, and was able to go on and pass Hayden, also on the inside at turn one.
The speed of the three leading Hondas would suggest that Rossi was going to have to settle for a points finish, which would be handy in the absence of Gibernau. However, Valentino upped the drama levels as he now joined Sete on the sidelines, sliding out of a sure fourth place. There were ten laps remaining, so Rossi remounted quickly and tried to rejoin the fray, but his RC211V Honda would not comply. This left us with a three-way race between Biaggi, Tamada and Hayden.
As the first two began to stretch away from their works mounted Honda pursuer, it was clear that Tamada was putting pressure on his Camel Honda colleague. In the first part of the final double right corner, Makoto went tight to the inside of Max, taking the lead with three laps to go. From there the fight was over, as Tamada extended his lead at a pace that Biaggi's tyres could not match. It was the first MotoGP win since Tohru Ukawa's sole triumph in 2002.
With Rossi and Gibernau both out, Biaggi's second place helped him out in the points battle. By the finish he was clear of Hayden, who took his best result since the end of last season. Barros wound up fifth, as former team-mate Capirossi came through to fourth and the Ducati's best finish of the year so far. Loris had moved up from tenth, catching and passing both Edwards and Roberts before getting the better of Barros. Edwards and Roberts were next, with Kenny's seventh the best Suzuki performance in twenty outings.
Norick Abe was eighth, and first man home for Yamaha, having held fourteenth on lap one, and Nakano was next for Kawasaki. Checa was tenth, but had been just as high before Rossi's retirement. An early tussle with Melandri had ended badly for the two Fortuna liveried riders, as Marco had made a dive inside Carlos' M1, got into a big twitch and forced the more experienced man wide. Both riders went off track as a result, and Melandri's gravel excursion cost him a lot of time. He ended up thirteenth, behind Alex Hofmann and Xaus, and ahead of Jeremy McWilliams, John Hopkins and Neil Hodgson.
Having led the Italian Grand Prix in a thrilling battle with Valentino Rossi, Makoto Tamada's promise was finally fulfilled in Brazil. He becomes only the seventh rider to win in the new MotoGP era. And the unexpected retirements of both Rossi and equal points leader Sete Gibernau have closed up the championship fight again, benefitting the consistent Max Biaggi. This was also an encouraging meeting for the Suzuki and Ducati teams, which can only mean more excitement ahead.
Standings after seven races: Gibernau and Rossi 126; Biaggi 113; Edwards 64; Checa 62; Barros 59; Melandri 57; Capirossi 55; Hayden 54; Tamada 44; Abe 41; Xaus 36; Nakano 27.