Max Biaggi wins in Germany; Honda finish 1-2-3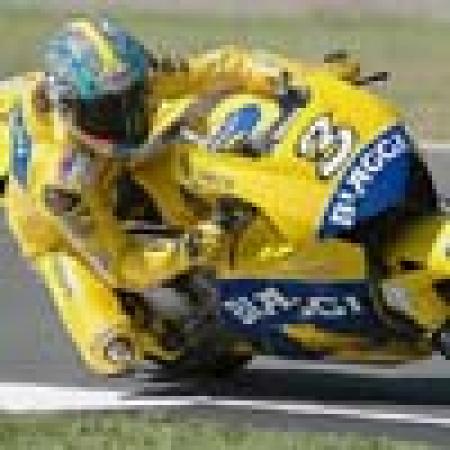 Pic SportsPics.co.za
By Dan Moakes
July 23 2004
Valentino Rossi and Sete Gibernau remained level on points after both men crashed out of the MotoGP race in Río. Max Biaggi, second in Brazil, had clawed back the lead of his two big rivals. The German Grand Prix crowd could expect a battle between these three, plus latest winner Makoto Tamada.
photo by www.SportsPics.co.za
Biaggi took the Pramac Pons Honda to his first pole position of the season, eleven rounds since his last. The other Honda riders experienced mixed fortunes. Gibernau was closest, leading row two, and Alex Barros was two places back with his RCV, sporting a newly revised exhaust system. Team-mate Nicky Hayden was ninth, Colin Edwards was eleventh and Tamada was two spots behind the American.
Yamaha also had good and bad in qualifying. Rossi was second, with team-mate Carlos Checa seventh. Meanwhile, the customer Tech 3 machines were both on row five. Roberts confirmed Suzuki's forward progress with another front row spot, but colleague John Hopkins was nine places back in twelfth. Fifth place for Shin'ya Nakano equalled the Kawasaki's best, from the recent round at Assen.
The Marlboro Ducati pair were well matched, with Troy Bayliss in resurgent form, eighth, and Loris Capirossi in tenth. The customer d'Antín bikes were on the last third of the grid, among the ever present Aprilia, Proton and WCM teams' machines, and just behind Alex Hofmann's second Kawasaki Ninja.
The start of the race saw the first two on the grid get away in front, Biaggi still ahead of Rossi. The Yamaha man cut inside his Honda rival round the first lap, only for Max to come back around the outside and re-establish his lead. Behind came Roberts, Capirossi, Gibernau, Checa, Marco Melandri, Barros, Bayliss, Edwards, Nakano, Hayden and Norick Abe, but the usual early shuffle saw Gibernau regain fourth from Capirossi. Meanwhile, Edwards moved past former sparring partner Bayliss, and Abe managed to fly by three riders to slot in behind the American.
The early laps looked to be all about Biaggi versus Rossi, with Valentino continually on the attack. In the pack, both Roberts and Capirossi were losing ground at this stage, their bikes not having the outright pace of Honda and Yamaha, and Bayliss was also going backwards. A fast moving Gibernau passed Kenny on the inside at turn one, followed before long by Checa. Loris had already been relegated by the Fortuna Yamaha man, and the similar machine of Melandri had also gone through.
Melandri now started to slip back, in contrast to Abe, who passed Edwards to go ninth. However, these last two, and Nakano, all lost out to Hayden, as he homed in on team-mate Barros. The order showed Biaggi leading from Rossi, with Gibernau, Checa and Roberts next, and a gap starting to appear to Capirossi, Melandri and Barros. Hayden led Abe, Edwards, Nakano, Bayliss, Hopkins, Tamada, Rubén Xaus, Hofmann, Jeremy McWilliams, Neil Hodgson, Nobuatsu Aoki, Kurtis Roberts, Michel Fabrizio, Shane Byrne and Chris Burns.
As Checa set the fastest lap, and then passed compatriot Gibernau at turn one, the first four began to stretch away from Roberts. However, the threat to Biaggi was reduced, as this became a three-way battle. Checa's progress ended at the penultimate corner, a left-hander, when the front of his M1 Yamaha folded under him and he slid out. Biaggi, Rossi and Gibernau, the last named running a harder rear Michelin, seemed to have reserved their podium places, bar any mishap. Behind, Roberts began the inevitable drop as faster machines than the Suzuki loomed up, with Capirossi and Hayden the first men through.
Rossi continued to push Biaggi, and his job was made easier when title rival Gibernau joined Checa on the sidelines. Sete had a similar slide to Carlos, sending his RCV bouncing through the gravel. Having got away with his crash in Río, the equal points leader knew this was a mistake he could ill afford. With Aoki already out, Capirossi became the fourth rider to crash, having just inherited a podium position. Bayliss soon went down on the other works Desmosedici, as the attrition rate mounted.
All of which left Biaggi and Rossi out on their own, 'the Doctor' still probing for a way past. The Yamaha seemed superior on cornering, but was just not fast enough in a straight line. Now Hayden and Barros were up to third and fourth, clear of fifth man Roberts. And Kenny was about to get caught by the impressive Abe, who was in turn just ahead of the race between Edwards and Tamada. This was a hard fought tussle, with Makoto trying a couple of moves at turn one, and making the second of them stick.
The fastest man in the race at this point was Barros, as he improved the best lap twice and went past Hayden at turn one into the bargain. The experienced Brazilian began to pull clear of his 22-year-old colleague as he homed in on the two ahead. But just as Alex latched onto the lead battle, so Rossi found his way past Biaggi on the inside at the first corner. Was he about to pull his trick of disappearing and leaving the rest to squabble over P2?
At first it looked like it, as the lead began to stretch. But it was only for a time and, on this occasion, Biaggi, Barros and also Hayden came back at him, making it a group affair once more. Biaggi went on the offensive when he got close enough, and was able to pass on the inside in the final uphill left-hander. That seemed to be it for Valentino, as a huge twitch sent him wide and gifted Barros a run through to second. Hayden then got Rossi at turn one, and it was assumed that the Italian had been working his tyres very hard in order to take the fight to the faster Hondas.
As the first four spread out, Rossi was wise enough to settle for a points finish, especially with Gibernau out. And so it was left to Biaggi and Barros to fight it out, each man looking for a first win of the season. Hayden held onto a solitary third place, although Rossi did get close again in the closing stages. Barros stayed with Biaggi as the Roman upped the pace again, and the Repsol bike was right with the Camel Honda in the last two laps. However, there was just no gap available to the Brazilian, and Max therefore took his fifth MotoGP class victory.
Leaving aside a brief run in the wet-dry second race at Mugello, this had been Norick Abe's best performance of the year. Having qualified fifteenth, the Yamaha rider had been holding down fifth after passing Roberts, before being pushed back again by Edwards and Tamada. He then lost out to the thrusting Melandri, before becoming the innocent victim of his Italian team-mate's mistake. Marco managed to run his rear wheel wide and out onto the grass, and was thus launched as his bike flipped him spectacularly. Norick tried to avoid the accident, only causing his own M1 to perform a similar trick. The impact for Abe looked more severe than the one Melandri experienced.
Edwards triumphed over Tamada for fifth, whilst Nakano came through to a good seventh, leaving Roberts eighth and just ahead of Hopkins' second Suzuki. Hofmann had his best 2004 finish in tenth, from Xaus, McWilliams, Hodgson, Byrne and the WCM pair of Fabrizio and Burns. Proton's day had ended when Kurtis Roberts became the eighth and final man to retire.
Valentino Rossi may have gained a thirteen point margin over Sete Gibernau, but Max Biaggi's win took him to just a point adrift, having scored in every round previously. Alex Barros recovered some of the ground lost by his two crashes, although consistent finisher Colin Edwards remained in touch with the Brazilian, joined by double podium man Nicky Hayden. Checa and Melandri lost out through their crashes and will want to do better in the British Grand Prix.
Standings after eight races: Rossi 139; Biaggi 138; Gibernau 126; Barros 79; Edwards 75; Hayden 70; Checa 62; Melandri 57; Capirossi 55; Tamada 54; Abe and Xaus 41; Nakano 36.