Chris Vermeulen double winner in the USA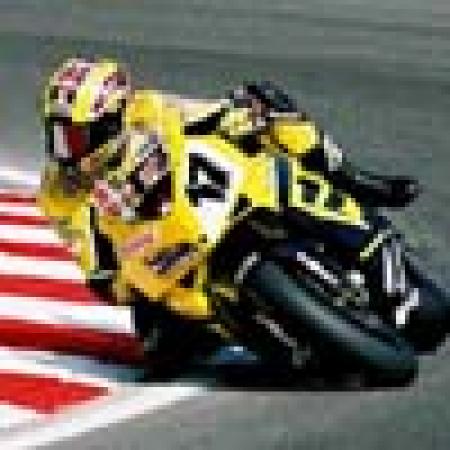 Raceline photography
By Dan Moakes
November 8 2004
The Silverstone World Superbike races had seen Noriyuki Haga and Chris Vermeulen battle it out, taking a win apiece. The United States round at Laguna Seca brought mixed fortunes for this pair, at a track where one had won in the past and which the other had never previously seen.
Top rider in qualifying, for the second time this year, was DFX Ducati's Steve Martin. The factory bike of James Toseland was thus pushed into second place, whilst team-mate Régis Laconi was a whole row back in sixth. Vermeulen (Honda) was third, from Frankie Chili (PSG-1 Ducati) and Troy Corser (Foggy Petronas). Behind Laconi came two more Ducatis, Garry McCoy ahead of Leon Haslam.
The second Renegade machine of Haga, second in practice, had to make to do with sixteenth after problems in Superpole. He was one place in front of Chris Walker's FP1, which hadn't made the cut for the final session. These two found themselves behind a mix of further Ducati, Kawasaki, Suzuki and Yamaha runners. Due to the Pirelli-only tyre rules, no wildcard entries from the domestic scene were entered at Laguna.
Haga's lowly grid position was compounded by a late problem which forced him to start race one from the pitlane. The order off the line had Toseland leading from Chili and Martin, who was soon to lose out to Vermeulen. Behind came Laconi, McCoy, Haslam, Corser, Ivan Clementi, Mauro Sanchini, Marco Borciani, Walker, Gianluca Nannelli, Alessio Velini and Piergiorgio Bontempi.
The field began to spread out quite rapidly, with the Renegade Ducatis of Haslam and Haga pushing on. Leon was pressuring McCoy, whilst Noriyuki was up to seventeenth in no time. But the man to watch was Vermeulen, as he set the mark for fastest laptime twice in the early stages, and got into a fight with Chili for second. Their two yellow machines traded places as Chris went to the inside, Frankie recovered, and was re-passed straight away.
In no time Vermeulen was attacking Toseland and, showing he'd familiarised himself with the circuit quickly, overtook going to the inside on the way into turn one. Once ahead, the 22-year-old really got moving, and he soon had the lead up to 4.3s. It continued to grow from there, and James could do nothing to prevent a second consecutive win for the new FireBlade.
The race for second was far from over, however, as it developed into a four-man group comprising Toseland, Chili, Martin and Laconi. Experience seemed to be counting, as both Chili and Martin went by Toseland, leaving the 23-year-old in a tight battle with Fila team-mate Laconi. With three yellow bikes consolidating their positions at the front, the two red 999 machines embarked on a titanic struggle.
This involved Laconi constantly struggling to find a way past Toseland, and one of his favourite options seemed to be a late-braking attack at turn one. Getting on the inside was one thing, but Régis would then run wide through the left-hander, giving the initiative back to James. The first time, Laconi had another run on Toseland at the exit onto the curving run to turn three. The pair touched as Toseland fended off his main points rival.
Much the same thing happened again and, as the race wore on, both bikes began sliding as they pushed onwards. Laconi tried a move on the inside of a left-hander, but again Toseland got right back in front. At the finish he held onto fourth by the smallest of margins.
Having stayed ahead of Haslam, McCoy held onto sixth for some time. As Leon got involved with the likes of Clementi, Corser and Sanchini, the man coming through from behind was Haga. His progress was such that he moved though on Horst Saiger, Lucio Pedercini, Borciani, Corser, Haslam and Sanchini and continued homing in on McCoy. A sensational charge ended with Noriyuki ahead of his former GP team-mate at that flag, and Garry was followed home by Sanchini, Haslam, Corser and Borciani.
Race two had a better start for Haga, as he at least lined up on the grid this time. Not in luck were Jiri Mrkyvka and Nannelli, as these two collided at the start and ended their respective days in the gravel. Again Toseland was the man away in front, and again Vermeulen was quickly past Martin, this time to go second. Laconi was fourth, from Chili, Corser, the attacking Haga, McCoy, Clementi, Haslam, Borciani and Bontempi.
As earlier, pole sitter Martin was not the fastest man in the race. He lost out to both Laconi and Chili on lap one, but did regain fourth from the Italian. Meanwhile, Vermeulen re-lived his attack on Toseland at turn one, but this time he didn't have it his own way. James stayed in front, then set the fastest lap as he showed he intended to win this one. Behind, it was again Haga on the move, as he went by both Chili and Martin in separate moves on the inside of left-hand corners.
By the time Haga moved into fourth, the first three had broken away into a group of their own, with fastest lap now going to Laconi as he loomed behind Toseland and Vermeulen. The Honda man made an opportunist move going inside James on the exit of turn one, but this time his lead did not grow as the Ducati stuck in behind Chris. These two now moved clear of Laconi as Haga closed in on the Frenchman, dropping Martin and Chili.
Vermeulen and Toseland were closely matched as the race went on, and were able to build a gap of 8.6s, then 10s and more to their pursuers. They finished in this order to give Vermeulen and Honda the double, and Toseland's best result in four attempts. The tussle for third had seen Haga threaten Laconi, with Chili briefly closing before they made it a two-way affair once more.
When Laconi went wide in the final corner, Haga was through to third. Régis returned the pressure, forcing the Japanese rider wide at one point, but an attempted pass at turn one saw him run wide himself, on the brakes, and let Noriyuki back in. Laconi claimed the inside through a fast left-hander, but Haga cut back on him again. However, the French rider finally made his turn one move pay off, as he was able to hold the place on the exit even when going wide.
The battle was still not over, with Haga redoubling his efforts even as Laconi threatened to start pulling away. With three laps left, Noriyuki was still attacking. He got himself alongside several times in the second half of the final lap, so that they touched at one point, but Régis held him off each time and scored his eighth podium result of the season. Chili was fifth, from Martin.
McCoy had lost seventh to Haslam, but the English rider then crashed, apparently hurting his right wrist in the incident. The man pursuing these two early on had been Corser, but the Petronas rider had already gone out with an oil leak before Haslam's demise. All of which meant that Borciani brought the second DFX Ducati into eighth, having defeated the Kawasakis of Clementi and Sanchini to get there.
So, track débutant Chris Vermeulen kept up the winning habit on his Honda CBR 1000RR, the bike which had not been adapted from road-going specification in his first tests. The results of James Toseland and Régis Laconi kept the points battle close, with James the psychological victor by finishing ahead in both races. Vermeulen was closer still to the leaders, with a horde of Ducati riders filling the next five places on the leader board.
Standings after fourteen races: Toseland 201; Laconi 198; Vermeulen 187; Haga 162; Chili 160; McCoy 146; Haslam 120; Martin 119; Corser 101; Borciani 94; Walker 82; Sanchini 73.