Win number five for Rossi and Yamaha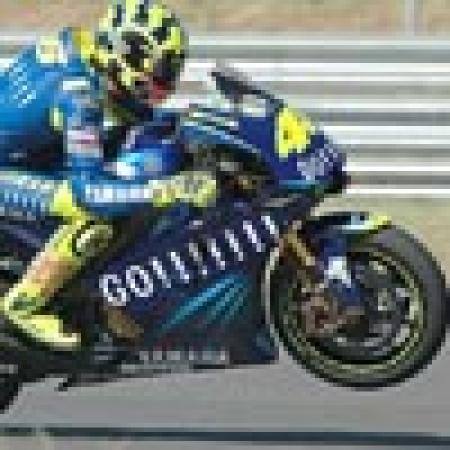 Pic SportsPics.co.za
By Dan Moakes
July 25 2004
With just a point in it between Valentino Rossi and Max Biaggi, the British MotoGP at Donington Park would allow one or other man to top the table before the four-week summer break. Huge crowds turned out to see the stars of the class in action, and again the race was between Honda and Yamaha.
photo by www.SportsPics.co.za
Rossi was the quickest man in qualifying, securing his 24th top class pole position, and the fourth for the latest Yamaha M1. Of his two main rivals, Honda's Sete Gibernau was well placed on the Fausto Gresini team's RCV, in second, while Biaggi had his Sito Pons entered model down in eighth. Gibernau's team-mate Colin Edwards was in an encouraging fifth, separated from Sete by the two revived works Ducatis of Loris Capirossi and Troy Bayliss.
The factory Honda RC211V machines of Nicky Hayden and Alex Barros were sixth and ninth, respectively, with the second Yamaha of Carlos Checa ahead of Biaggi in seventh. Rubén Xaus led row four, ahead of Shin'ya Nakano (Kawasaki), Kenny Roberts (Suzuki), Neil Hodgson (Ducati), Makoto Tamada (Honda), John Hopkins (Suzuki), Norick Abe (Yamaha) and the two Aprilias. Nakano and the rest moved up a place with Marco Melandri sitting out the race after an accident in the morning.
The race went ahead in relatively cool conditions, with a pristine track due to recent resurfacing. Rossi got away in front, but was pushed into second when Capirossi made an impressive pass down the Craner Curves, to emphasise Ducati's resurgent form. Gibernau was third, from Checa, Bayliss, Edwards, Biaggi, Hayden, Xaus, Barros, Abe and Hodgson. However, Checa lost four places on the opening lap, whilst Gibernau overtook Rossi at the far end McLeans right-hander.
Valentino responded by re-passing Sete at the Melbourne hairpin, and they went into lap two with Capirossi heading Rossi, Gibernau, Bayliss and Edwards, then a small gap to Biaggi, Checa, Hayden, Barros, Xaus, Abe, Roberts, Hopkins, Hodgson, Alex Hofmann, Nakano, Michel Fabrizio,Tamada, Jeremy McWilliams, Shane Byrne and Nobuatsu Aoki.
Capirossi's moment of glory was short lived, as both Rossi and Gibernau went by him at the Fogarty Esses, leaving Loris to the attentions of his team-mate. However, Edwards was almost immediately through on his former Superbike rival, passing Bayliss at Melbourne, and Colin soon moved into third at the expense of the leading Desmosedici.
The first three began to pull away from the rest of the pack, with Rossi also getting some space ahead of the Telefónica Honda twins. At the same time, Biaggi was falling back, dropping behind both Barros and Hayden even as his main rivals were up at the front. Checa was the next man past the Roman, going through at Goddards after an earlier attempt had sent him wide there. Biaggi also fell victim to Xaus and Hopkins in short order.
A fastest lap from Edwards helped him up onto the tail of Gibernau, and these two were soon joined by Bayliss after he overtook Capirossi at the Esses. Troy's arrival spurred Edwards on, and he went by Gibernau and looked to go after Rossi. These two traded fastest lap times, with Valentino staying clear in the lead as most runners began to space out. At this point some spots of rain threatened to affect the race, allowing Gibernau to catch his team-mate again, but this proved to be a brief interlude, and the track didn't actually get wet.
Rossi's lead was reduced to 1.5s by Edwards, but then began to grow again, going to 1.9s and then 2.1s. As the race went on, Edwards, running a softer rear tyre than the men either side of him, started to pull clear of Gibernau. The gap between them went out to 1.2s, and from here the first three positions were decided. Rossi took his lead to almost 3.5s with seven laps to go, and it had reached four by the time he stood up to cruise over the finish line. Edwards and Gibernau duly followed him home.
Hayden had passed fifth placed Capirossi on the inside at the final Goddards hairpin, then chased after Bayliss in search of fourth. Sure enough, he got the job done at the left-right Esses chicane, fending off the Australian's next surge of speed that brought the gap down again. Ultimately, Troy suffered a serious twitch down Craners, and had to run across the grass inside the Old Hairpin before he could rejoin the circuit. He didn't lose a place but this decided his finishing position.
Checa had been closely following seventh man Barros, and both of them had, in turn, moved in on Capirossi and pushed the Italian back a place. Then Carlos went past his Honda rival to take over sixth, which he held to the flag. Having challenged for victory in Germany, Barros was not having a good day. Next he has overhauled by Hopkins and, in a battle with the Suzuki rider and Capirossi, ran wide and dropped back to ninth, just ahead of Abe.
Norick was on the attack, having started sixteenth. He had already made up several places, including a good pass on Hodgson at Melbourne, and soon moved ahead of Barros. He then caught the scrap between Hopkins and Capirossi and, after Loris went through at Redgate corner, also got the Suzuki for eighth. However, with two laps to go Abe had a big crash going down through the rapid Craner Curves, losing out on a good finish for the second race in a row. Capirossi took seventh, from Hopkins and Barros.
Tenth went to local man Neil Hodgson, having followed Abe past Kenny Roberts, Max Biaggi and Rubén Xaus, the last of whom had earlier been passed by Hopkins at the Esses. Xaus kept hold of eleventh to the end, ahead of Biaggi, but Roberts dropped right out of the points, in contrast to Hopkins on the other GSV-R. Kenny's brother Kurtis had already retired the Proton V5.
The last points went to Byrne, Tamada and Nakano and, in fact, only one Bridgestone-shod bike had made the top thirteen. Byrne's charging form in front of his home fans had seen him get past McWilliams, Fabrizio, Kenny Roberts and both Kawasakis to earn his three points, with only Abe going out while ahead of him. McWilliams, Roberts, Aoki, Hofmann and Fabrizio came in behind Nakano.
Valentino Rossi took his fifth Donington Park GP victory in six years, remembering that he crossed the line first in 2003 but didn't win... The change from Honda to Yamaha had obviously not affected his form at the track. Four years on from a Superbike win at the same venue, Colin Edwards finally got his MotoGP career fully on course with a best yet of second. It also marked his first defeat of team-mate Sete Gibernau. With Max Biaggi only adding four points, the Spaniard joined him in second overall, but they now sit 22 behind Rossi.
Standings after nine races: Rossi 164; Biaggi and Gibernau 142; Edwards 95; Barros 86; Hayden 83; Checa 72; Capirossi 64; Melandri 57; Tamada 56; Xaus 46; Abe 41; Nakano 37.