Gibernau defeats Rossi in Czech MotoGP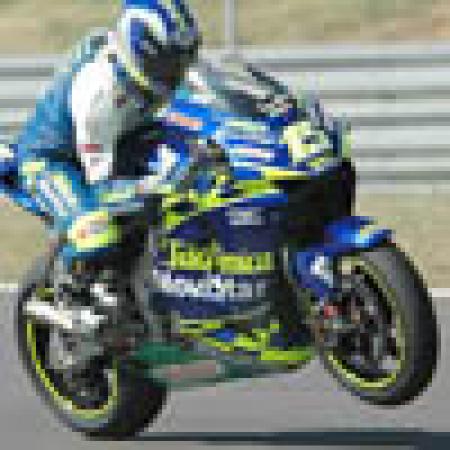 pic SportsPics.co.za
By Dan Moakes
August 22 2004
With five wins from nine races for Yamaha, Valentino Rossi topped the championship table as the teams went into the summer break after the British GP. As the series resumed in Brno, for the Czech race, Sete Gibernau and Max Biaggi were aiming at closing down the champion.
photo by www.SportsPics.co.za
Rain affected qualifying sessions meant that one or two riders were able to improve on their normal grid expectations. Gibernau's fourth pole of the season came as no big surprise, but did end a run of four races where he'd been kept off the top spot. Telefónica Honda team-mate Colin Edwards was fifth, matching his best from 2004, and making him the third RC211V man on the grid. The works machine of Alex Barros was second, giving him a first front row start for the season.
Rossi's Yamaha filled the final slot on the front rank, with team-mate Carlos Checa directly behind in sixth. Troy Bayliss and the works Ducati headed row two, as they had in the UK, with Loris Capirossi ninth on the sister machine. Two more Honda riders started back on row three, with Nicky Hayden and Max Biaggi slotting in front of Capirossi. Makoto Tamada's Bridgestone-shod RCV was a season worst sixteenth.
The customer Ducatis of the d'Antín team started from the fourth row, Rubén Xaus and Neil Hodgson sandwiching the Yamaha of Marco Melandri, and heading the final M1 of Norick Abe, thirteenth. With Shane Byrne a non-starter, thanks to a wrist injury, Jeremy McWilliams' sole Aprilia was next, ahead of the first of three Suzukis. With one Proton, as Kurtis Roberts was another non-starter, joining the Kawasaki pair towards the wrong end of the grid, the wildcard Moriwaki of Andrew Pitt was in P18. WCM fielded Michel Fabrizio (seventeenth) and James Ellison. The latter started from 22nd on his GP début, filling in for injured Chris Burns.
The best man off the line was Troy Bayliss, as he almost took the lead into the first corner. However, the Ducati rider was unable to slow enough to take the ideal line through the turn, and found himself immediately pushed down as Gibernau, Barros, Biaggi, Rossi, Edwards, Hayden and Capirossi slotted through in front. Bayliss was back to eighth, from Checa, the fast starting John Hopkins, Xaus, Tamada and Kenny Roberts.
As Gibernau looked to break clear in the lead, Rossi made an early move for Biaggi's third place, passing through a left-hander. Valentino took himself wide in the second part of the corner, though, and Max was quickly back in front as a result. Rossi wasn't going to give up at that, especially as Gibernau was pulling out a lead. But it was Biaggi next to move, completing a successful move on Barros through a left turn. Straight away Rossi went by the Brazilian as well, at turn one, and looked at attacking Biaggi again.
The lead pack soon evolved into an eight-way affair, with Hayden and Capirossi relegating Edwards to seventh, where he was joined by the rapidly moving Checa. As Bayliss and Xaus dropped back, the race for ninth was contested by Hopkins, Tamada and Roberts. Gibernau's gap over the rest was not yet secure, and when Rossi finally got past Biaggi he chased after the Spaniard and brought the next three with him. Barros improved on Checa's fastest lap and looked threatening again, as did his would-be victim Biaggi. This pair were running medium compound rear tyres which, at this stage, had the advantage over the hard Michelins of the two up front.
With Edwards and Checa having already fallen back to the chasing Hopkins and Tamada, now the first five pulled away from Capirossi. The lead Ducati rider was soon circulating all on his own, whereas former team-mate Barros was making a fight of it in the lead group. First the Brazilian went ahead of Biaggi on the inside for a left-hander, and then he took over from Rossi with a move at a downhill right-hander. Any thoughts Alex had of tackling Gibernau had to go on hold with nine laps to go, when Rossi got inside him through a right and was able to hold off the attempted fight back.
The lead group of Gibernau, Rossi, Barros, Biaggi and Hayden, with Yamaha's lead rider battling four Hondas, went down by one when Barros lost his bike's front end and slid out of the race. At this stage it looked like the first two were going to get away from Biaggi and Hayden. In a series of corners Rossi tried hard to take the lead from Gibernau. He went inside at a left, but ran wide and lost out, and did the same thing at a right, and even tried an outside run right after that. Sete held him off and again the first four closed up.
Biaggi went on the attack with five laps left, and the attention paid to Rossi helped Gibernau make his decisive break. Max made a pass at turn one, but went very wide on the exit. He lost second place instantly, and should also have lost third to Hayden, but the second Repsol Honda man had a front end crash at just that moment. The leading trio began separating now, with Gibernau's lead going to 0.9s and then out to 1.2s and beyond. A couple of laps later it was over, with Gibernau the delighted winner and Rossi leading Biaggi home.
Capirossi had already been five seconds off the leaders when Barros fell, but inherited fourth from Hayden. However, Camel Honda's Tamada was running strongly in the latter stages, having already dealt with Xaus, Bayliss, Roberts, Checa, Hopkins and Edwards. Makoto was catching Loris as the laps ran down, and quickly enough that he could pass and pull away. He secured a deserved fourth place finish, with Capirossi taking fifth.
Hopkins might have been next, having run right with Edwards, but an engine failure for the lead Suzuki meant he joined his wildcard team-mate in retirement. Gregorio Lavilla had been the first man back to the pits with a troubled GSV-R. Having dropped to tenth at one point, Checa rallied to finish sixth, beating Edwards in the process. Some good progress from Abe brought him up to eighth, from Melandri, Roberts, Hodgson, Shin'ya Nakano, Alex Hofmann, McWilliams, Nobuatsu Aoki, Pitt and Fabrizio. Bayliss and Ellison were non-finishers.
Sete Gibernau's third win took him clear of Max Biaggi once again, and brought him to 17 points behind Valentino Rossi. For 'the Doctor', this was his 96th Grand Prix podium finish, meaning he passed the total of 500cc legend Mick Doohan. Biaggi remains ahead, with 105 GP rostrums. Regular points scorer Edwards remained fourth, and moved further ahead of the more erratic Barros and Hayden.
Standings after ten races: Rossi 184; Gibernau 167; Biaggi 158; Edwards 104; Barros 86; Hayden 83; Checa 82; Capirossi 75; Tamada 69; Melandri 64; Abe 49; Xaus 46; Nakano 41.