Valentino Rossi and Yamaha take the MotoGP crown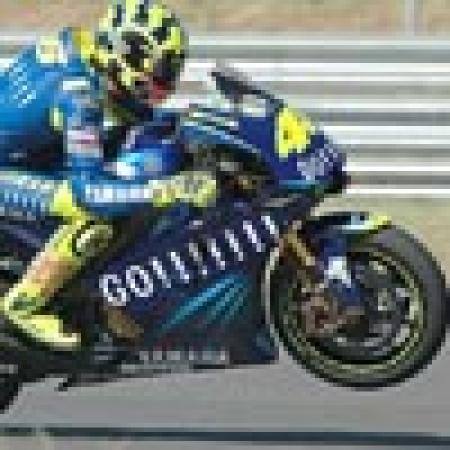 pic SportsPics.co.za
By Dan Moakes
October 19 2004
Yamaha's Valentino Rossi had a thirty point lead over Honda rival Sete Gibernau. With two races remaining in the MotoGP series, first or second at Phillip Island in Australia would be enough for a historic sixth title for Rossi. Gibernau really needed to win, with Rossi no better than third.
photo by SportsPics.co.za
The spectacular circuit on Phillip Island, off the South coast of Australia, was the setting for what might turn out as a highly significant day in Moto Grand Prix history. Few GP riders have won back-to-back titles on different makes of bike (Angel Nieto in 1975-76 and 1981-82, Eugenio Lazzarini in 1979-80, Stefan Dörflinger in 1984-85, Eddie Lawson in 1988-89, and Max Biaggi in 1996-97), and of these only Lawson has managed it in the top class. If Valentino Rossi were to do it today, it would be on a bike that had seen the podium only once in 2003, and with Yamaha's last championship win dating back to 1992.
Qualifying went well for the two hopefuls, with Gibernau taking his fifth pole of the season, and Rossi slotting into second. Four of the other five Honda RC211V machines appeared in the top seven, but behind Loris Capirossi, who put the works Ducati on the front row for only the second time all year. He was followed by Colin Edwards, on the second Telefónica Honda - fourth being his best to date - with the Camel Hondas of Makoto Tamada (fifth) and Max Biaggi (seventh) split by Alex Barros on the Repsol-supported works bike.
An impressive performance saw Alex Hofmann qualify his Kawasaki in the middle of row three, improving on his previous best by three places. He was followed by Troy Bayliss on the second Ducati, Marco Melandri on the second Yamaha, then Shin'ya Nakano (Kawasaki), Rubén Xaus (Ducati), Carlos Checa (Yamaha), and Nicky Hayden on the second Repsol Honda.
Jeremy McWilliams had the lead Aprilia fifteenth, ahead of the two Suzukis of substitute Gregorio Lavilla and regular John Hopkins. The final places went to Norick Abe (Yamaha), Neil Hodgson (Ducati), Garry McCoy (Aprilia), Nobuatsu Aoki and James Haydon (both Proton), and the WCM pair of James Ellison and Youichi Ui.
A frantic first lap saw Capirossi shoot into the lead off the start line, but with the determined Gibernau going around the outside of Rossi in the looping second turn, Siberia, and then taking the lead with an inside pass at the following right-hand hairpin. Next Bayliss forced his way into third on the inside of Rossi, who then came under attack from Barros. Valentino found himself running wide onto the dirt at one point, but he wasn't delayed and came back through on both the Ducatis going downhill into the right-hand hairpin of MG corner.
Gibernau already had a lead going into lap two, with Rossi second, from Capirossi, Bayliss, Barros and Edwards. Rossi gave chase, setting the fastest lap, and it wasn't long before he too had broken away from the pursuing pack. Meanwhile, Barros was also going for it, passing Bayliss at MG and improving the fastest lap twice - the second at record pace - as he closed in on third man Capirossi. These two also began to stretch away from the rest, with Biaggi now leading from Bayliss, the scrapping duo of Edwards and Melandri, plus Tamada, Hayden and the ZX-RRs of Hofmann and Nakano.
The race soon developed into two pairs of riders at the front, and a close group disputing fifth. Rossi dispensed with Gibernau's one-second lead and ran tight on the Spaniard's tail for many laps. Capirossi set a new fastest lap as he and Barros closed in on the two ahead, but they never quite made it a four-way fight, and the Brazilian's attentions were more than enough to occupy Loris as the leaders made their escape. Alex finally got through into third with an inside pass at the first of the two right-hand hairpins, and was able to pull away from the Desmosedici rider.
Rossi, with a harder compound rear tyre than his rival, applied unrelenting pressure to Gibernau, even though he didn't actually need to win for the championship. With nine laps to go, the Italian was close enough out of the long final left-hand bend to slipstream his rival along the main straight. Rossi took to the inside and passed into turn one. By now the gap to third-placed Barros was significant, but Sete kept pace with Valentino. 'The Doctor' looked like he might start to ease away, but as he went too wide at one corner so Gibernau was able to get right back into it.
So the race wasn't over and, with five laps remaining, Gibernau pulled ahead of Rossi on the straight, passing him on the outside at the first right-hander. By now they were lapping the tail-enders, but this didn't become a factor. However, they were still together going into the final lap, and 'Vale' was obviously out to win. He forced his way through on the inside at Siberia, only to get wide at the following hairpin and gift the lead back to Sete. Rossi kept up the pressure, though, and fought to get onto the inside through the rising and falling blind left of Lukey Heights. He made it, and was in the lead from MG corner round to the finish, as history was made.
Third place went to Capirossi, after he'd closed back in on Barros and got past in the closing laps. It was his first podium result of the year. Further back there had been a lengthy tussle for fifth. Having held P7 early on, Melandri went missing from this group when he had to pull into the pits with mechanical problems. And this left a group containing Biaggi, Bayliss and Edwards, who were joined by Tamada and Hayden after Melandri's demise. Bayliss led this group for a time, but the fell backwards as each of the others, in turn, made their way ahead. Both Biaggi and Tamada overtook him at the MG corner.
Edwards ultimately emerged at the head of this group and, in fact, caught and passed Barros fourth at the finish line. Similarly, both Tamada and Biaggi fell victim to Hayden in the closing stages. Honda took positions four to eight, in the order Edwards, Barros, Hayden, Biaggi and Tamada. Bayliss held onto ninth, whilst Spaniards Checa (tenth) and Xaus (eleventh) got the better of the Kawasaki pair, Nakano leading Hofmann. McWilliams and Hopkins rounded out the points scorers, from Lavilla, Abe, Hodgson and Aoki, whilst McCoy was another who retired, and Ellison had also been a pit visitor.
Valentino Rossi celebrated his success, in a scrum of supporters, by donning a white helmet with the legend 'Che Spettacolo' and a similar t-shirt. It had truly been a momentous achievement for Rossi and Yamaha, given that the six Honda men currently hold the next six positions in the riders' championship, and could likely hold onto them. Sete Gibernau was decidedly underwhelmed by the result, talking about an acceleration problem with his bike, but there was nothing more he could have done.
Standings after fifteen races: Rossi 279; Gibernau 244; Biaggi 197; Barros 155; Edwards 149; Tamada 139; Hayden 117; Checa 115; Capirossi 110; Xaus 77; Melandri 75; Nakano 74.