Valentino Rossi and Yamaha confirm top status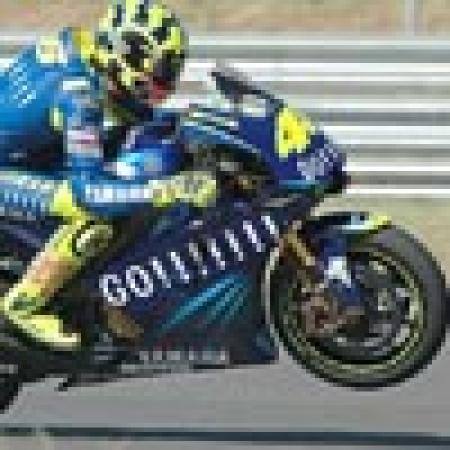 pic SportsPics.co.za
By Dan Moakes
November 3 2004
The MotoGP title had already gone to Valentino Rossi and Yamaha, but that was never going to stop the Italian from wanting to win yet another race. There was really nothing more to prove, but Rossi went to Valencia, for the final 2004 GP, to beat the Honda riders, and he did just that.
photo by SportsPics.co.za
Qualifying was another Honda benefit, with five of the six RC211V machines in the top eight, and four of them in the top five. Camel-backed Makoto Tamada took his third pole position of the year, with team-mate Max Biaggi lining up second. Rossi was third, ahead of the Hondas of Sete Gibernau and Nicky Hayden. Troy Bayliss managed only his third second row start of the year, putting the Ducati sixth in his final outing for the team.
Three different bikes filled row three, with John Hopkins (Suzuki) leading Colin Edwards (Honda) and Carlos Checa (Yamaha). Then came the two Kawasakis of Shin'ya Nakano and Alex Hofmann, from Alex Barros (Honda), Loris Capirossi (Ducati), Jeremy McWilliams (Aprilia) and the two Tech 3 Yamahas of Norick Abe and Marco Melandri. These were followed by the d'Antín Ducatis of Rubén Xaus and Neil Hodgson, with the Proton and WCM runners amongst the last few placings.
Rossi's start was not too brilliant, and he quickly found himself behind Biaggi, Tamada, Bayliss, Gibernau and Hayden. The first lap saw Tamada pass Biaggi, and Gibernau do the same to Bayliss, with Hayden and Rossi followed by Nakano and Edwards, who then lost out to Checa; Hopkins, Capirossi, Abe, Melandri, Barros, McWilliams, Gregorio Lavilla and Xaus. Abe was also a first lap mover, as he relegated Capirossi before they crossed the line.
Tamada's Bridgestone-shod Honda was on scintillating form from the off, with the Japanese rider opening up an impressive gap immediately, perhaps helped by a harder compound rear tyre. All the moves were going on behind him, as both Hayden and Rossi overtook Bayliss, with the champion also getting by his 2003 team-mate on the inside for a right-handed corner. In addition, Gibernau passed Biaggi to head the pursuit of the leader.
Max fought back to get back in front of Sete at turn one, but then they got tangled up to the benefit of their pursuers. Gibernau went to make an inside pass on Biaggi, but went in too hot. Both men were forced wide as a result, gifting their places to Rossi and Hayden. With a clear track ahead, Valentino set about the gap to Tamada by upping his pace and setting a couple of fastest laps. Hayden kept fairly close and it soon became a three-way lead group.
The battle between Gibernau and Biaggi continued, with Bayliss close behind, and then Checa, Nakano, Edwards, Abe and Capirossi. Sete fought back from Max's advances, but then the Roman made a decisive move and began to stretch away as he pursued the three ahead. This left Gibernau to worry about the impressive Bayliss, who had his Ducati replacement, Carlos Checa, in quite close attendance. Or he did until Checa became the first man to crash out, ruining his chance of a good result at home, but rejoining nevertheless.
The lead had already changed by this point, as Rossi had dived through on the inside of a fast right, so that a Yamaha led the two Hondas. However, Tamada's RCV was not short of pace, and he powered ahead again on the main straight, taking the lead into turn one. Meanwhile, Biaggi was catching all three of them. Rossi stayed right on the tail of Makoto, with the number 69 and number 3 Hondas staying in touch.
The next move took Biaggi past Hayden on the inside at a left-hander and, as ever, this inspired Rossi to make his decisive break. It was half-distance, and 'the Doctor' took Tamada inside a right-hander, whereupon he began to make good his escape as the lead stretched to a relatively comfortable margin. At about the same time, Bayliss got the better of Gibernau, and began to inch closer to the three-man group now comprising Tamada, Biaggi and Hayden. Sete was left in a lonely sixth place.
By now there were signs that Tamada was struggling. A 'moment' at the last turn allowed both Biaggi and Hayden past on the straight, and soon Bayliss moved ahead as well, looking to attack Hayden next. Indeed, Nicky also began to look troubled. A slide on the straight, when challenging Biaggi, meant he went too deep into the braking zone, and he lost out to both Bayliss and Tamada.
Rossi was out in front, and now Biaggi and Bayliss were close together, with Tamada and Hayden not matching them for pace any longer. After a similar incident last year, Hayden managed to end his Valencia race with a fall. A lowside saw his bike spin off the track, and it was then only good enough to get him back to the pits. As the leaders made their way through the backmarkers, Gibernau found his harder rear Michelin had the edge over Tamada's similar Bridgestone, and the home favourite was able to catch the pole man.
With two laps remaining, Rossi had a 1.6s lead over Biaggi, who closed in during the final stages, leaving Bayliss on his own. Rossi had enough in hand to take the win, and the next two were followed home by Gibernau, who had got past Tamada by going tighter through a left-hander and was then able to pull clear. Tamada held on for fifth, and third Honda home.
Sixth place went to Barros, after a climb from fourteenth early on. The Brazilian had got the better of Edwards, Abe and Nakano, among others, but would surely have done more from a better grid position. Nakano had been in the top eight all race, and seventh at the flag was another good run for the Kawasaki man. Crashes for Melandri and Xaus here meant that Shin'ya was a creditable tenth overall for the season.
The remaining points went to Edwards, Capirossi, Abe, Hofmann - who'd made up several places on the way, Hopkins, McWilliams, Checa and Hodgson. Garry McCoy, Lavilla, Nobuatsu Aoki and James Ellison also finished, whilst wildcard Olivier Jacque joined Chris Burns on the non-finishers list, and Kurtis Roberts had failed to start.
Valentino Rossi had made it nine wins on the Yamaha M1, matching his tally with Honda last year, and taking the bike's total to eleven victories in three seasons. In the end, his title winning margin was 47 points over Sete Gibernau. Having finished first and second at home earlier in the season, Sete was not too happy with fourth, but it was a different story for third man Bayliss. Having been dropped by Ducati, the Australian had got hold of a set of forks that suited his style and this had been easily his best run of the season. But with Max Biaggi, second in Valencia, moving to the works Repsol Honda team, the question is whether Rossi can be toppled next year. Or will he be even better still?
Final standings after sixteen races: Rossi 304; Gibernau 257; Biaggi 217; Barros 165; Edwards 157; Tamada 150; Hayden, Checa and Capirossi 117; Nakano 83; Xaus 77; Melandri 75; Abe 74; Bayliss 71; Hofmann 51.