Valentino Rossi defeats Gibernau in close finish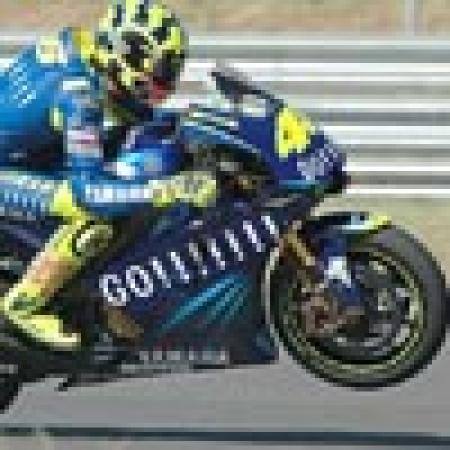 pic SportsPics.co.za
By Dan Moakes
February 4 2005
Sete Gibernau was leading Valentino Rossi by five points after five events, with no other rider having won a race. Their battle for supremacy moved on to Assen, and the Dutch TT, where once again there was nothing much between them - and the fans were treated to an exciting finish.
photo by www.SportsPics.co.za
Qualifying took place on a wet but drying track, and the two big rivals once again emerged to take up positions on the front row - with Rossi on pole thanks to a record breaking lap. Both riders had now been top man three times each for the season so far. But Gibernau's Gresini Honda was separated from Rossi by the Italian rider's Yamaha team-mate Carlos Checa, equalling his best position from the French Grand Prix. Another M1 lined-up fourth, with Marco Melandri taking his Tech 3 machine to its best starting slot of the year to date.
Honda's other riders didn't have such a good time of it, with Alex Barros sixth, for his 200th top class GP start, Makoto Tamada eighth, and Max Biaggi at the wrong end of row four. Colin Edwards and Nicky Hayden were behind the Roman, in 13th and 16th positions. An impressive performance put Shin'ya Nakano fifth with the Kawasaki ZX-RR, improving the bike's previous best by one place; and Suzuki's Kenny Roberts also did well to record seventh. The best Ducati was the customer version of Rubén Xaus in P9, with the two works machines back on row five. Aprilia, Proton and WCM runners slotted in towards the rear.
Saturday's race was run in dry conditions, with Checa getting away in front of Rossi and Gibernau, but with the Honda man quickly moving ahead. Barros was up to fourth, from Biaggi, Melandri, Xaus, John Hopkins and Loris Capirossi. Behind them, Edwards was rapidly past Troy Bayliss, Tamada and Roberts. With Sete leading, Valentino made short work of his team-mate to go into second and, at the end of lap one, the first four already seemed in danger of dropping Biaggi, Melandri and the approaching Xaus.
The next change came when Barros passed Checa on the inside at a right-hander, but already Gibernau and Rossi had stretched a small advantage to their pursuers. A fastest lap from Sete was not enough to shake off the champion, and it looked like we were in for a two-way fight. However, Barros was also going at a decent pace, and so it became a group of three disputing the lead, despite Rossi's improvement of the fastest lap time. The Brazilian then used his Honda's advantage to power ahead of Rossi on the straight.
The stage seemed set for a battle between this trio, with Barros looking like a genuine contender for victory for the first time on his works machine. Rossi overtook the Repsol bike on the inside at a tight right-hand corner, only for Alex to resume the position as they moved along the straight. But then the more experienced man made a terminal mistake. He let the rear of his RCV start to slide, then the bike twitched and he crashed out. It looked like a great opportunity wasted.
Gibernau and Rossi raced on in close company, now with a three second gap to the next man. By this stage, that was Melandri. The young Italian had passed Biaggi, after the Camel Honda rider had strayed briefly over the grass earlier, and the pair of them had then closed on Checa. Max had regained the advantage for a time, but it was Marco who first moved past his Yamaha colleague - as opposed to team-mate, despite the identical liveries. As Checa then faded, Melandri managed to recover from a trip across the gravel, when he went in too deep to a corner, although it allowed Biaggi to regain lost ground.
The tussle up front carried on relentlessy, as Gibernau and Rossi traded faster lap times, and the lead not going over 0.5s. The Yamaha man remained threatening, and onto the final lap there was virtually no gap between them. 'The Doctor' made his move as he dived to the inside for a bend but, with too much momentum, ran out wide and let Sete get back alongside. It was a close thing, but Valentino managed to hold position and, with the inside line for the next turn, completed the dramatic pass. There was no way back for Gibernau, and the Rossi-Yamaha combination took their fourth win. It also meant the top pair of riders were now level on points.
Behind, Melandri regained third in a thrilling late scrap with Biaggi, for his second podium finish in a row, and Max's fourth place kept him well clear of the trailing pack in the overall points table. Fifth place went to Hayden, which was some consolation to the Repsol Honda team. The 22-year-old had come through the field in a strong performance, and would surely have been a real threat from a decent grid position. Edwards had also defeated Nakano, Hopkins, Capirossi and Xaus, rather forcefully, to take sixth and maintain his consistent scoring. The two Americans had got close to their two Italian rivals by the finish.
Xaus was best of the Ducati Desmosedici riders in seventh, from factory man Capirossi, while Checa had dropped to ninth at the flag. Behind them came Neil Hodgson, Norick Abe, Tamada, Alex Hofmann, Hopkins, Jeremy McWilliams and Kenny Roberts. Nakano had dropped out of contention from an early tenth place, as had Bayliss from behind him, while Aprilia's Shane Byrne had been a pit visitor. Michel Fabrizio went out in a big crash on the Harris WCM machine.
Valentino Rossi and Sete Gibernau were now tied on points, with Max Biaggi looking increasingly unlikely to challenge his two rivals for the title. Meanwhile, Alex Barros' crash had dropped him from fifth to seventh, with Carlos Checa only just holding onto fourth from a couple of the newer boys in the class. And it was only consistent scoring that was keeping Ducati and Loris Capirossi close to apparently much faster bikes. The next stop is Brazil.
Standings after six races: Gibernau and Rossi 126; Biaggi 93; Checa 56; Edwards and Melandri 54; Barros 48; Capirossi 42; Hayden 38; Abe 33; Xaus 32; Bayliss 23.