Rossi defeats the might of Honda at Estoril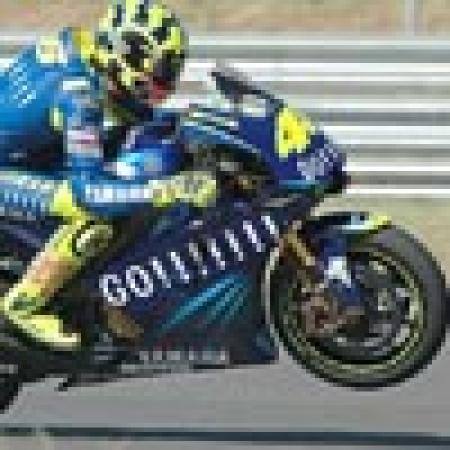 pic SportsPics.co.za
By Dan Moakes
February 5 2005
After Sete Gibernau's win at Brno, Valentino Rossi's MotoGP points lead stood at seventeen. The next race took place at Estoril, in Portugal, where the Spanish Honda man needed to beat the champion to reduce that advantage. Instead, Sete had no answer to Valentino and the Yamaha.
photo by www.SportsPics.co.za
The Portuguese Grand Prix was the setting for many a rumour about team and rider changes for 2005, even as the more important matter of practice and racing continued apace. Qualifying saw all five of the Honda riders emerge in the top eight, for the marque's best all-round performance of the year to date. The reason there were five and not six men present was that Nicky Hayden had managed to break his collarbone in a Supermoto accident, and was having to miss the event as a result. He was joined on the sidelines by Aprilia's Shane Byrne, substituted on this occasion by WCM's Michel Fabrizio.
Honda's RC211V sat on pole position for the sixth time this year, but for the first time it was Camel Pramac rider Makoto Tamada quickest. Team-mate Max Biaggi was a row back, in fourth, with Telefónica's Gibernau and Colin Edwards third and eighth, and Repsol works rider Alex Barros fifth. As ever, Gauloises Yamaha's Rossi was at the sharp end, this time second, with Marco Melandri second of the M1 riders in seventh. In amongst this group, John Hopkins was sixth, in his best performance on the Suzuki this season.
Kenny Roberts had the second Suzuki GSV-R in ninth, ahead of Carlos Checa (Yamaha), with Loris Capirossi to make his 100th top class GP start from eleventh, for Ducati. His team-mate, Troy Bayliss, was two places back, with Kawasaki's Shin'ya Nakano splitting the two Marlboro Desmosedicis. Norick Abe (Yamaha) and Neil Hodgson (Ducati) were ahead of Jeremy McWilliams on the first Aprilia, and the final places went to Alex Hofmann (Kawasaki), Rubén Xaus (Ducati), Fabrizio, Nobuatsu Aoki (Proton) and James Ellison (Harris WCM).
Capirossi made the best start, to emerge in the lead ahead of Biaggi, Tamada and Rossi. But the champion didn't hang about, and quickly demoted the Camel pair to go into second. Melandri was fifth, riding with Spider-Man costume leathers, with Barros moving past Gibernau for sixth, and the Spaniard then leading Hopkins and Edwards. As the group raced round onto the final section of lap one, Rossi overtook Capirossi at the tight left-hand hairpin with a steep looping exit. The Ducati man had no chance to mount a response, as he was promptly hit up the rear by Biaggi, who crashed out there and then. Loris rejoined the action, but with enough delay to drop him to 17th.
This left Rossi leading, from Tamada, Barros, Melandri and Gibernau, with the Spaniard moving up to fourth as he pushed Marco wide to overtake. Even in the early stages the leaders started to space out on track, with Rossi building the pace as he tried to move clear. Meanwhile, Checa was trying to get in on the action. He overtook Hopkins at turn one, then twice had a go at Melandri, only to run wide and let the youngster back through.
Tamada's Bridgestone tyres were working well enough for him to set the fastest lap, but Rossi was able to improve on this as he took the lead from 0.6s to 0.8s, and soon to 1.2s and beyond. The man who needed to respond to this was Gibernau, and he gradually seemed to close on third placed Barros. But by quarter distance Rossi was on his own, as was Tamada, and Gibernau was already 4.0s from the lead. He seemed unable to really challenge Barros, the Brazilian with a softer rear tyre compound than the other top runners.
Barros had been at the head of a four man group, with Checa close behind fifth placed Melandri, but then the Spaniard began to drop back from the other three. Melandri was sat behind Gibernau, and looking at his best result for five races, but then the former 250 champion crashed when he let his front tyre go onto the dirt. Ahead, Rossi was progressively improving his advantage, sector by sector, pushing it to 3.5s, with Tamada now 1.7s clear of Barros.
The race for victory wasn't over yet, as Tamada began to bring down the gap to Rossi ahead, taking it from 3.1s to 2.4s with eight laps to go. At the same time, Gibernau began to really push Barros, who was by now 6.0s from the Japanese rider ahead. Sete was trying to find a way past, but Alex looked to be too quick for him to make it by. Meanwhile, Rossi responded to Tamada's advance, and was over four seconds clear as he took the flag for his sixth win with Yamaha.
A podium finish would have helped Gibernau minimise Rossi's points gain, and he fought hard to try and achieve this. Coming out of the last looping turn on the final lap, Sete had a go at overtaking his Brazilian rival. However, in the attempt he went wide enough to run onto the dirt, and it meant that Barros held him off to the line. Checa finished fifth, having resisted Hopkins' late charge, which nevertheless gave the Suzuki team their best finish of the year in sixth.
One of the performances of the race had been Capirossi's recovery from the first lap incident with Biaggi. He had come through on the likes of McWilliams, Abe, Xaus, Roberts and Edwards, before passing team-mate Bayliss for an eventual seventh position. He must have felt he could have done far better. Bayliss had come from behind the two American riders in the early stages for eighth, with Edwards and Abe next home.
Eleventh was a good result for Nakano and Kawasaki, as the 26-year-old had started from the pits on his second bike, following a clutch problem on the original. Next came McWilliams, Hofmann, Roberts and Aoki. Fabrizio had withdrawn to the pits with a problem in one arm, whilst Hodgson had pulled out with a fuel leak, and was very nearly clipped by McWilliams in the process. Xaus also retired on the second d'Antín Ducati.
Another excellent performance from Valentino Rossi, on a day when Sete Gibernau was off form, meant an increase in the points lead to 29. Meanwhile, Max Biaggi's indiscretion did him no favours in the title race. Good results for Barros, Checa and Tamada brought them closer to Edwards, the only Honda man not to finish ahead of 'all the rest' on the day. Gibernau will need to beat Rossi at Motegi.
Standings after eleven races: Rossi 209; Gibernau 180; Biaggi 158; Edwards 111; Barros 102; Checa 93; Tamada 89; Capirossi 84; Hayden 83; Melandri 64; Abe 55; Xaus and Nakano 46.
Rumours for 2005: Proton Team KR to run with a V4 engine from KTM; Fausto Gresini's Telefónica team to replace Pons Pramac Camel as the works Honda squad; Checa to go to Ducati, with Bayliss maybe returning to WSBK; Hodgson, Byrne or even Biaggi to join Suzuki; also, Tohru Ukawa to get a Honda ride at Motegi's GP this year.