Sete Gibernau wins as Valentino Rossi crashes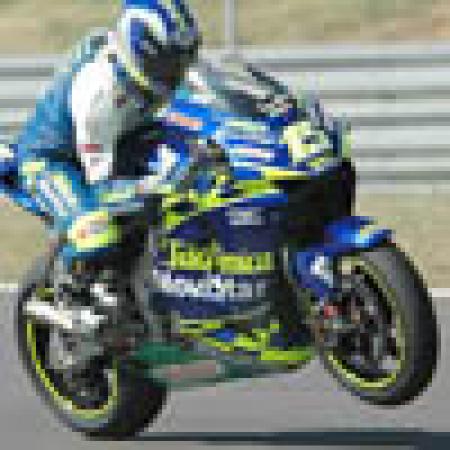 pic SportsPics.co.za
By Dan Moakes
February 8 2005
MotoGP's riders felt the heat as they assembled for the first ever Grand Prix of Qatar, at the brand new Losail circuit facility. There was controversy and drama in equal measure, and the end result saw the points gap between Valentino Rossi and Sete Gibernau significantly reduced.
photo by www.SportsPics.co.za
Losail is situated in the desert, which meant that as well as contending with very high temperatures, the riders also found the track surface adversely affected by dust and sand. Qualifying was particularly good for the three Spanish riders, with d'Antín Ducati's Rubén Xaus leading the field on the first day, and ending up seventh overall. Title challenger Gibernau was third on the grid for Telefónica Honda, but the top man was Rossi's Yamaha team-mate, Carlos Checa, taking the third pole position of his top class GP career.
Honda's works Repsol RC211V bikes equalled their best overall performance of the year, at round four in Italy, this time with Alex Barros second and Nicky Hayden fourth. Shin'ya Nakano was fifth, equalling his best with the Kawasaki ZX-RR, with Marlboro Ducati's Loris Capirossi slotting in ahead of Xaus. Team-mate Bayliss was a row behind the Italian, in ninth.
A couple of the big names hadn't gone so well, with Rossi recording the eighth best time, and Camel Honda's Max Biaggi four places further down. However, things got worse for the Italian rivals, as both were sent to the back of the grid for the race. In Rossi's case, this was because one of his mechanics had gone onto the grid with a moped, and performed a burnout to lay rubber on the slot for P8. This was deemed an unfair advantage and, similarly, one of Biaggi's team had swept the Roman's starting slot, for the same penalty. It emerged later that Rossi blamed Gibernau for reporting the Yamaha team's offence.
Slots eight and twelve were left unoccupied, giving a clear route for the riders behind. Colin Edwards was tenth, from John Hopkins, with Makoto Tamada leading row five. Then came Jeremy McWilliams, Neil Hodgson, Marco Melandri, Norick Abe and Alex Hofmann. 19th place went to the second Suzuki, this time with Yukio Kagayama on board as substitute for Kenny Roberts. Nobuatsu Aoki's Proton led temporary team-mate James Haydon, with James Ellison in front of Rossi and Biaggi. Shane Byrne was absent with injury, and not expected back for the rest of the year.
The start of the race went well for the Spaniards, as Checa led from Xaus and Gibernau. Sete quickly moved into second, as the first two began to stretch away from the following Xaus and Nakano. Bayliss was fifth, ahead of Capirossi, Barros and Hayden - before the youngster lost out to both Rossi and Edwards. Hopkins was next, from McWilliams, Melandri, Abe, Hodgson, Tamada, Hofmann, Biaggi, Aoki, Kagayama, Haydon and Ellison.
Barros was an early mover, firstly passing Capirossi and then Bayliss. He was followed by Edwards and Rossi, who went past the Italian in succession. When Bayliss then went wide, he allowed all three men behind to move up. The lead now went to Gibernau, passing Checa along the main straight, but a fastest lap from the Yamaha rider kept him with Sete as they moved clear of Xaus and Nakano. Barros, Edwards and Rossi were not far behind, after the champion re-passed Capirossi at turn one. Meanwhile, Bayliss had a grassy excursion and rejoined the track having lost several more places.
Like the conditions, the pace was hot. Edwards improved on the fastest lap, only for team-mate Gibernau to improve on it further a couple of times, as he started to ease clear of Checa. Sete was the man of the moment, as he built a lead and moved to 3.7s clear with no initial reply from behind. Third place was, in contrast, the subject of some dramatic battling. Firstly, Nakano overtook Xaus on the inside at turn one - but his chances of repeating the result from Motegi were short lived. A smoking Kawasaki showed that the engine had blown, and an impressive ride came to an end.
This would have put Barros into third, having gone inside Xaus at a right-hander, but drama followed. Rossi got into the Ducati rider's slipstream just as Rubén was about to go for the inside of Barros at turn one and pass. Valentino made contact with Alex, pushing him wide, and although the champion held his hand up to apologise, the Brazilian lost quite a lot of places as a result. Things sorted out with Edwards now third, from Rossi, Capirossi and Xaus, but Loris dropped himself down to seventh when he made a mistake and got into the gravel briefly.
Most of the Michelin riders had gone for medium compound tyres, but with Gibernau, Checa and Rossi selecting harder rears. Edwards was on a harder front, and this seemed to be working well as the former Superbike champion put in some quick laps and chased up to Checa ahead. Rossi remained fourth, and in place to keep his championship lead at a healthy 27 points. But at one-third distance, 'the Doctor' hit trouble as his rear wheel ran out over a white line, causing the Yamaha to twitch and then crash. He was out and his main rival was winning the race.
Now the race was on for second, with the impressive Checa still holding on, but coming under attack from Edwards. The Texan went through on the inside at a right-hander, and although Carlos tried to come back at him, the pass was made and Colin began to move clear. With the two Fausto Gresini team riders at the front, it looked a sure thing that Sete would get maximum points, with Colin there to protect him. But the number 45 machine was the quickest out there, and the lead came down to 2.0s.
It was looking possible that Edwards - rumoured to be heading to Yamaha for 2005 - would threaten Gibernau for victory and, with Checa now dropping to over 5.0s behind, there was no-one else in it. Sete responded, putting his advantage up to 2.1s, but as the last few laps counted down the margin fluctuated between that and 1.5s. On the last circuit, Gibernau look behind twice, but obviously had enough in hand to take his fourth win of the season. An impressive ride from Edwards equalled his Donington finish, and surely helped his GP reputation.
The unfortunate man in the closing stages was Checa. On course for only his second podium of the year, he had been far enough ahead of the rest. But then, with just two and a half laps remaining, he suddenly slowed and had to pull off. He had gone out with fuel pump failure. The man who had been next was Melandri, after dealing with Xaus in a close tussle, but the Italian had crashed out, leaving Rubén to a well deserved first GP podium. Capirossi's eventful race had seen him run behind Xaus and Melandri, then he found himself down in 13th. He came back past Hodgson and McWilliams, only to end up pulling into the pits.
Biaggi's day had also been busy. From the back, he had moved through to seventh, then passed Hayden for sixth. Meanwhile, Barros' recovery ride brought him through from eleventh, at the expense of Hodgson, Abe and Hopkins, to eighth. His pace on the Honda meant he could overtake team-mate Hayden on the straight, and force his way inside Biaggi at a left-hander. He even closed to less than 1.5s from Xaus at the flag. Barros was fourth, from Hayden and Biaggi - who managed to go off track on the last lap, but for the loss of only one place.
Abe came through for seventh, his best finish since round four, ahead of Hopkins, Hofmann, a disappointing Tamada, Kagayama, Haydon and Ellison. Among the retirements, Aoki had crashed, Bayliss had suffered with a rear tyre, Hodgson had grappled with throttle problems and a fluid leak onto his foot rest, and McWilliams had also crashed.
Valentino Rossi wasn't happy. He felt that the grid penalty had left him with too much to do to challenge Sete Gibernau in the race, and that this had led to the crash. As mentioned, he put all this down to the tales he believed his rival had told about the moped stunt. That said, the Italian had got into the leading positions fairly rapidly, and was only going to lose 12 points of a 39 point advantage, until he crashed. Instead, Sete closed to fourteen behind, and team-mate Edwards moved from sixth to fourth overall. Alex Barros, rumoured to be on the way out of the team in favour of Max Biaggi, did what he could after the Rossi contact incident, whereas Carlos Checa and Shin'ya Nakano were just unlucky. The Malaysian GP could be very interesting.
Standings after thirteen races: Rossi 229; Gibernau 215; Biaggi 168; Edwards 131; Barros 128; Tamada 120; Checa 102; Hayden 94; Capirossi 84; Melandri 75; Xaus 69; Abe 64.