Valentino Rossi wins; rival Sete Gibernau falters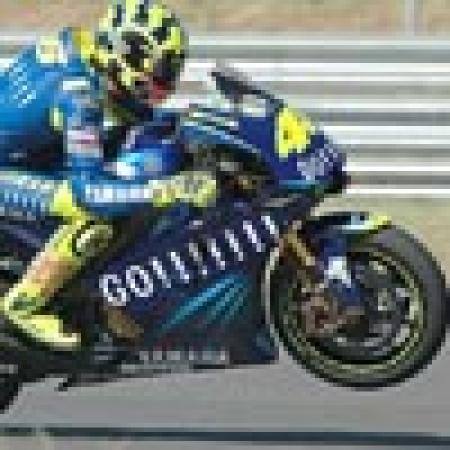 pic SportsPics.co.za
By Dan Moakes
February 14 2005
The 2004 MotoGP title was drawing towards its conclusion, with Yamaha rider Valentino Rossi leading the way, and Honda's Sete Gibernau the only realistic challenger. As if to heighten the intensity of competition, this pair had fallen out over a penalty handed to Rossi in Qatar.
photo by www.SportsPics.co.za
Reigning champion Rossi has always seemed an easy going racer, and the relationship with Gibernau had always been friendly in the past. But that all changed when the Italian was sent to the back of the grid for the Qatar GP, and he blamed Sete for reporting his team's misdemeanour - see previous race report. Whether Valentino's anger might also have been prompted by his own crash was hard to tell, but he certainly wasn't speaking to his Spanish rival now.
Qualifying for the Malaysian Grand Prix, at the Sepang circuit, saw Rossi secure his fifth pole position of the season, but there were no other Yamaha riders in the next seven positions. Instead, it was another good meeting for the Honda RCV, with five of these machines in the top seven. This meant second and sixth for the works Repsol bikes, Alex Barros ahead of Nicky Hayden; fifth and seventh for the Camel bikes of Makoto Tamada and Max Biaggi; and Gibernau was up in fourth position for Telefónica Gresini.
Surely the most impressive qualifier was third-placed Shin'ya Nakano, taking Kawasaki onto the front row for the first time since 1981. He was ten slots ahead of team-mate Alex Hofmann. John Hopkins kept up his Suzuki's recent run of form with eighth, ahead of the M1 Yamahas of Carlos Checa and Marco Melandri. Loris Capirossi was eleventh for Ducati, just ahead of the final Honda, ridden by Colin Edwards. Troy Bayliss was after Hofmann, followed by Rubén Xaus, Norick Abe, Neil Hodgson and Jeremy McWilliams.
The last few positions included several substitute riders, with Garry McCoy making a GP return for Aprilia, in front of Yukio Kagayama (Suzuki), Nobuatsu Aoki and James Haydon (both Proton). James Ellison was in P23 with the Harris WCM, and on this occasion his partner was multiple 125cc GP winner Youichi Ui, making an unexpected first foray into the largest class.
At the start, Barros and Rossi led away, with Hayden, Checa and Biaggi leading the pursuit. They were joined by Gibernau as he passed Capirossi for sixth. Indeed, the initial shuffles saw Checa, Biaggi and Gibernau move past Hayden, only for the Repsol man to repay the compliment to the last of these. The remaining runners were led by Hopkins, after he'd deposed Bayliss, and then came Nakano; Abe took Tamada for eleventh, then it was Hodgson; Hofmann passed Xaus, then it was the tardy Edwards; and McWilliams took 17th from McCoy. Melandri had started from the back of the field on his spare bike, and Haydon was awarded a ride-through penalty for jumping the start.
The battle at the front was spirited in the early stages. Of the first four, the Hondas of Barros and Biaggi were shod with medium compound Michelin tyres, whilst the Yamaha riders, Rossi and Checa, had gone for softer rubber on the rear. Rossi went for the lead at the final left-hand hairpin, which follows a long straight. He got inside Barros but took himself wide on the way out, and the order was maintained. Next, Rossi went for the inside at turn three, but was again too fast. He finally made the move work at the left-hand hairpin over at turn nine.
As Rossi put in some fast laps and began to stretch a lead, the order behind had begun to settle down. Biaggi and Checa swapped places until Max got ahead at the final hairpin. He then moved after Barros and let the men behind dispute fourth. Checa's early burst was not to last, as first Hayden and then Gibernau (at turn one) pushed him down to sixth. From then the leaders began to spread out, with the main interest being between Barros and Biaggi.
Rossi's lap record breaking pace soon took him to 1.4s clear, at which point rival Gibernau was 6.0s from the leader. Sete didn't seem to be on form on the day, as this deficit eventually went out to ten seconds and beyond, even as the men ahead stayed at a fairly constant gap from Rossi. Valentino's main challenge was to come from Biaggi, who had overtaken Barros at the looping right turn one. The Brazilian wasn't about to surrender the place, and fought back through turn two and three. Max just held on, and was in second for the right-hander of turn four.
Biaggi now began to build up a margin over Barros, but his gap from Rossi never went below a second, and was sometimes nearer two once 'the Doctor' responded. As the laps went on, Valentino - performing entertaining slides on the last lap - and Max moved further away from Barros, with Hayden settling into an equally untroubled fourth, having cleared his Spanish challengers. They finished in this order, with Rossi securing his 40th top class Grand Prix victory, and his 66th altogether. In a somewhat cheeky comment on his troubles in Qatar, the Italian's celebrations included brushing the track clean, with a broom provided by his ever-present supporters.
The holder of fifth place changed several times during the race. Once Hayden had got away, the apparently struggling Gibernau soon began to feel pressure from Checa, with Capirossi also joining the group, followed by Tamada and Nakano. It looked like Sete was slower than the men on his tail, whilst Loris was looking particularly threatening. The Ducati man attacked Checa at turn one, but finally made his pass work along the straight. He then had a go at Gibernau at turn one, this time getting ahead a couple of corners later.
Once in front, Capirossi cleared away from Gibernau. He even seemed to be faster than Hayden, but was was still not secure in P5. Behind him, Tamada had also been moving up, getting by Checa at turn nine, and then targeting Gibernau. With just two laps remaining, Makoto passed Sete at the final hairpin. At the flag he had homed in on Loris, and got by for fifth place. Capirossi was sixth, from Gibernau, with Nakano recovering from a poor start to get eighth, ahead of Checa.
The next finishers were Superbike stars Bayliss and Edwards, with the Honda man up to eleventh from P16 on lap one. Abe, Xaus, Kagayama, McWilliams and McCoy were behind. Top ten runner Hopkins had stopped in the pits early on, joined by Hodgson (with a misfire), Hofmann (electrical problems), and Haydon. Meanwhile, Melandri had crashed out of twelfth, rejoining but also going no further than the pitlane.
Valentino Rossi's win really tipped the balance his way in the title race, especially with Sete Gibernau down in seventh. There is now a thirty point margin, with Rossi only needing a pair of sixth places to take the crown. Everyone knows that Rossi would rather win than come in sixth. For Max Biaggi, second position was his best result for six races, and has surely cemented his third overall. Good finishes for Alex Barros and Makoto Tamada, on a day when Colin Edwards' Honda was the only one outside the top seven, shuffled the race for fourth. The next race is on Phillip Island, in Australia.
Standings after fourteen races: Rossi 254; Gibernau 224; Biaggi 188; Barros 144; Edwards 136; Tamada 131; Checa 109; Hayden 107; Capirossi 94; Melandri 75; Xaus 72; Nakano 70.
Rumours for 2005: Edwards to Yamaha; Gibernau to Ducati; Biaggi to replace Barros at Repsol Honda, with Hayden staying on; Capirossi or Melandri to replace Biaggi; Hopkins to race for Suzuki or Ducati; Toní Elías to join Yamaha in MotoGP.