James Toseland the top World SBK racer at Assen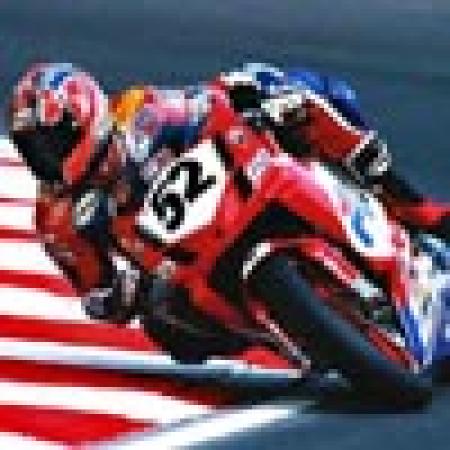 Raceline Photography
By Dan Moakes
February 22 2005
James Toseland had dropped to fourth in the closely fought World Superbike championship, after a disappointing weekend at Brands Hatch. The contest moved from there to Assen, in the Netherlands, where James had his best results since the start of the season, and eased ahead again.
Unsurprisingly, Ducati riders crowded the first two rows of the grid, but with Frankie Chili qualifying in pole position for the first time this season. The PSG-1 rider had not been the lead man since the same event a year earlier. The works Ducati Fila pilots were next, Toseland leading Régis Laconi, with the Renegade bikes of Leon Haslam (fifth) and Noriyuki Haga (seventh) joined by DFX rider Marco Borciani (sixth) and Gianluca Nannelli's Team Pedercini Ducati (eighth). The lone four-cylinder intruder was Chris Vermeulen's ten Kate Honda in P4.
Race one was about Toseland for most of the way, and he led at the start. Laconi was second, with Vermeulen quickly pushing Chili down to fourth, from Haga and Haslam. Haga was looking for a third consecutive win, and passed Chili first, and then Vermeulen over the finish line to go third into lap two. It soon began to develop into a five-way battle for the lead, with sixth-placed Haslam leading Borciani, Steve Martin, Troy Corser, Garry McCoy, Chris Walker and Nannelli.
Haga's progress led him to try and pass second man Laconi over the line and, with the Japanese rider setting fastest lap, a wide moment for Régis let Noriyuki through. His next target was Toseland, and his first attempt was at the outside for turn one. In the end, going to the inside over the start-finish line allowed Haga to get the job done. But the battle wasn't over, and James re-took the advantage, fending off further assaults even as 'Nitro Nori' improved on his best lap time to close down a brief half-second lead.
But Haga's challenge seemed to fade, relative to Toseland, as the English rider now began to pull clear in the lead. The gap firstly went to 0.7s, but with four laps to go it was at 1.1s, and he closed out the race with a 2.1s advantage. The race became one for second place. Early on, Chili had passed Vermeulen on the inside at turn one, and the two men in yellow tussled over fourth as the first three looked to get away. But then Frankie had closed back up to Laconi, and by the finish Chris had dropped into a solitary fifth position.
This left three men in search of the twenty points and, once Toseland had got away, it was Laconi who relieved Haga of P2 at turn one. Whilst the French rider tried to pull away, Chili moved up another position going outside on the approach to the same corner. Laconi's burst was short lived and, in fact, Chili and Haga went past on either side as they crossed the line to start the final lap. They emerged from this dramatic moment with Chili leading Laconi and Haga and, despite some attacking riding from Noriyuki, that is how they finished.
Behind Vermeulen, Haslam had regained sixth position following an Australian attack from Martin and McCoy, who finished next in that order. Borciani, Corser, Nannelli and Walker all reached the flag, followed by Piergiorgio Bontempi, Warwick Nowland and Sergio Fuertes (all Suzuki), and wildcard rider Robert Menzen on another GSX-R1000. This race result gave Toseland a single point lead over Laconi.
Race two saw the same five men lead for much of the distance, but started with Haslam jumping into fourth place, behind Chili, Toseland and Haga; and ahead of Vermeulen, Laconi, Ivan Clementi, Corser and Bontempi. Vermeulen was quickly past into P4, whilst both Toseland and Haga went past leader Chili, where the Japanese rider again looked threatening. With the first six getting away, Corser emerged to run initially unchallenged in seventh, with Clementi next, from McCoy, Martin, Borciani and Bontempi.
In an action filled race, Haga took the lead at turn one, Chili and Vermeulen swapped places twice behind, and Laconi took Haslam for fifth. Régis also turned the quickest lap so far at this stage. Toseland regained the intiative from Haga, who tried to fight back, but the upshot was that Chili passed them both. All the while, Haslam was starting to drop away. The battles went on as Toseland, Vermeulen and the rapid Haga all overtook Chili, before the Honda man took over out front and tried to push on. Ultimately, Laconi could not keep up with the four ahead.
Vermeulen and Toseland indulged in a bit of a dogfight, with the result uncertain to the finish. Several times James got in front again at turn one, but Chris would always fight back, sometimes straight away. Haga was constantly on their tails but, with two laps to go, fourth man Chili had begun to drift out of range. Toseland took a spell in front, passing on the inside at a right-hander, but as the end loomed it was still tight. Vermeulen took back first by cutting inside for a right-hander, then it was James on the next, and Chris on the next! Vermeulen led Toseland and Haga over the line.
Chili, Laconi, Haslam and Corser maintained the next positions, but the man who would have been eighth, Steve Martin, crashed out on the last lap, with challenger Nannelli. This meant Borciani was next home, followed by Clementi, Walker, Giovanni Bussei, and the Suzuki foursome of Bontempi, Nowland, Fuertes and Menzen again.
First and second places gave James Toseland a slender three point lead, with Chris Vermeulen's fourth win for Honda letting him in ahead of Régis Laconi and Noriyuki Haga. With four races to go, even Frankie Chili and Garry McCoy could theoretically still triumph, but it's looking like a close four-way battle from here.
Standings after eighteen races: Toseland 255; Vermeulen 252; Laconi 245; Haga 241; Chili 213; McCoy 163; Martin 144; Haslam 140; Corser 127; Borciani 114; Walker 112; Sanchini 79.