Régis Laconi's World Superbike double win at Imola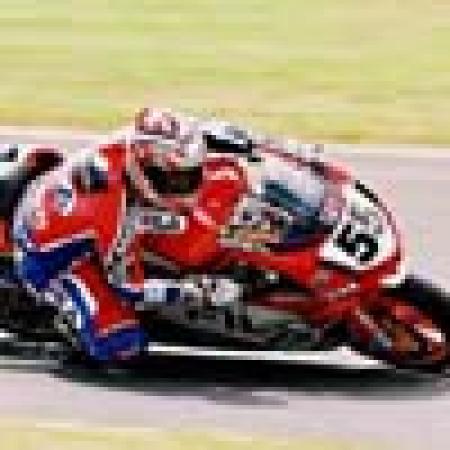 Raceline Photography
By Dan Moakes
February 25 2005
With four races left in the World Superbike championship, there were as many riders still in with a chance of the title. Of these, only Régis Laconi had previously won at the Imola circuit, in Italy, but the French rider had slipped to third in the points, behind James Toseland and Chris Vermeulen.
Imola had been the setting for Laconi's first World Superbike win, when he took race two for Aprilia in 2001, after qualifying second. Now the works Ducati rider took his fifth pole position of 2004, while team-mate Toseland was a row back, in fifth position. The other title contenders, Honda's Vermeulen and Renegade Ducati's Noriyuki Haga, joined Laconi on the front row, split by third man Garry McCoy, on the Xerox Ducati. It was the Australian rider's best run since joining the series.
On a grid with ten wildcard riders, Toseland found himself ahead of two local riders, Giovanni Bussei and series regular Lucio Pedercini - both on 998 Ducatis, to the Englishman's 999 F04 model. Usual front runner Frankie Chili languished back in sixteenth, last man from the Superpole session. Among the one-off entrants was the unusual sight of an MV Agusta, piloted by Andrea Mazzali. Could the marque with eighteen rider titles in 500cc Grands Prix be set for a full racing return?
Race one saw Haga take to the lead at the start, with Vermeulen quickly moving past McCoy to go second. Laconi and Toseland were next, with Troy Corser moving into sixth from Marco Borciani, then Steve Martin, Gianluca Nannelli and Sergio Fuertes. Quite soon, the first five were moving clear of the pack, but McCoy's spell in third was short-lived. A 'moment' from Garry allowed the two Fila Ducatis past, and he ultimately dropped away from the leaders into a solitary fifth.
Meanwhile, Haga and Vermeulen were threatening to put a gap between themselves and their two red-liveried pursuers, and make it a two-way fight. Chris overtook on the inside at Rivazza 1, a downhill left-hander towards the end of the lap, but Noriyuki took it back at Rivazza 2, a second left. A fastest lap from Vermeulen helped him as he put the Honda into the lead, leaving Haga to the attentions of Laconi. The French rider's move came on the downhill run from the fast Piratella left into the tighter double-right of Acque Minerali. By this time, Toseland had also fallen off the pace of the first three.
Vermeulen had a slight gap in front, leaving Laconi and Haga to squabble over second. At half distance, Haga emerged ahead following a move at the Tamburello chicane, but Régis was able to return the favour in the same manner as earlier. He then got after Vermeulen, leaving Haga to the attentions of a resurgent Toseland. James duly moved into third but, with five laps remaining, he and Nori were three seconds away from the first two.
With two laps to go, Laconi went into the lead on the run down into Rivazza, getting inside for the corner. From there he was able to pull out enough of a margin to take his sixth win of the season, nine races after his fifth. Second for Vermeulen kept him two points ahead of Laconi and, with Toseland finishing third, this meant the Honda rider now led the championship. Haga was fourth and remained an outside contender. McCoy kept fifth to the finish.
Corser's hold on P6 in the race had faded, and he was firstly overhauled by the DFX Ducati men, Martin and Borciani. In fact, Troy then fell behind Nannelli, and also lost out to another Ducati trio - Pedercini, Chili and Leon Haslam - plus the Bertocchi Kawasaki of Ivan Clementi. Martin was sixth man home, with Chili coming through from outside the top ten for seventh. Borciani, Nannelli, Haslam, Clementi, Corser, Piergiorgio Bontempi, Luca Pini and former GP winner Doriano Romboni took the remaining points.
Retirements included Miguel Praia, who crashed the second Xerox Ducati; Chris Walker, who had to pit on the Foggy Petronas FP1; Giovanni Bussei, who had run in the points; and Pedercini, who slid out having run eighth. The Italian rider-team owner was wearing a crash helmet with the colours of Ayrton Senna, in tribute to the Brazilian F1 driver, who had died at the circuit ten years earlier.
Chris Vermeulen's chances of the championship crown took a serious knock before race two even got under way. Having already changed bikes due to a throttle problem, he then managed to crash on the warm-up lap, on the way to the final grid. Giovanni Bussei was good enough to give the Australian a lift back to the pits, but Chris started the race late on his original bike, and had a fight back on his hands. This time, Laconi led away, from Haga, Toseland, McCoy, Martin, Pedercini, Corser, Pini, Borciani, Bontempi, Haslam and Romboni.
To begin with, Laconi and Haga got away into a race of their own, after Toseland went too deep into the final left-right chicane, the Variante Bassa, but then James closed back in for a three-way leading group. Laconi was the fastest man to begin with, but couldn't shake off the attentions of Haga. The Japanese rider forced his way through into the lead, with Toseland taking advantage and putting his team-mate back to third. Régis' attempts to get back ahead were not helped by making the same mistake as James at the Bassa chicane.
With twelve laps to go, there was a little daylight between the second and third riders, but they both moved forward soon after, as Haga managed to crash out of the race. This mistake probably cost him any realistic chance of securing the title, and left a battle for supremacy between the two Ducati Fila men. Toseland still led with three to go, but a rear slide gave Laconi his chance, and he repeated his earlier pass into Rivazza.
With two to go, the Frenchman was ahead. Backmarkers that threatened to intervene managed to get out of the way, so neither rider was disadvantaged. Toseland pushed on, looking to be close enough to find an opening, but Laconi didn't really give him one. That said, it was a thrilling tight finish, with James managing to almost get right alongside as they went for the finish line. Laconi took the double, with a winning margin of just 0.041s in race two.
The early battle for fourth had been between McCoy and Martin but, while the latter had got in front and moved clear, inheriting third when Haga went out, Garry had later lost out to Nannelli. They finished in this order, with the Italian taking his best finish of the series to date, after a good ride through the top twelve. Impressively, the next man home was Vermeulen. He'd obviously been on a real mission, coming through from 27th on the first lap, and had passed all manner of riders on the way. Not so lucky was Chili, who'd only got as far as twelfth when his bike failed him; and Bussei, who was handed a ride-through penalty for his selfless actions on the warm-up lap.
Pedercini converted his early sixth place into seventh at the finish, while Borciani had dispensed with Pini and Corser to end up in P8. Clementi had also climbed to reach an eventual ninth, followed home by Corser, Bussei, the disappointing Haslam, Pini, Romboni and Alessio Velini. Haga had taken the fastest lap.
The result of the Imola races was that Régis Laconi had turned a ten point deficit into a four point advantage. James Toseland was obviously still in touch, but Chris Vermeulen's race two dramas meant that he slipped to fifteen behind Laconi. Now he would need to win the last two races. Meanwhile, Noriyuki Haga's chances were all but gone, as Laconi would only need top ten results to stay ahead. It should be between the top two, and should make the Magny-Cours races worth watching to the very end.
Standings after twenty races: Laconi 295; Toseland 291; Vermeulen 282; Haga 254; Chili 222; McCoy 185; Martin 170; Haslam 150; Corser 137; Borciani 130; Walker 112; Clementi 85.