A winning start for Ducati and Loris Capirossi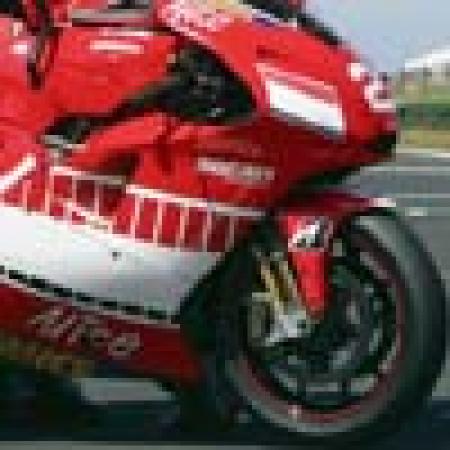 © Getty Images
By Dan Moakes
March 26 2006
The 2006 MotoGP World Championship kicked off in Jérez, with the Spanish Grand Prix. Off-season testing suggested that title holder Valentino Rossi was not going to dominate with the new Yamaha, and the race offered the first chance to fully evaluate the new crop of riders.
The rider line-up took on a new complexion for the new season, what with veteran riders Alex Barros and Max Biaggi now out of the picture. This left 32-year-old Loris Capirossi as the most experienced rider, with his 232 race entries at all GP levels. Also missing, after a fifteen year spell with sixteen race wins, was the Pons Honda team - following the loss of Camel sponsorship to Yamaha's factory team. WCM had similar sponsor worries, but both teams aim to return for 2007 - if not before in the latter's case.
Chris Vermeulen had made the switch from Superbikes to take on his first full GP season for Suzuki. Joining him in the big class were top 250cc riders Dani Pedrosa (a three-time World Champion), Casey Stoner and Randy de Puniet - 35 race wins in the smaller classes between them. Other riders had made switches, so that Carlos Checa and James Ellison rode Yamahas; Kenny Roberts re-joined the family team, with the Proton-Honda; Sete Gibernau moved to Ducati; Toní Elías took his sponsor to Gresini Honda; and Alex Hofmann became a Pramac d'Antín Ducati man, joined by former GP rider José Luís Cardoso.
The winter had shown the latest Yamaha M1 not without handling issues, while the Ducati and Kawasaki bikes had shown promising form, with the Bridgestone tyres; as had the inevitable Honda with Michelin. Suzuki still had work to do, having opted for a new version of the GSV-R engine, with a revised V angle for the four-cylinder unit. Team Roberts' brief KTM interlude had given way to a deal for use of the V5 Honda engine, and renewed optimism.
Qualifying at the compact Jérez circuit reflected many of these considerations, and with the leading Bridgestone bikes pushing the top Honda RC211V riders off the front row of the grid. The works Ducati Desmosedici confirmed its promise, with Capirossi and Gibernau taking the one-two, from the Kawasaki ZX-RR of Shin'ya Nakano. The factory Repsol Hondas were next, with Nicky Hayden heading 20-year-old Pedrosa, and then came the Fortuna RCVs of Elías and Marco Melandri.
Despite a practice accident, de Puniet managed eighth with the second Kawasaki, and this meant that the leading Yamaha brought up the rear of row three. Rossi was the top M1 pilot, struggling with chatter, and team-mate Colin Edwards was next. Suzuki's Vermeulen headed partner John Hopkins for his third GP, then came former team man Roberts. Checa was 14th, and first Dunlop rider with his Tech 3 Yamaha, ahead of Stoner's LCR Honda after an injury hit off-season. Makoto Tamada's JiR Honda led Cardoso, Ellison and Hofmann.
The waiting was over as Capirossi launched into the lead, with Gibernau shortly to give way to Melandri behind. Rossi had quite a bit to do, and had moved forward as the leaders tackled the right-handed Expo 92 first corner. But, as Valentino turned in amongst the jostling pack he managed to cut across Elías, who could do nothing as the Yamaha was forced out by the Honda, and the yellow machine went down and out into the gravel. Edwards was shuffled wide in the mayhem, but team-mate Rossi had to pick up his mount and resume at the back of the field. His right foot peg was virtually gone, and the rear brake lever had also been snapped short.
This left Capirossi leading Melandri and Gibernau, with Hayden fourth and a dispute for fifth between Nakano and Stoner. The latter was up an impressive ten places from his start slot. Pedrosa was next, and Checa took over from de Puniet in eighth. Tamada, Roberts, Hopkins, Elías, Cardoso, Vermeulen, Hofmann and Ellison followed on, with Edwards only heading the troubled Rossi.
The leading trio began to break away from their pursuers, with Capirossi motoring hard and Gibernau attacking Melandri at the final, left-handed Ducados hairpin. But in no time the best hope of a home grown winner was gone, as Sete slowed with technical problems. Loris pushed clear with the remaining red Ducati, while the Repsol Hondas moved through on Melandri - Hayden at Ducados, and Pedrosa at Expo 92. The young Spaniard had dealt with Nakano and Stoner quickly. Behind, a gap was opening after this pair and Checa.
Capirossi's progress took his lead to a little over two seconds, with Pedrosa right on Hayden's tail as they pulled clear of Melandri. Nicky seemed to be working hard to stay in second, and sure enough Dani soon pulled to the inside along the back straight, getting past into the Dry Sack right-hander and holding on as his team-mate tried to respond. It didn't take too long for the Spaniard to start to creep away and, to the crowd's delight, Capirossi's lead came down progressively. From 2.2s, it had shrunk to 1.4s at one-third distance.
By this time, the field was spaced out with a few groups disputing a position or two. Pedrosa was chipping the tenths off each lap, getting the gap under a second and to 0.8. The other big mover was Elías, using a softer compound rear tyre to most of his Michelin rivals. The 23-year-old recovered from his first corner delay at the expense of Tamada, de Puniet and Roberts in turn, then following Hopkins past Checa, before dealing with the Suzuki man and homing in on Nakano and Stoner. At the same time, Rossi was almost 50s from the leaders, chasing down the points men.
Half distance saw the gap between Capirossi and Pedrosa briefly back at 1.1s, but as the Ducati man began to get his rear tyre sliding dramatically, Dani was able to keep on tighter lines and so get to just within 0.3s. By now, Hayden was well back on his own in third, to come under threat later. With five laps remaining, Loris began to inch away from his young challenger again, and the margin between them was almost at 0.7s two laps later. It had grown considerably the next time round, as the diminutive younger man settled for an impressive second on his big bike début, his tyres perhaps past their best.
The second half of the race had seen Elías progressively pass Nakano and Stoner, before pulling away to join in battle with team-mate Melandri. He made it through into fourth at the Angel Nieto right-hander at the start of the final run in on the lap, and this momentum carried him through to challenge Hayden in the late stages. Toní just missed out on his first top class podium, but still took his best result to date in fourth, on his first Honda ride.
Melandri took a solitary fifth, somehow not on the same winning form as he had ended 2005, while Stoner was another very good first timer in fifth, still just ahead of Nakano at the flag. Roberts had come through on Tamada, Checa and Hopkins for eighth, with Carlos continuing to drop back. Hopkins was followed home by Tamada on the last of the six Hondas, first Yamaha man Edwards, Vermeulen, Checa, and Rossi in fourteenth for two points. Hofmann and Ellison made up the numbers, with Cardoso apparently out, joining Gibernau and de Puniet.
Loris Capirossi's fourth win for Ducati was also his thirtieth podium visit in the top class. Dani Pedrosa answered any doubts about translating his talents to a full length 990cc four-stroke race, following close in the wheeltracks of another 125cc and 250cc title winner. Capirossi's first world crown had come at a time when Pedrosa was just a five year old. Nicky Hayden was disappointed at not being able to challenge for victory on his development-leading Honda, whilst Toní Elías had put in a good recovery ride after the first lap contretemps.
Indeed, Toní was seen in clearly apologetic mood as he and Valentino Rossi met up on the slow down lap. The incident meant that a true indication of Rossi's race pace on the latest Yamaha was still to be had. Team-mate Colin Edwards had been less delayed, but his eleventh place was also inconclusive, even as Carlos Checa's progress on the Dunlop-shod machine had been all in the wrong direction. It could prove a tough title defence for 'the Doctor', not least with a lot of points already given away. Ducati's Sete Gibernau was in a similar boat, but his partner had made just the right start to the team's quest.
Standings after one race: Capirossi 25; Pedrosa 20; Hayden 16; Elías 13; Melandri 11; Stoner 10; Nakano 9; Roberts 8; Hopkins 7; Tamada 6.