Kiyonari a league ahead in the wet at Brands Hatch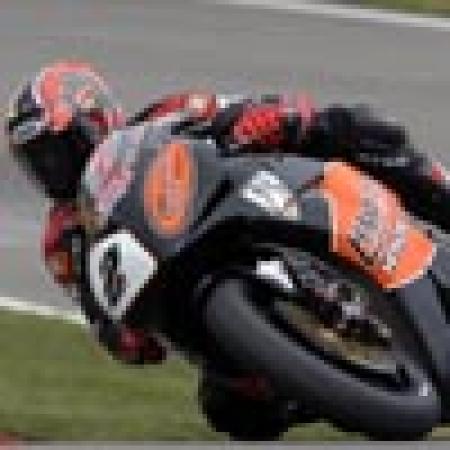 Raceline Photography
By Dan Moakes
March 29 2006
The new season of British Superbike competition opened at Brands Hatch, on the short 1.2-mile Indy Circuit. Mixed weather conditions made for even more excitement than usual, as the Ducati versus Honda battle carried over from 2005, with the odd Kawasaki and Yamaha in the mix.
The British Superbike Championship is one of the most eagerly anticipated by bikesport fans, as genuinely the most competitive domestic series, with a great variety of excellent machinery, rider talent, and challenging race circuits. 2006 promised more of the same, after a year in which a pair of international stars had taken the fight to the best homegrown performers, and with no lack of success.
Spain's Gregorio Lavilla, with Airwaves Ducati, and Japan's Ryuichi Kiyonari, with HM Plant Honda Racing, remained amongst the favourites, but there would be no shortage of challengers. The Italian 999 machine, now in F06 version, would again be shared by Lavilla and Leon Haslam in the GSE Racing team; and Honda's works FireBlade 1000 would be piloted by Kiyonari, joined this time by Karl Harris, as Michael Rutter moved across to a Dunlop-shod Stobart Motorsport example. Four more promising Honda riders would be joined by five top Kawasaki and Suzuki prospects (each), and three men on the Yamaha R1. There were ten former race winners in the field.
Qualifying for this first round saw title holder Lavilla secure pole position for the third time in the series, with team-mate Haslam right alongside him. Four Honda riders were among the next five, with Harris third, and the others pushed off the front row by fourth man Dean Thomas, on the leading Hawk Kawasaki. He was followed by Jonathan Rea, on the Red Bull Honda with HRC support, then Rutter and Kiyonari. Eighth place went to 2003 champion Shane 'Shakey' Byrne, back from his MotoGP experience to ride the Rizla Suzuki GSX-R1000. Team-mate James Haydon was the next man.
Glen Richards started his Hydrex Honda career from tenth, ahead of Scott Smart and Ben Wilson (both Vivaldi Suzuki), Michael Laverty (Stobart Honda), Jon Kirkham (Jentin Suzuki), Craig Coxhell (Hawk Kawasaki), and Sean Emmett (Ipone Kawasaki). The best Yamaha was Virgin Mobile's Tommy Hill, in 18th; whilst Steve Plater was a non-starter with the Dienza Kawasaki, after an accident during qualifying.
It was a dull day, but race one went ahead in dry weather conditions. Haslam converted to the lead into the plunging right of Paddock Hill Bend, with Lavilla quickly past Thomas to run second. They all swarmed back uphill for the tight Druids hairpin and, at the third corner, the left-handed Graham Hill Bend, Rutter moved ahead of Harris for fourth. He soon moved up to third, on the inside of Thomas as they made the first return visit to the start-finish line.
In no time, the Ducatis of Haslam and Lavilla had started to pull a gap over their pursuers, with Rutter now leading Harris, then Thomas and Rea. 'Kiyo' would move in from behind, but 21-year-old Hill was about to make an early exit as he crashed out. As the field began to space out, Lavilla took over the lead from Haslam, whilst Harris moved back past Rutter and began to push on in pursuit of the Ducatis.
Kiyo had got up to fifth, and clear of Rea, and a close battle for seventh now involved Thomas, an attacking Byrne, and Laverty; with Richards, Haydon and Mason not far off. As Richards pulled up to the three ahead, Byrne went for the inside of Thomas at Paddock, holding off the Australian's attempt to fight back. Shakey was up to seventh, leaving Thomas to worry about Laverty's assault, but the Suzuki man was fifteen seconds from the leaders by now.
Lavilla had established a 1.8s margin over Haslam as the race entered its closing stages. Harris was also in a relatively solitary third, but not too far out of touch. Leon felt there was enough of a threat that he decided to push on again. Cresting the brow at Paddock, the rear of his Ducati got away, and the 22-year-old was launched into a big highside crash. The red flag was soon displayed, and the race stopped. Leon was knocked about, but not enough to keep him out of the action still to come.
The result then saw Lavilla beat Harris by 4.2s, with Rutter third, and marginally ahead of his former HRC partner Kiyonari. Rea made it four Hondas in the top five, and it was actually six in the top nine, with Laverty behind sixth man Byrne, and Richards behind eighth man Thomas. Haydon completed the top ten, from Mason, Wilson, Emmett and Smart.

© Raceline Photography
It was raining by the time they lined up for race two, and had been for some time. A wet race was declared, leaving the dilemma of tyre choice for all the competitors. Slicks would be best if the track were to dry out, wets would obviously make all the difference if it didn't, and intermediates would be even more obvious if in-between conditions prevailed. Various riders had different ideas about this, and the leading runners included Lavilla on slicks, Haslam on inters, and Kiyonari on wets.
Haslam was again the leader through the first corner, with Rutter second, but Harris going past up Hailwood Hill to Druids. It soon became clear that Rutter was struggling, with a slick tyre on the rear, as both Kiyonari and Lavilla came past rapidly, and he would soon drop from the top eight. With a wet track, Kiyo's Michelins were the right choice at this stage, and he powered inside both Harris and Haslam through Clark Curve and onto the start-finish straight. In no time at all he was well clear, and leaving the others further and further behind in their race for second.
Harris had got the better of Haslam at much the same time, and now third placed Lavilla was on the move, running well for a man on slicks. Gregorio dispensed with his team-mate, then got by Harris at Druids and moved ahead. It was all going on throughout the field, and meanwhile Virgin Yamaha's class new boy, Australian Billy McConnell, had gone by Haydon. He was catching up to the second, third and fourth men, making good use of his Pirelli tyres. Harris now ran onto the grass at the Cooper Straight, rejoining back in sixth.
Kiyonari had built an amazing 14s lead before too long and, way behind, McConnell had gone past Haslam and closed up to Lavilla. Haydon, Harris and Hill had been next, until Coxhell - in his second BSB season after a year away - progressively found his way through to fifth. His compatriot McConnell had reached an incredible second, at the expense of Lavilla, and established something of a margin. The all-action race continued with Hill passing Harris before Surtees corner, behind the pits. Superbike Cup newcomer Zak Berry was an impressive tenth on his Suzuki.
Kiyonari was far enough advanced on the short circuit to start lapping some of the top riders, including Rea, Smart, Laverty and Byrne. His lead now put him 22s in front of third man Lavilla, or nearly half a lap in dry conditions. The situation was going that way, too, and Lavilla's choice of tyre meant he now set the fastest lap and closed on McConnell as they lapped Smart and Peter Hickman with ten to go. At half-distance, Rutter had pulled out at the pits.
Lavilla and Haslam were getting close to McConnell as the Yamaha rider got among traffic, such as Berry, Byrne and Marty Nutt. Gregorio regained his second place in a move into Surtees, and Leon was on the attack as they went over the line. He would soon get the verdict at Paddock, but Billy came back at him. He was ahead when the rear tyre touched a damp white line on the Cooper Straight, and it was enough to see the Yamaha crash out - with just five laps remaining.
Late rain was enough to retain Kiyo's lead at around 21s, with second man Lavilla now lapping the likes of Byrne, Ollie Bridewell, Gareth Glynn and Laverty. Haslam was able to get the better of his team-mate as the track became more slippery again, leading him home by just 0.2s. Coxhell was a close fourth, with Harris fifth, having lapped fastest in the drier period. Hill, Haydon, Thomas, Richards, Bridewell, Byrne, Kirkham, Wilson, Mason and Nutt completed the points scorers.
The expected runners had been fast, with Ducati and Honda's top men coming through once again. The mixed conditions had kept it close among the top three, with only ten points separating them. More importantly, at this early stage of proceedings, the racing had once again made it an event to savour. Dry conditions had shown that the Airwaves and HM Plant riders should be the men to beat in 2006, as a year earlier, but the wet had then mixed things up enough for others to make their mark, not least Billy McConnell and Craig Coxhell. Who is your money on for Donington Park?
Standings after two races: Lavilla 41; Kiyonari 38; Harris 31; Haslam 20; Rutter and Thomas 16; Haydon and Byrne 15; Richards 14; Coxhell 13.