Valentino Rossi wins MotoGP thriller at Mugello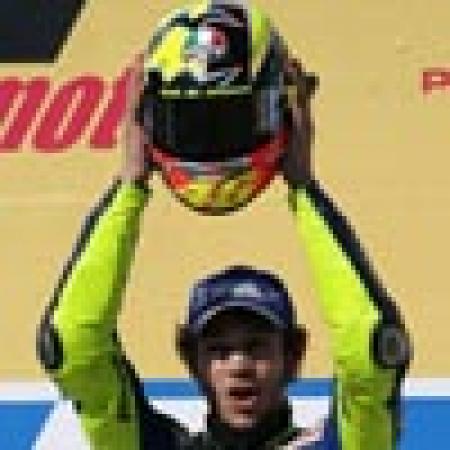 © Getty Images
By Dan Moakes
June 4 2006
MotoGP star Valentino Rossi arrived for his home race, the Italian Grand Prix at Mugello, on the back of two no-score races beyond his control. He knew the battle to catch up to Honda's young gun racers was on, whilst the crowd would also have their eyes on home team Ducati.
Rossi's season to date had been a challenging one, to state the case mildly, not least with the problems affecting the rideability of the new Yamaha M1. His pace had been evident in the races, but collisions, tyre and machine problems - one of each - had left the reigning champion way down the points table. Another distraction had been the ongoing speculation concerning Valentino's possible future as a Ferrari F1 driver - now put to rest (see separate story).
Rossi and Yamaha were obviously looking to get back to business, and reinitialise their championship aspirations. And a win at home for Italy's number one would also do no harm. But competition for the spectators' loyalties came in the form of the Ducati team's strong practice results, which saw the two Desmosedici riders heading up the grid. Local favourite Loris Capirossi lost out to Sete Gibernau, with the Spaniard taking his 13th pole position, and his first since leaving Honda. It was also the eighth MotoGP pole for the marque, who had taken the opportunity to revive the red and green Sports Motor Cycles livery, from Mike Hailwood's successful 1978 TT return.
Rossi's prospects looked good, with his first front row start on the Camel Yamaha, although team-mate Colin Edwards would start a season worst 14th, behind the Tech 3 Yamaha of Carlos Checa. Row two was all Japanese machines, with Honda's Nicky Hayden (Repsol HRC) and Marco Melandri (Fortuna Gresini) split by the Kawasaki of Shin'ya Nakano. Then came the lead Suzuki of John Hopkins, with four more Honda RCVs in the next five.
Dani Pedrosa (Repsol), Casey Stoner (LCR) and Makoto Tamada (Konica Minolta) slotted in ahead of the Honda-powered KR Proton machine of Kenny Roberts Jr, with Melandri's team-mate Toní Elías in P12. Checa and Edwards led Chris Vermeulen (Suzuki), Randy de Puniet (Kawasaki), James Ellison (Yamaha), Alex Hofmann and José Luís Cardoso (both Ducati).
The start of the race saw Gibernau get away in front, but with Rossi soon moving ahead. Nakano held third, from Stoner, Melandri, Pedrosa and Hayden. Capirossi started poorly, falling to eighth, from Roberts, Elías and Hopkins. Elías was an early mover, and Melandri passed both Stoner and Nakano in quick succession. Stoner also relegated the Kawasaki man, going through into fourth at the San Donato right-hander at turn one.
The initial running saw Rossi and Gibernau establish a helpful margin over Melandri, Stoner, Nakano, Pedrosa, Hayden, Capirossi and the rest, and meanwhile Edwards had a gravel trap excursion which didn't help his cause, putting him last. When Valentino clipped the dirt at the edge of the tarmac, on the exit of a corner, Sete went ahead again. Nakano battled to remain in front of the Repsol Honda pairing, again losing out as the Kawasaki struggled for race pace.
Melandri was quickest early on, as the first four moved clear of Pedrosa, Hayden, Nakano and Capirossi. Marco passed Valentino at San Donato, but a tight move at the same place soon restored the position. As Pedrosa, Hayden and ultimately Capirossi pulled up to the leaders, so Rossi had a go at Gibernau. Through the flowing right-left ess of Casanova and Savelli corners, first the Italian and then the Spaniard held sway. Rossi made it stick into the following right of Arrabbiata 1.
At this stage, Rossi, Gibernau, Melandri and Stoner led the way, with Pedrosa and Hayden in touch. Casey got on the attack behind his fellow Honda rider, but with the Ducatis now fastest. Gibernau chased Rossi as they moved clear, while Capirossi joined the second group. Honda RC211V machines were racing for third, with Hayden now passing team-mate Pedrosa, and Stoner getting by Melandri on the long start-finish straight. Moments later the 20-year-old Australian was flipped out of the race exiting an early right-hander, his bike tumbling into a big crash and ending his podium hopes.
This put Hayden in place to press Melandri for third, attacking on the outside at San Donato, and getting by at the following left of Luco. Capirossi and Pedrosa now completed the group, and Loris made it past Melandri for fourth in one dramatic move as he responded to Dani's failed attempt at turn one. At around half-distance, Capirossi completed his journey to the podium by getting past Hayden at the same corner.
For many laps, the race had pitted old rivals Rossi and Gibernau against one another up front, but this would change quickly as Capirossi, Hayden, Melandri and Pedrosa joined in again. Loris went to Sete's right along the main straight, to move into second, but both he and leader Rossi sent themselves wide braking at San Donato. Gibernau was back into the lead again, with Capirossi managing to get in behind his team-mate, but Hayden and Melandri nipping in front of Rossi.
Things now began to go wrong for Gibernau, with Capirossi getting by on the inside at the turn in for the looping final Bucine left-hander. Hayden also went ahead at San Donato, with Melandri quickly following suit. The Honda pair now battled for second, but Sete was soon passed by both Rossi and Pedrosa, to drop into a solitary sixth. Valentino recovered from his earlier mistake with a couple of audacious moves at the Savelli left sweeper, taking Melandri and Hayden in turn on the inside line.
Melandri's hopes of victory were ended when he went very wide at Arrabbiata 1, just onto the grass, and dropping to sixth behind Gibernau as he got back his track momentum. With a few laps to go, Capirossi was clearly pushing hard to secure a home success, and now Pedrosa began to drop off the pace of the first three. Points leader Hayden sat in third, but the scene was now set for yet another all-Italy battle at Mugello, this year involving Capirossi and Rossi.
Rossi made a move into Bucine, but was re-passed on the way out. Undaunted, he kept up the pressure. Loris braked very late for San Donato with two to go, but held onto his lead, only for Valentino to make it by in an upcoming left-hander. Going into the last lap, Capirossi pulled ahead again to the outside on the main straight, again braking late for the turn, but this time Rossi got the verdict on the way out. From there he pulled just far enough out of reach to secure the win. It was his 55th in the top class, taking him ahead of Mick Doohan to second on the all-time list.
Capirossi now found himself only just ahead of Hayden as they motored on, but kept his place to the flag. Pedrosa, Gibernau and Melandri followed home, all running alone in the late stages. Nakano's progress had only ever been in the wrong direction, with the Kawasaki team leader having dropped from a solitary eighth into the clutches of Roberts and Elías. These two both got ahead, to be joined by Tamada and Hopkins by the finish. Kenny had a good run to split the Hondas at the flag, with Toní the man to get by.
Following the demise of Stoner, this meant that Nakano was eleventh home, with Edwards recovering as far as P12, to finish ahead of a bunch of number sevens. These were de Puniet (17), Vermeulen (71), Checa (7) and Ellison (77). Cardoso was the last finisher, joining Ellison and the crashed Hofmann as the only non-scorers bar Stoner.
Valentino Rossi's acclaimed home win put him level with Casey Stoner in fifth overall, and brought his deficit down to a more scaleable 34 points. As ever, he is a serious title threat, especially dangerous now with renewed momentum. As Loris Capirossi beat Nicky Hayden on the day, these two are now tied at the head of the table, with Marco Melandri and Dani Pedrosa still clearly in touch. Casey Stoner had reason to be less than happy, as his mistake cost a likely podium, not to mention the chance to stay right in with his two Honda rivals on the leaderboard. And Sete Gibernau flattered to deceive as a pace setter once again. But there is more to come from all concerned.
Standings after six races: Hayden and Capirossi 99; Melandri 89; Pedrosa 86; Stoner and Rossi 65; Elías 53; Edwards 49; Gibernau 44; Tamada 40; Nakano 37; Roberts 28; Hopkins 27.
Honda 131; Ducati 99; Yamaha 94; Suzuki 41; Kawasaki 37; Roberts-Proton 28.