Troy Bayliss again; Andrew Pitt's first win in WSB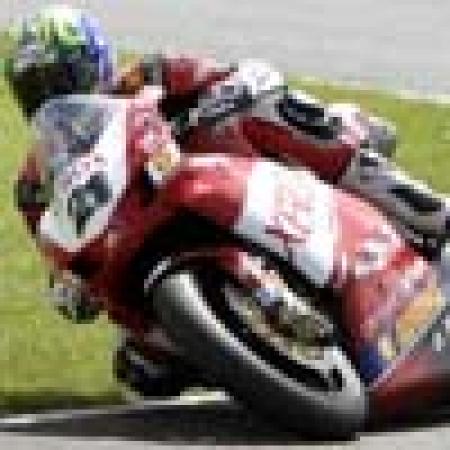 Raceline Photography
By blue2bikes
June 29 2006
Round six of the 2006 Superbike World Championship, the San Marino races, from Misano: A mixed day for points leader Troy Bayliss, as the Ducati rider falters in race two. Compatriot Andrew Pitt steps up with a win for Yamaha.
Race one: James Toseland started in pole position for the first WSBK race of the day. Troy Corser, the present champion, got the best start, with Andrew Pitt in second place and James in third. But James didn't take long in overhauling the two front runners to claim first place.
Noriyuki Haga was on a charge, taking third place from Troy Corser - followed promptly by Chris Walker overtaking Corser, relegating Troy to fourth place. The leading pack of Toseland, Pitt, Haga, Walker and Corser was followed closely by a charging Troy Bayliss.
By lap three, Haga was able to pass his team-mate Pitt and take second place. With Chris Walker in close contention he quickly followed Haga's lead in overtaking Pitt. Bayliss, now on the move, overtook Corser, Pitt and Walker to take third place behind Haga.
Haga, defending his lines, managed to hold off Bayliss for two laps, but Bayliss undertook Haga, with Corser overtaking Haga on the outside - the top three now being Toseland, Bayliss and Corser. Pitt tangled with Michel Fabrizio and fell, but managed to remount and finished in sixteenth place.
Bayliss was all over Toseland and passed James on lap ten, pulling out a significant lead on Toseland. Meanwhile, Chris Walker crashed out on the same lap whilst holding fifth place.
Yukio Kagayama was having a battle with Haga but came out the victor to take fourth place on lap eleven. Yukio's team-mate Troy Corser held onto third place until losing the front of his machine and falling out of contention on lap 16, handing Yukio third place - which he held onto to score his first podium of the 2006 season.
Also on a charge was Alex Barros, who managed to overtake Haga for fifth place - but Haga immediately took it back. Bayliss continued to expand his lead over Toseland, and by lap 23 Barros had managed to overtake Haga and hold onto fourth place.
Stretching his lead even further, Bayliss crossed the line to take his Xerox Ducati to eight wins in a row, with Toseland crossing the line in second.
Unfortunately, Steve Martin, who had attained a great starting position aboard his Foggy Petronas Racing FP1, had to pull out on lap nine due to the oil pressure warning light coming on and the bike losing power.
Returning to the race track aboard his DFX Treme Honda CBR 1000RR, for the first time since his pelvic injuries, Pier-Francesco Chili finished in 20th position.
Race one, top ten finishers:
1 Troy Bayliss, Ducati
2 James Toseland, Honda
3 Yukio Kagayama, Suzuki
4 Alex Barros, Honda
5 Noriyuki Haga, Yamaha
6 Régis Laconi, Kawasaki
7 Lorenzo Lanzi, Ducati
8 Fonsi Nieto, Kawasaki
9 Rubén Xaus, Ducati
10 Norick Abe, Yamaha
Race two: The race was to see all the top runners either fall or run off the track and lose valuable places, with Corser, Bayliss and Toseland losing podium placings.
Corser crashed out of the race on lap eight, losing the front end of his machine and gifting the lead to Andrew Pitt, who defended his number one position to the end of the race - taking his first ever WSBK win. Bayliss crashed out on lap fifteen whilst running in third place, but managed to remount and continue to the line in twelfth position.
James Toseland, in hot pursuit of Pitt, took to the grass on lap seventeen and managed to keep himself upright and stay aboard his machine, returning to the track but by this time was relegated to eighth place.
Alex Barros managed to hold onto second place behind Pitt, but the battle between Haga and Walker for third place was one to keep everyone on the edge of their seats, as they changed places consistently during the latter part of the race - Walker losing out to Haga on the final lap to come over the line in fourth place.
With Yukio Kagayama coming back on form after recovering from injury, it now looks like he will be in close contention to the top runners - but with Bayliss now clearly out in front he will take some catching.
Race two, top ten finishers:
1 Andrew Pitt, Yamaha
2 Alex Barros, Honda
3 Noriyuki Haga, Yamaha
4 Chris Walker, Kawasaki
5 Yukio Kagayama, Suzuki
6 Michel Fabrizio, Honda
7 Lorenzo Lanzi, Ducati
8 James Toseland, Honda
9 Rubén Xaus, Ducati
10 Fabien Foret, Suzuki
Points standings: Bayliss 254; Haga 160; Toseland 157; Corser 149; Barros 146; Pitt 128; Lanzi 80; Xaus 70; Walker 64; Nieto 61.