Testing Round-up 23/01/08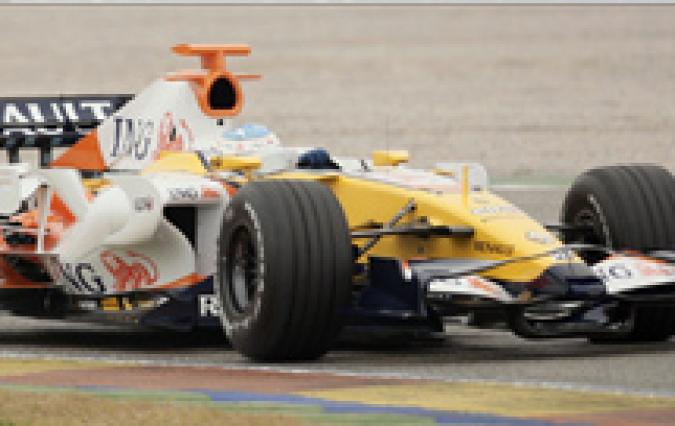 By Renault F1
January 23 2008
The ING Renault F1 Team continued its winter test programme in Valencia today. The team was again running the new R28 as preparations continue ahead of the opening Grand Prix in Melbourne in March. With sunny conditions throughout the day, the team was able to complete its programme without any disruptions.
Renault trying to improve balance.
Fernando Alonso was again in the R28-01, completing his third consecutive day of work with the team this week. Having completed a successful shakedown of the car earlier this week, the team turned its attention to work on improving the balance of the car.

For the afternoon, the team made the most of ideal track conditions to validate set-up options and complete some long runs with the car. The team also did some practice starts and carried out some pit stop training as the day came to a close.

The team enjoyed another productive day and was able to complete is programme as scheduled.
Fernando Alonso was pleased to have had a sustained period in the car and happy with the progress the team has made. Nelson Piquet Jr takes over driving duties for the final day tomorrow and will sample the R28 for the very first time.

Fernando Alonso: "The purpose of this test was to start running the new car and to try to understand how it works. My final day went well and again we ran without any problems and covered a lot of laps, but the time to improve the car will be during the next few test sessions. I feel very much at ease with the team and every day I feel more and more comfortable with the car. The next test cannot come soon enough. It was nice to see the support of the fans here today and that is always a big motivation."

Christian Silk, Test Chief Engineer: "It was a more interesting day for the engineers as we carried out a more set-up based programme to try and find a good balance with the car. It all went to plan with the car responding well to all the changes we made, so it's been a very encouraging day with good reliability. We also did some pit-stop practice towards the end of the day, which is normal procedure for a test."


Fernando Alonso, R28-01, 111 laps, 439 km, best lap: 1'12:360
View a Printer Friendly version of this Story.
Testing Round-up 23/01/08
Discussion started by Renault Rockets (IP Logged), 23/01/2008 21:04
Sorry, only registered users may post in this forum.