Giancarlo Fisichella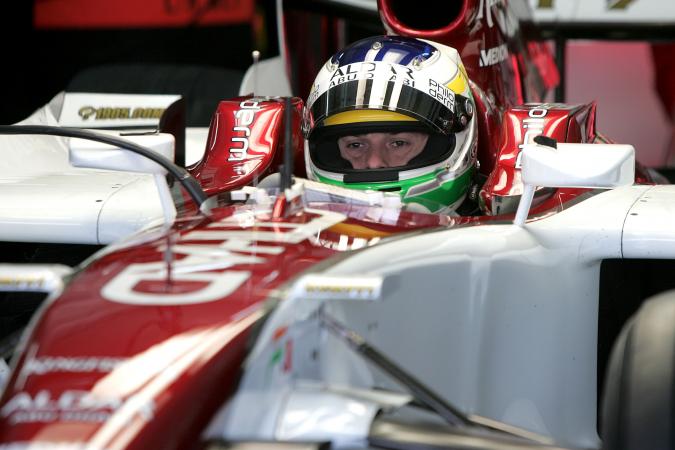 Fisi at Force
By Karl King/manustudio
October 29 2007
Giancarlo Fisichella was announced by Vijay Mallya in January during a glitzy press conference as Force India's new race driver. Coming from a turbulent few seasons at Renault where he was beaten by his team mates in all three seasons, the Roman will be looking to better his reputation and help Force improve and begin to make the way through the grid. Here we track his journey into and through F1.
Personal Facts:

DOB: 14/01/1973
Place of birth: Rome, Italy
Height: 1.72m
Weight: 67 Kg
Married, 2 children
Achievements at a glance:

First F1 season: 1996
Wins: 3
Podiums: 18
Pole positions: 3
Front row starts: 5
Points scored: 267
Fastest laps: 2
Laps led: 210
Km led: 1093

Giancarlo has been a part of the world of Formula 1 since 1996, but his determination to fight at the front of the field remains unshakeable. 2005 was a season in which he found his feet at Renault, but still remains the best of his career, as the Italian took an assured victory in Australia and helped the team to the constructors' championship.
Now, at 34 years of age, the Roman is concentrating on an important year ahead for him and his team. Smooth, tenacious and accomplished, the Italian is respected throughout the paddock for his speed and competitiveness. As one of the most experienced drivers in Formula 1, a new challenge beckons with Force India F1.
Career at a glance:
1984 – 1990: Karting
Giancarlo's sporting debut came at the age of 11, when he began go-karting. As runner-up in the European championship in 1989, and in the world championship the following year, he was among the discipline's elite drivers. The next step was obvious: single seater cars.

1992 – 1994: Formula 3 – Italian Championship
The young Roman's first car championship was the highly competitive Italian F3 series. After two season studded with noteworthy performances, including victory at Imola in his debut season and second place in Monaco, he won the championship in 1994. Italian F3 champion, 10 victories, 8 podiums and 11 pole positions.

1995: DTM/ITC
In 1995, Giancarlo had the opportunity to broaden his experience in the DTM/ITC championship. Working with Alfa Romeo, he also tested for the Minardi F1 team, a debut which led to race drives the following year.

1996 - 2007: Formula 1
The season began with Giancarlo still competing in the ITC, where he scored five podium finishes. However, in parallel he completed several tests for Ferrari, and competed in 8 of the season's Grands Prix for Minardi.

From 1997, he was a full-time F1 driver, and since then has almost never been out of the top ten in the championship. A determined driver known for his finesse, Giancarlo has developed his technical understanding of the sport in several teams. He has competed under the colours of Minardi, Jordan, Benetton, Sauber and Renault.
In 2008 he returns to the Silverstone based team which began as Jordan seventeen years ago but has experienced a rocky time in recent years. As the team re-brands for the third time in as many years, Fisichella will be influential in determinining whether or not the team can turn its fortunes around.
F1 Teams at a glance:
2008: Force India F1
2007: Renault F1 Team
2006: Renault F1 Team
2005: Renault F1 Team
2004: Sauber Petronas
2003: Jordan Ford
2002: Jordan Honda
2001: Benetton Renault
2000: Benetton Renault
1999: Benetton Playlife
1998: Benetton Playlife
1997: Jordan Peugeot
1996: Minardi Ford

---