Azerbaijan GP: Better session for ROKiT Williams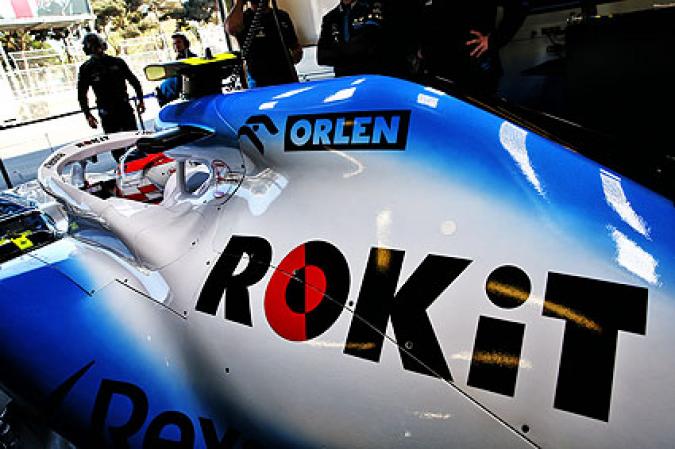 By Andrew Hooper
April 27 2019
The final practice session for the 2019 Azerbaijan GP would see the ROKiT Williams team complete a far better session compared to the dramas of Friday. Both Robert Kubica and George Russell would finish the session slowest bar one but had an uneventful time out on the track. George would spend a great part of the session checking out his car after the team had to complete a rebuild using the new chassis after the damage on Friday. Robert would finish ahead of George by just 0.290s after their qualifying simulations, which was encouraging as Robert had struggled in previous races.
ROKiT Williams Azerbaijan GP Saturday Practice
Team Summary:
Drivers would complete installation laps and then a few drivers would come out set start setting lap times. Gasly would set a 1m:49.605 to be quickest from Robert. On the medium tyre Bottas and Hamilton would go first and second, with the quickest time a 1m:45.676. The track was now quite busy with just over forty five minutes remaining, with both Williams running. On the soft tyre the Ferrari's would go quickest with Leclerc setting a 1m:44.352 to be ahead of Vettel. But Hamilton would go quicker with a 1m:43.929 to lead Leclerc and Vettel. As the session progressed Leclerc would move back to the top of the times with a 1m:42.638 from Vettel, Hamilton, Norris, Bottas, Perez, Albon, Raikkonen, Sainz and Kvyat in tenth.

Albon would improve to be fourth ahead of now Raikkonen and Norris. Bottas had dropped to ninth but was still on the medium tyre. Verstappen was now fifth followed by Kvyat and Sainz in seventh. With twenty minutes remaining the track was quite empty but both Williams were running. Both Mercedes would return this time on the soft tyre. Bottas would go third but Hamilton would move ahead into this spot. Other drivers would start their qualifying simulations with Perez now fifth and Stroll eighth. Only Vettel and George were not out on the track. Verstappen would move up to second. Vettel was now running while team-mate Leclerc would set a 1m:41.604 to be 1.2s ahead of Verstappen. Vettel was able to move back into second as the session drew to a close. In third was Verstappen followed by Bottas, Hamilton, Kvyat, Magnussen, Albon, Perez, and Raikkonen tenth.
The Williams drivers would finish at the rear of the times in 18th and 19th but the gap between the Williams drivers was very close just 0.290s which was encouraging from the point of view that Robert was able to set times better than George.
Robert Kubica:
With eight minutes of the session completed Robert would come out running on soft tyres. Robert would quickly set a time of 1m:49.832. Robert would set a 1m:48.121 to improve to be ahead of Gasly. Robert would drop down the order but would improve with a 1m:48.094. He would pit briefly changing to a new set of soft tyres for a further run. But he would pit after just one lap. With thirty minutes remaining Robert would return again on the soft tyre. Robert would set a 1m:47.012 to find further time. He would pit after a five lap run. With around ten minutes remaining Robert would return and would set a 1m:46.000 finding 1.012s in his qualifying run. Robert would pit after a six lap run as the session ended.
George Russell:
George would come out early running on the hard tyre, looking to check his car out after the overnight rebuild. He would pit after a single lap returning to his pit. After a check of his car George would return running on the soft tyre. George would set a slow 1m:53.738 no doubt as he assessed his car. George was still running slowly setting a 1m:51.399. He would improve with a 1m:51.230. With a 1m:50.952 George would pit after a seven lap run. With twenty five minutes George would return on a new set of soft tyres. He would set a 1m:48.827 which would see him slowest and well behind his team-mate. George would improve with a 1m:47.984 to be behind his team-mate. but was 0.9 slower. He would pit after a five lap run. George would also come out for his qualifying simulation and would set a 1m:46.720 to be 0.7s behind his team-mate. But he was able to improve with a 1m:46.290 to close the gap to Robert. George would also complete a six lap run orior to pitting.
| Pos | Driver | Car | Time | Gap | Laps |
| --- | --- | --- | --- | --- | --- |
| 1 | Charles Leclerc | Ferrari | 1m41.604s | - | 14 |
| 2 | Sebastian Vettel | Ferrari | 1m41.802s | 0.198s | 14 |
| 3 | Max Verstappen | Red Bull-Honda | 1m42.852s | 1.248s | 16 |
| 4 | Valtteri Bottas | Mercedes | 1m43.064s | 1.460s | 19 |
| 5 | Lewis Hamilton | Mercedes | 1m43.176s | 1.572s | 17 |
| 6 | Daniil Kvyat | Toro Rosso-Honda | 1m43.223s | 1.619s | 18 |
| 7 | Kevin Magnussen | Haas-Ferrari | 1m43.294s | 1.690s | 19 |
| 8 | Alexander Albon | Toro Rosso-Honda | 1m43.300s | 1.696s | 19 |
| 9 | Sergio Perez | Racing Point-Mercedes | 1m43.430s | 1.826s | 15 |
| 10 | Kimi Raikkonen | Alfa Romeo-Ferrari | 1m43.537s | 1.933s | 19 |
| 11 | Daniel Ricciardo | Renault | 1m43.561s | 1.957s | 20 |
| 12 | Antonio Giovinazzi | Alfa Romeo-Ferrari | 1m43.637s | 2.033s | 20 |
| 13 | Lando Norris | McLaren-Renault | 1m43.924s | 2.320s | 20 |
| 14 | Carlos Sainz Jr. | McLaren-Renault | 1m43.978s | 2.374s | 19 |
| 15 | Lance Stroll | Racing Point-Mercedes | 1m44.039s | 2.435s | 16 |
| 16 | Nico Hulkenberg | Renault | 1m44.043s | 2.439s | 19 |
| 17 | Romain Grosjean | Haas-Ferrari | 1m44.374s | 2.770s | 16 |
| 18 | Robert Kubica | Williams-Mercedes | 1m46.000s | 4.396s | 19 |
| 19 | George Russell | Williams-Mercedes | 1m46.290s | 4.686s | 20 |
| 20 | Pierre Gasly | Red Bull-Honda | 1m47.836s | 6.232s | 22 |