Monaco GP: Enjoyable race for ROKiT Williams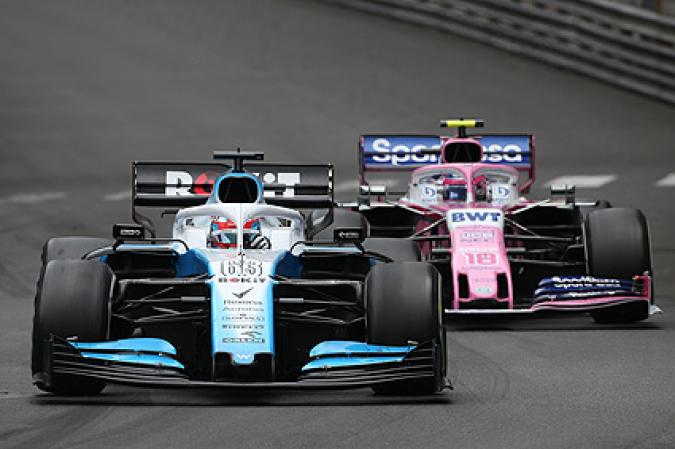 By Andrew Hooper
May 28 2019
The result sof the 2019 Monaco GP would see the ROKiT Williams Team finish in 15th and 18th. George Russell would finish ahead of team-mate Robert Kubica with both running a single stop strategy. Both drivers would suffer as a result of contact been made with Roberts car seeing him spin and block the track to the cars behind which included George. George would continue having not lost too much time but Robert would suffer a significant loss of time as he turned his car around. Both drivers would be able to complete the race seeing both drivers put in good performances in what they would later describe as an enjoyable race.
ROKiT Williams Monaco Grand Prix Race Review
Qualifying for the seventy eight lap 2019 Monaco Grand prix had seen the ROKiT Williams Team finish slowest and would start from the rear of the grid with George Russell ahead of team-mate Robert Kubica. On pole was Hamilton followed by Bottas, Verstappen, Vettel, Magnussen, Ricciardo, Kvyat, Gasly, Sainz and Albon in tenth. The one driver who was out of position was Leclerc starting from sixteenth. The top ten would all start on soft tyres while of those behind them both Williams were on the medium tyre. For the rest of the drivers outside the top ten only Grosjean, Raikkonen, and Giovinazzi were on the soft the rest were on the medium.

The formation lap would be completed and the grid would form and with the lights going out it would be Hamilton leading from Bottas, Verstappen, Vettel, Ricciardo and Magnussen sixth. For Williams Robert was running in 18th ahead of Giovinazzi with George last. Replays had shown Giovinazzi missing the first corner but Robert was able to get in front. Robert would drop away from 17th placed Raikkonen 3.4s after eight laps. Leclerc was now up to 12th having passed Grosjean but would make a mistake half spinning while trying to pass a Renault. Leclerc was dropping down the order with his right rear tyre destroyed damaging the floor of his car as he tried to get back to his pit. Leclerc would get back and he would get a tyre change to hard tyres. but would be lapped as a result. Hulkenberg had also pitted taking on the hard as well with eleven laps completed.
A Safety car would be sent out as a result of debris on the track seeing drivers come in including George who would switch to the hard tyre. Bottas and Verstappen would pit changing to the hard tyre but there would be an unsafe release for Verstappen coming out and making contact with Bottas. Robert was now running in 15th but was still on the medium tyre. As a result of the pit lane contact Bottas would pit again coming back out on the hard tyre. Hamilton had also pitted taking on the medium tyre joined by Vettel who was on the hard tyre. From fifth to twelfth none of these drivers had pitted. The order was Hamilton, Verstappen, Vettel, Bottas, Gasly, Sainz, Kvyat, Albon, Grosjean, and Norris tenth. Perez in 17th had also pitted taking on the hard tyre.

Lap fifteen and the Safety car would come back in but there would be a further incident seeing Giovinazzi making contact with Robert seeing him spin blocking the track. The cars following including George could not get past. But after short time they were able to get going but George was now in front of Robert with the pair now 17th and 18th. Leclerc would pit to retire with too much damage to his car. Robert would pit on lap twenty three taking on the hard tyre. He would return in 19th behind Giovinazzi. There were concerns as to whether Hamilton's medium tyres would last as those behind him were all on the hard tyre. The first of the soft tyres drivers would pit, that of Gasly, taking on the medium tyre. Gasly would drop to 9th. Sainz would pit on lap thirty two taking on the medium returning in ninth.
Kvyat would pit from fifth on lap thirty four also taking on new medium tyres. He would come out just behind Sainz in ninth. The Williams drivers were still running in 17th and 19th with thirty five laps completed. Stroll would pit from 11th seeing him drop to 18th ahead of Robert. George was now in 16th. Albon would pit from fifth coming back out in ninth running on the medium tyre. Grosjean was now in fifth followed by Gasly, Sainz, Kvyat, Albon and Norris tenth. Giovinazzi would pit seeing Robert now 18th and George 16th. Eleventh placed Raikkonen would pit dropping to 17th taking on medium tyres returning front of Robert. George was now in 16th with the leaders about to lap him. Bottas would be hindered by Stroll as he lapped him seeing him drop back from Vettel who was runningg in third
When he was lapped George would lose time and would drop away from Hulkenberg. George would have Stroll right behind but Stroll had been given a five second penalty as a result of an incident with Raikkonen. Even with this George was able to get the Racing Poi9nt driver behind him which was a good performance from the Williams driver. Grosjean would pit on lap fifty two taking on the medium tyre and would return in ninth. Lap sixty four and Hamilton was still leading defending his position despite struggling with the medium tyres.
The laps continued to count down with Hamilton still leading from Verstappen. The top four had all closed in onto each other with seventy two laps completed. Hamilton was able to keep Verstappen behind to the end of the race despite a moment at the chicane where Hamilton and Verstappen made contact as Verstappen tried for a pass seeing Hamilton forced to cut the chicane. Hamilton would go on to win the race with Vettel would finish second and Bottas third as a result of Verstappen's five second penalty. Verstappen would finish fourth followed by Gasly, Sainz, Kvyat, Albon, Grosjean, and Ricciardo tenth. For Williams they would see George finish 15th and Robert 18th. Again this was not the result that the team would want but both drivers had put in good drives to come home despite the issues with Robert been spun and George losing time from this. Both drivers had times in the race where they were able to race other drivers which was great work by all at Williams to see the signs of improvements or did it come down to the nature iof the Monaco track. It could also said that if it had not been for the contact with Robert the result's of the race could have been reversed for the Williams drivers.
View a Printer Friendly version of this Story.
Monaco GP: Enjoyable race for ROKiT Williams
Discussion started by Williams F1 , 28/05/2019 05:48
Williams F1
28/05/2019 05:48
What do you think? You can have your say by posting below.
If you do not already have an account
Click here to Register
.
Sorry, only registered users may post in this forum.