French GP: Race sees ROKiT Williams continue to struggle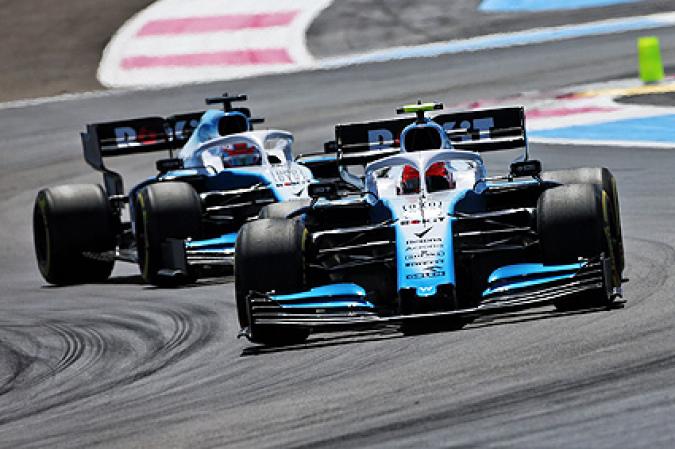 By Andrew Hooper
June 24 2019
The results of the 2019 French GP would again see the ROKiT Williams Team struggle with both drivers finishing last in the results. Robert Kubica would finish ahead of team-mate George Russell after George was forced to pit late in the race with damage to his front wing requiring a change. The race would see the Williams drivers conduct their won fight for position. Overall the race was a repeat of previous ones with the team still unable to match the pace of the rivals in front of them. Until the team can bring updates to the FW42 the situation is not going to change.
ROKiT Williams French Grand Prix Race Review
Qualifying for the 2019 French Grand Prix had seen the ROKiT Williams drivers finish slowest but with George Russell quicker than team-mate Robert Kubica. But with George receiving penalties due to the replacement of components in his engine and with other driver penalties Robert would start the race ahead of George in 18th while George would start from 20th. With Hamilton on pole followed by Bottas, Leclerc, Verstappen, Norris, Sainz, Vettel, Ricciardo, Gasly and Giovinazzi in tenth. Of the top ten only Gasly and Giovinazzi were on the soft tyre the rest the medium. Both Williams drivers were also on the medium tyre while on the hard was Raikkonen, Hulkenberg, Grosjean, Stroll, and Kvyat.

The parade lap would be completed and with the grid formed up for the fifty three lap French Grand Prix the lights would go out and it would be Hamilton leading from Bottas, Leclerc, Verstappen, Sainz and Norris. For Williams Robert had a good start and was running 17th. George was 20th but would pass Kvyat for 19th. Robert would have Grosjean close behind and he would pass the Williams seeing Robert and George in 18th and 19th. But Kvyat would get past both Williams to see them 19th and 20th with Robert leading George. The Williams drivers were running close together as they completed lap six.
At the front it was Hamilton still leading from Bottas, Leclerc, Verstappen, Vettel, Sainz, Norris, Gasly, Ricciardo, and Raikkonen tenth. Giovinazzi would pit on lap nine changing to hard tyre. He would be last behind Russell by 8sec. Perez in 12th will get a five second penalty for leaving the track and gaining an advantage. Giovinazzi would pass George for 19th seeing George now last. Giovinazzi would pass Robert seeing the Williams now 19th. But Magnussen would pit joined by Ricciardo with the pair taking on the hard tyre. Magnussen was back out and last behind George. Gasly would pit on lap 19 taking on the hard tyre returning in 15th. Lap twenty and Norris would pit joined by Perez. Both would take the hard tyre returning in 12th and 16th. Finally George would get past Robert releasing George who was 5.7s behind Giovinazzi.

Sainz would pit returning in 10th on the hard tyre. Verstappen would pit on lap twenty two switching to the hard tyre returning in fifth. Magnussen would pass Robert as Robert was lapped by the leader. George would also be lapped on lap twenty three by the leader. Leclerc had pitted taking on the hard tyre now running in fourth behind Vettel. Bottas would pit on lap twenty five taking the hard tyre. He would return in third behind Vettel. Hamilton would pit on lap twenty six retaining the lead from Vettel. Vettel would pit returning in fifth followed by Raikkonen, Hulkenberg, Stroll, Sainz, and Norris tenth. lap twenty nine and the Williams drivers were running in 19th and 20th with George leading Robert by 4.6sec.
Both Williams drivers would pit switching to the hard tyre retaining their last positions in the race. George would pit again on lap thirty seven taking on new medium tyres. He would also get a new front wing after having made contact earlier on in the race with a brake marker when he tried to pass Robert. Lap thirty eight and the order was Hamilton, Bottas, Leclerc, Verstappen, Vettel, Stroll, Sainz, Norris, Ricciardo and Raikkonen. Stroll had yet to pit running on very used hard tyres. Stroll would finally pit taking on the medium tyre returning in 13th with twelve laps remaining. Lap forty eight and both Williams drivers were now two lap down and Grosjean retired in the pits. Vettel would pit on lap fifty two taking on soft tyres looking to get the point for the fastest lap. He would return in fifth retaining this position. Norris would be passed by Ricciardo, Raikkonen and Hulkenberg seeing him drop to tenth.

Hamilton would go on to win from Bottas and a fast closing Leclerc in third. Verstappen was fourth followed by Vettel, Sainz, Ricciardo, Raikkonen, Hulkenberg and Norris tenth. Vettel would take away the fastest lap. For Williams they would finish 18th and 19th with Robert finishing ahead of George. A repeat of previous races so very little to either be excited or disappointed about. After the end of the race Ricciardo would receive a time penalty that would see the Renault driver drop to eleventh with Raikkonen seventh followed by Hulkenberg, Norris and Gasly in tenth.