British GP: ROKiT Williams completes memorable weekend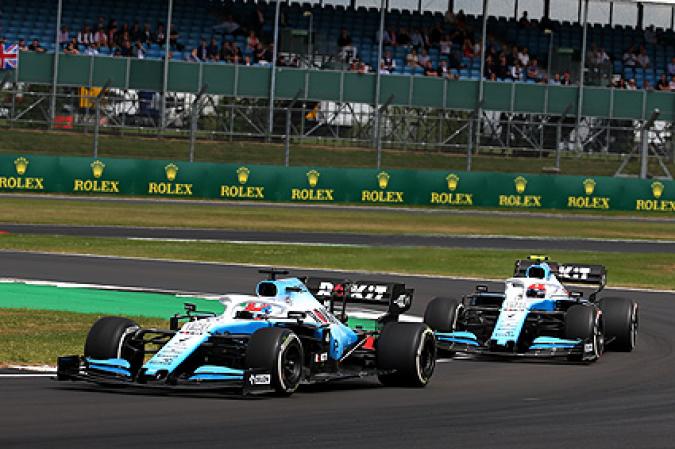 By Andrew Hooper
July 15 2019
The ROKiT Williams team would complete what was a memorable weekend for the team having celebrated the 50th anniversary of Frank Williams been at the head of the team that he started all those decades before. The team would complete the weekend with the drivers completing the 2019 British GP. George Russell and Robert Kubica would finish the race in 14th and 15th. The race would see them make up several positions prior to the race end but again it was a case of both drivers been well off the pace of the cars in front. But at the end of the day it really didn't seem to matter as what really mattered was seeing Frank Williams enjoy his 50th celebrations.
ROKiT Williams British Grand Prix Race Review
As in previous races the ROKiT Williams drivers would start the fifty two lap 2019 British Grand Prix from the last row on the grid. The pair would start the race on the medium tyre. Of the top ten the Mercedes and Red Bull cars would start on the medium tyre while the rest would be on soft tyres. On pole would be Bottas followed by Hamilton, Leclerc, Verstappen, Gasly, Vettel, Ricciardo, Norris, Albon and Hulkenberg. Of the rest of the field Giovinazzi, Raikkonen, Sainz, and Perez would be on the medium tyre and on the soft which included both Haas cars. On the grid the Red Bull team would be forced to change the rear wing end plates on Verstappen and Gasly's cars after an issue was found.

The formation lap would be completed and with the red lights going out it would be Bottas leading from Hamilton. Both Williams cars would get past the Haas cars of Grosjean and Magnussen. Grosjean would pit on lap three changing to the hard tyre. The Haas cars had made contact with each other as Magnussen also pitted taking on the hard tyre. Both Haas cars had rear punctures. Leclerc was third followed by Verstappen, Vettel, Gasly, Norris, Ricciardo, Hulkenberg and Albon tenth. Hamilton would pass Bottas but Bottas would repass going into Stowe. The two Mercedes would open a gap to the group behind led by Leclerc. Magnussen would pit to retire on lap nine. Verstappen would close in onto Leclerc while Vettel and Gasly had closed onto this pair. Bottas was still leading from Hamilton. Gasly would pass Vettel taking fifth but would pit on lap fourteen. He would take a set of hard tyres returning in tenth..
The Williams drivers were running in 17th and 18th as Kvyat also pitted taking on medium tyres. Leclerc and Verstappen would both pit with the pair taking on medium tyres with Verstappen able to get out just in front of Leclerc as they left the pits. But Leclerc was able to get back on front of Verstappen with the pair fourth and fifth. This indicated that drivers were taking on a two stop strategy. Stroll had also pitted taking on the hard tyre. He would be joined by Ricciardo, Norris, Albon, and Hulkenberg. All except for Hulkenberg had taken on the medium tyre while Hulkenberg was now on the hard. Russell was now running in 14th and Robert 16th. But Hulkenberg would pass George was Bottas pitted on lap eighteen to change to a medium tyre showing that they would also be on a two stop strategy.

Hamilton was now leading from Vettel, Bottas, Leclerc, Verstappen, Sainz, Gasly and Perez in eighth. Raikkonen would pit from ninth on lap nineteen taking on the hard tyre running in fifteenth. Perez would pit from eighth dropping to thirteenth. Giovinazzi would lose his car and take to the gravel seeing the Safety Car come out. Hamilton would pit taking on the hard tyre. Vettel would also come in taking on the hard tyre. Verstappen, Sainz and Raikkonen would also come in all taking the hard tyre. Robert would pit taking on the hard tyre. George would also pit on lap twenty three taking on the hard tyre.
The top ten was Hamilton from Bottas, Vettel, Gasly, Verstappen, Leclerc, Sainz, Norris, Albon and Hulkenberg. Albon would pass Norris with Ricciardo passing Hulkenberg. But Norris would get past Albon to be eighth. Ricciardo would pass Albon for ninth with twenty six laps completed. Perez would pit switching to the soft tyre after having made contact with Hulkenberg damaging his front wing. George and Robert were running in 15th and 16th. Lap thirty two and Hamilton was leading Bottas by 2.2s with Vettel still third. Verstappen would pass Vettel but under braking Vettel would run into the back of the Red Bull. Vettel would drop to 13th and would pit taking on a new front wing. Verstappen was able to return running in fifth. Norris had also pitted dropping to 13th and in the hard tyre.
This would see George and Robert running in 14th and 15th. Stroll would also pit taking on the soft tyre seeing George now 13th. But Stroll would get past again seeing the Williams drivers again 14th and 15th Bottas would pit on lap forty seven taking on the soft tyre and completing his two tyre runs. Lap forty six and the top ten was Hamilton, Bottas, Leclerc, Gasly, Verstappen. Sainz, Ricciardo, Raikkonen, Kvyat and Albon. Vettel would be given a ten second penalty for his part in the crash with Verstappen. Both Williams drivers would be lapped with forty eight laps completed. Robert would be passed by Vettel seeing him now 16th. The final laps of the race would be completed and it would be Hamilton who would take victory from Bottas and Leclerc. Gasly was fourth followed by Verstappen, Sainz, Ricciardo, Raikkonen, Kvyat and Hulkenberg in tenth. Hamilton would get the fastest lap ion the last lap of the race. For Williams George and Robert would finish in 14th and 16th. Regardless of the result it was a weekend to remember for the Williams Team and more importantly Frank Williams.