ROKiT Williams Barcelona Test 20:02:2020 Day Two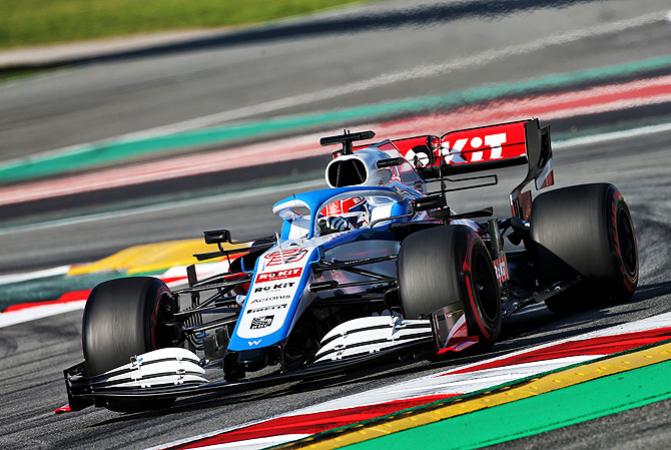 By Williams Racing
February 21 2020
The ROKiT Williams Team would complete the second day of their 2020 pre-season testing at the Barcelona circuit. This day would see George Russell carry out the driving duties with the morning focusing on aero assessments with the FW43 running with rakes for quite a large part of the morning session. The afternoon session would see George complete several runs evaluating new tyres. The team tried a range of things during the day some of which according to George were not that positive but he added that this is what winter testing is all about.
ROKiT Williams Barcelona Test 20:02:2020 Day Two
Drivers: George Russell
Chassis / Engine: FW43-01 / Mercedes-AMG F1 M11 EQ Performance
Location: Circuit de Barcelona-Catalunya, 4.655 km
Weather: Moderate and dry
Dave Robson, Senior Race Engineer: George drove the car today and took the opportunity to build on the work we undertook yesterday. We again started the day with aero work, constructing a programme based on yesterday's findings. Once the track reached a more useful temperature, we started our new tyre work concentrating on more aero development and some tyre compound comparisons. Over lunch we elected to take some time to make some more involved changes before completing a further series of new tyre runs in the afternoon. We also found some minor damage to the rear of the car, which needed repairing before we could start the afternoon programme. Running was hampered a little by the late red flag, but nonetheless we achieved almost everything we had intended to. The Barcelona track remains in very good condition and, with more good weather forecast for tomorrow, we look forward to continuing our meticulous testing programme when Nicholas will again return to driving duties.

George Russell: It was a productive day. We have tested a lot of aero items to understand if everything correlates in the wind tunnel and CFD. We spent this morning doing a lot of rake running, which is beneficial for the short term and productive in the long run. We had an issue over lunch which delayed our running this afternoon. Although everything did not go to plan, it was still productive, and this is what winter testing is all about. We will keep pushing to get the most out of these six days of testing.

In interviews after the day completed George commented: "It wasn't a perfect day to be hones as we had a bit of an issue which delayed our running this afternoon but I think it was definitely productive. We still need to analyse the data as we tried a lot of things mmmmm they weren't positive but I think that's a good thing that they weren't to understand the direction we need to go with the car. So this is what winter testing is all about and we need to keep on pushing.

We have loads of aero items to try and see if everything's correlating to the wind tunnel and CFD and how it working on the track. We did loads of rake running this morning but I don't have the results from yet but its very beneficial and its what is needed in these early days. So like I said it was the perfect day but it will be productive in the long run.

There is no way that we will be as far off the pace as we were last year. I still think realistically to have found last year on average we were one second behind and you can say the other teams have found at least three tenths so for us to be fighting we need to have found at least this amount so you know if we can achieve what we are aiming for then I think it will be a great job which tis to be fighting with other teams."
The FW43 returns to the track tomorrow in Barcelona with Nicholas Latifi in the car.
Pos. Driver 		Team 				Best Time Total Laps
1. K. Raikkonen 	Alfa Romeo Racing ORLEN 	1:17.091 	134 
2. S. Perez 		BWT Racing Point F1 Team 	1:17.347 	145 
3. D. Ricciardo 	Renault F1 Team 		1:17.749 	41 
4. A. Albon Aston 	Martin Red Bull Racing 		1:17.912 	134 
5. P. Gasly 		Scuderia AlphaTauri Honda 	1:18.121 	147 
6. S. Vettel 		Scuderia Ferrari Mission Winnow 1:18.154 	73 
7. G. Russell 		ROKiT Williams Racing 		1:18.266 	116 
8. C. Leclerc 		Scuderia Ferrari Mission Winnow 1:18.335 	49 
9. L. Hamilton 		Mercedes-AMG Petronas F1 Team 	1:18.387 	106 
10. L. Norris 		McLaren F1 Team 		1:18.474 	137 
11. R. Grosjean 	Haas F1 Team 			1:18.496 	158 
12. E. Ocon 		Renault F1 Team 		1:18.557 	52 
13. V. Bottas 		Mercedes-AMG Petronas F1 Team 	1:19.307 	77 
View a Printer Friendly version of this Story.
ROKiT Williams Barcelona Test 20:02:2020 Day Two
Discussion started by Williams F1 , 21/02/2020 00:46
Williams F1
21/02/2020 00:46
What do you think? You can have your say by posting below.
If you do not already have an account
Click here to Register
.
Sorry, only registered users may post in this forum.