ROKiT Williams Barcelona Test 28:02:2020 Day Three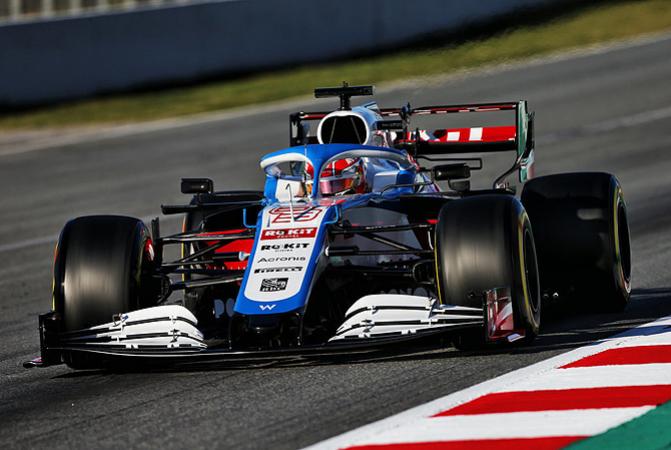 By Williams Racing
February 29 2020
The ROKiT Williams Team would complete their pre-season testing with George Russell in the car for the final day. It would follow a similar pattern to the of Nicholas Latifi the previous day with performance runs in the morning and race simulations in the afternoon. The team would pleased with their six days of testing despite losing time with some engine issues. Now the team will continue to work in the time leading up to the first race in Melbourne.
ROKiT Williams Barcelona Test 28:02:2020 Day Three
Drivers: George Russell
Chassis / Engine: FW43-01 / Mercedes-AMG F1 M11 EQ Performance
Location: Circuit de Barcelona-Catalunya, 4.655 km
Weather: Moderate and dry
Claire Williams, Deputy Team Principal: We have had a very busy time in Barcelona. Everyone in the team, here and at the factory, has done a fantastic job to ensure we managed to complete the majority of our planned programme. Unfortunately, some of our run plans were impacted by the number of engine reliability issues that materialised over the six days, and which primarily affected Nicholas's running, but we have every confidence that Mercedes HPP will resolve these prior to actually racing. Itís still early days, but the car certainly looks better than last yearís and thatís what we wanted to demonstrate, that we can make progress. We now have some time to go through all the data weíve gathered in order to make sure we have the optimum configuration going into Melbourne. We will continue to fight hard to bring continual improvement to the car and look forward to seeing it take to the track in Australia.
Dave Robson, Senior Race Engineer: Conditions for the final day of this seasonís winter testing were good with cool calm conditions this morning and light cloud cover during the afternoon. Following the rain yesterday morning, the track seemed to have recovered fully to be in very good condition. George was back in the car today and completed a programme like that of Nicholas yesterday. Performance running in the morning featured the softer compounds as we looked to finalise our setup testing. During the lunch break we conducted a full grid simulation before going into some longer high fuel runs using the harder compounds from the 2020 range. Like Nicholas yesterday, George enjoyed a productive day, refining his car setup and reacquainting himself with the vagaries of race tyre management. Overall, we have had a good winter testing period and have made the most of the six days available in this newly compressed format. We have completed in excess of 100 laps on all but one of the days, which has allowed us to complete almost everything that we intended.

George Russell: It was a productive day and we got in almost all the laps we wanted to. We had a good morning doing qualifying simulations and managed a race simulation in the afternoon. We got plenty of laps on the board and it was good preparation ahead of Australia. No doubt we are in a better position than last year, but weíre not going to get carried away. I am optimistic that we can go to Melbourne and be in the fight, but until we get there we wonít know for sure. From both myself and everyone at the team, we are going to go there and do our best to get everything out of the car.
Pos. Driver 		Team 				   Best Time Total Laps 
1. V. Bottas 		Mercedes-AMG Petronas F1 Team 	   1:16.196 	79 
2. M. Verstappen 	Aston Martin Red Bull Racing 	   1:16.269 	45 
3. D. Ricciardo 	Renault F1 Team 		   1:16.276 	65 
4. C. Leclerc 		Scuderia Ferrari Mission Winnow    1:16.360 	181 
5. L. Hamilton 		Mercedes-AMG Petronas F1 Team 	   1:16.410 	90 
6. E. Ocon 		Renault F1 Team 		   1:16.433 	75 
7. S. Perez 		BWT Racing Point Formula One Team  1:16.634 	154 
8. C. Sainz 		McLaren F1 Team 		   1:16.820 	163 
9. G. Russell 		ROKiT Williams Racing 		   1:16.871 	146 
10. D. Kvyat 		Scuderia AlphaTauri Honda 	   1:16.914 	160 
11. R. Grosjean 	Haas F1 Team 			   1:17.037 	86
12. K. Raikkonen 	Alfa Romeo Racing ORLEN 	   1:17.415 	115 
13. K. Magnussen 	Haas F1 Team 			   1:17.495 	29 
14. A. Albon 		Aston Martin Red Bull Racing 	   1:17.803 	59
View a Printer Friendly version of this Story.
ROKiT Williams Barcelona Test 28:02:2020 Day Three
Discussion started by Williams F1 , 29/02/2020 08:11
Williams F1
29/02/2020 08:11
What do you think? You can have your say by posting below.
If you do not already have an account
Click here to Register
.
Well they have done all they can and carried it out like Williams of old so KUDOS.to everyone in the team.

The point is they do not have a leader or the brain power to get them back up where they belong.

We failed with Paddy but we STILL NEED A BIG CHANGE and get a quality TD and someone
to sit along side Claire and help guide he team. a partnership like Frank and Patrick.

We should at least see George have a few battles with a few other teams this year.

I am not sure George is the best at starting on the grid no idea about Nich.
also i am still not convinced the race pace of the car is that consistent yet or
the best it could be, it seems to use the tires a bit more than it should but that should get better?

As i said in the other thread if we could of pinched another .5 of a second out of this design we would of been right in the mix for some good races, good action and good points this year.

We did however just about match my 1:16:5 minimum target.



Edited 3 time(s). Last edit at 2020:02:29:11:41:57 by GPL.
5 tenths is a realistic goal for the development team. Last year, the gap was always too big
Sorry, only registered users may post in this forum.