Styrian GP: Fantastic qualifying result for Williams Racing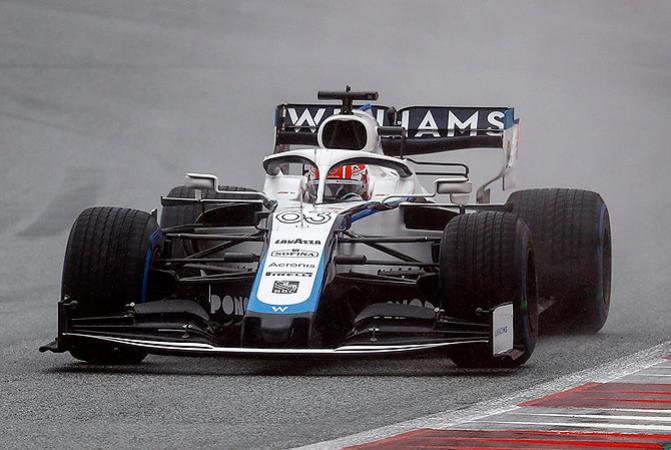 By Andrew Hooper
July 11 2020
Qualifying for the 2020 Styrian GP would see the Williams Racing Team produce a memorable result with George Russell finishing in a fantastic 12th. The session was run under very wet track conditions which saw all the drivers using the full wet weather tyre and with the start of the opening period both George and Nicholas Latifi would set competitive times but as the conditions improved Nicholas was hampered in his runs and could only manage 18th. But team-mate George was able to improve bringing himself into the second period. A result that was such an amazing performance from George. Unfortunalely he was not able to get past the second period but regardless the result was such a great one for the team.
Williams Racing Styrian GP Qualifying
Team Summary:
After a long delay due to poor conditions at the track after heavy rain the opening period of qualifying would get underway with all drivers on the full wet weather tyres. But ti was reported that the rain would again get heavier. There would be a queue at the pit exit as the period commenced. Verstappen would say he could not see a thing. Grosjean would take to the gravel but was able to continue. Times would start to be recorded with Vettel quickest with a 1m:24.235 followed by Giovinazzi and Leclerc. The Williams drivers had been near the front of the times with George fastest for a time. But the times would come down quickly with Leclerc fastest with a 1m:21.857 but Hamilton was quicker with a 1m:20.871.

The Williams drivers had dropped to fifteenth and sixteenth. Bottas was now quickest but Verstappen would improve with a 1m:20.621. It was all changing quickly with Hamilton again fastest with a 1m:19.664 only to see Bottas again ahead with a 1m:19.637. But Norris would go fastest with a 1m:19.128. Hamilton was again quickest with a 1m:19.081 but Sainz would go quickest with a 1m:18.741. The times were quickly coming down as Hamilton again went quickest with a 1m:18.188. Under three minutes to go and it was Hamilton from Norris and Sainz. The Williams drivers were 13th and 18th. Bottas was fourth with Verstappen fifth followed by Ricciardo and Ocon. Stroll was eighth followed by Vettel and Russell. With the end of the period the Williams drivers would finish in 12th and 18th. the top ten was Hamilton, Verstappen, Norris, Sainz, Bottas, Ricciardo, Ocon, Stroll, Kvyat, and Gasly. Vettel was 11th followed by George, Leclerc, Albon, and Magnussen.
The second period would see a Williams car running, which was a pleasing result for the team. Bottas would be quickest with a 1m:19.006 followed by Leclerc and Gasly. Verstappen was now second but it was changing rapidly, It was now Hamilton now fastest but Verstappen was now fastest with a 1m:18.155. He would improve with a 1m:17.938 followed by Hamilton and Bottas. Sainz was fourth followed by Ocon, Ricciardo, Norris, Albon, Gasly, and Vettel. Norris would move up to third as Hamilton went fastest with a 1m:17.825. Quite a few drivers would have their times deleted due to track limits. The rain would start to become heavier as the session drew to a close. The top ten would be Hamilton from Verstappen, Norris, Bottas, Gasly, Ocon, Sainz, Albon, Ricciardo and Vettel tenth.

The final period of qualifying would see the first runs completed and it would be Hamilton quickest with a 1m20.649 followed by Bottas, Albon, Verstappen, Ocon, Norris, Gasly, Sainz, Vettel and Ricciardo. Further runs and Verstappen would go quickest with a 1m:20.489 but Hamilton would again move ahead with a 1m:19.702. Bottas was third followed by Albon. The period would draw to a close with Hamilton remaining fastest from Verstappen and Ocon third. Sainz would improve to be third followed by Bottas, Ocon, Norris, Albon, Gasly, Ricciardo and Vettel. Hamilton was on pole by an amazing 1.2 seconds. But for Williams racing the session would see George finish in an amazing 12th while Nicholas was 18th. The Williams team certainly took the opportunity that the wet track offered with George really producing a memorable performance to make it into Q2.
George Russell:
George would come out a bit later behind the main group. George would set a 1m:24.031 to go fastest but would drop to fourth with Nicholas now third. He had set a 1m:24.031 to be seventh dropping to eighth. George would also drop well down the order but would improve with a 1m:22.177 to be 15th. He would pit taking on new wet tyres currently 16th. George would improve to be 12th with a 1m:21.203 dropping to 13th. George would improve with am1;20.382 to be ninth dropping to 12th. George would come out for the second period again on the full wet tyre. His first lap was a 1M:23.175 but he would improve with a 1m:20.474 but would drop to 14th. A 1m:20.016 would see him 13th. A 1m:19.636 from George would see him 12th as he pitted. He would return on another set of wets but was not able to improve his time ending his qualifying. Even so it was a fantastic result.
Nicholas Latifi:
Nicolas would get out first for Williams running on the full wet tyre. Nicholas would set a 1m:25.958 to currently be eighth. He would improve with a 1m:23.856 to be sixth. He would drop down the order to be 18th very quickly with nine minutes remaining. He would have a moment taking to the gravel. But he was able to continue to move into tenth with a 1m:21.971 dropping to 13th. He would pit after a seven lap run. He was quickly back out oon a new set of wet tyres. Nicholas was currently 15th dropping to 18th and out of qualifying.
View a Printer Friendly version of this Story.
Styrian GP: Fantastic qualifying result for Williams Racing
Discussion started by Williams F1 , 11/07/2020 16:48
Williams F1
11/07/2020 16:48
What do you think? You can have your say by posting below.
If you do not already have an account
Click here to Register
.
George is the real deal, future world champion. Terrific morale boosting performance for the whole team, and perhaps for us fans too. Well done to all, fingers crossed for a point or two today.
Sorry, only registered users may post in this forum.