British GP: Mixed qualifying for Williams Racing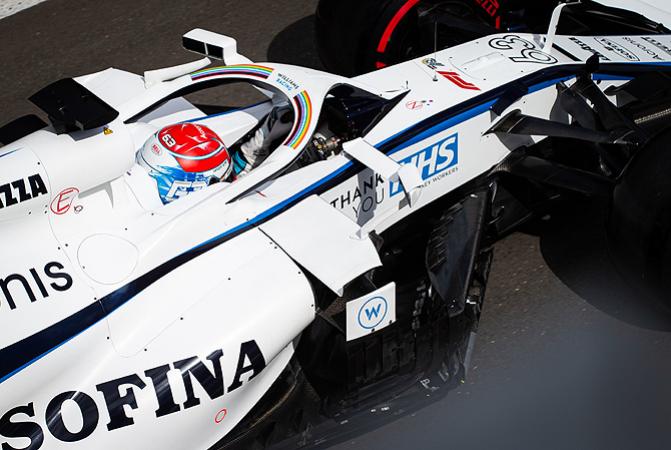 By Andrew Hooper
August 1 2020
Qualifying for the 2020 British GP would see the Williams Racing Team have a mixed session with one driver making it into the second period with George Russell while team-mate Nicholas Latifi would suffer a spin as he started his second soft tyre run in the opening period. George was able to run in the second period and would finish in 14th. Nicholas would finish in 20th. But for George there was an issue with him been called in front of the Race Stewards for possibly failing to slow for a yellow flag which had come out as a result of his team-mates spin. At the time of writing no announcement had been made about any possible penalty for Russell.
Williams Racing British GP Qualifying
Team Summary:
With the start of the opening eighteen minute period would see both Haas and Alfa Romeo cars out all on the soft tyre. the firs times would be set and Magnussen was quickest with a 1m:27.814 followed by Grosjean, Giovinazzi and Raikkonen. But Kvyat was now quickest with a 1m:26.819. Both Williams drivers were out om soft tyres. The whole field was out running all on soft's. Hulkenberg was second as Gasly went quickest with a 1m:26.657. Leclerc would not go quickest with a 1m:26.550. Bottas would go quickest with a 1m:26.092 now followed by Verstappen and Hamilton.

Hamilton was now in second ahead of Verstappen. Leclerc was fourth ahead of Stroll, Albon, Gasly, Kvyat, Sainz and Norris tenth. Everyone was back in their pits the question been who would come out for a second run. Drivers would start to return including both Williams drivers. Gasly was now fourth dropping to fifth. The period would end with George 13th and Nicholas 20th. But George would now have to wait as he was been investigated for possibly not slowing under a yellow flag..
The start of the second period would see a mix of tyres been sued with the quickest drivers on the medium. The only Williams was on the soft tyre. A 1m:26.580 from Albon on the medium tyre. But Verstappen would move ahead with a 1m:26.144. But Bottas would move ahead with a 1m:25.015. Hamilton would spin at Luffield seeing him take to the gravel bringing a lot of stones onto the track. A decision was made to red flag the period. The only Williams was currently 11th. Leclerc was now third followed by Ocon, Sainz, Norris, Vettel, Stroll, Albon and Hulkenberg tenth. The period would restart with Hamilton going out and was able to move up to second running on the medium tyre. He would pit seeing everyone come back out including the Williams. The top ten would be Bottas, Hamilton, Verstappen, Sainz, Leclerc, Ocon, Ricciardo, Norris, Vettel and Stroll tenth.

The final period of qualifying would see Hamilton secure pole from Bottas, Verstappen, Leclerc, Norris, Stroll, Sainz, Ricciardo, Ocon and Vettel tenth. It was announced that George would have to see the stewards in regard to the incident with the yellow flag. If he does get penalised this will result in a three place grid penalty. Overall the performance put in by George was impressive again making it into the second period. Nicholas still has his issues but one should not forget it is just his fourth F1 race meeting..
George Russell:
George would take to the track running on soft tyres. A 1m:27.566 from George to see him ninth but he would drop to 11th. This would be come 15th as others move ahead. But his next lap was a m1:27.074 to see him 13th dropping to 14th. This would become 15th as he pitted. he would return for a second soft tyre run. George would set a 1m:26.732 to be 11th dropping to 13th. George would now have to wait as he was been investigated for possibly not slowing under a yellow flag which came out as a result of his team-mates spin. George would say "I definitely backed off you can see on the throttle trace." George would start the second period running on teh soft tyre. His first time was a 1m:27.366 to be fifth but would drop to 10th. With the period restart George would see himself drop to 15th despite setting a 1m:27.092. This would see him start the race from 14th as Kvyat would be getting a five placed penalty from his 14th.
Nicholas Latifi:
Nicholas would also come out running on soft tyres. A 1m:27.897 to see him 12th dropping to 13th ahead of both Alfa Romeos. This would become 17th. But Nicholas would improve with a 1m:27.7005 to be 16th. he would pit currently 19th having completed five laps. He would also return for another second tyre run. But Nicholas would have a moment at Luffield seeing the car spin harmlessly but it would see him ruin his run. He would remain 20th and slowest..
View a Printer Friendly version of this Story.
British GP: Mixed qualifying for Williams Racing
Discussion started by Williams F1 , 01/08/2020 15:59
Williams F1
01/08/2020 15:59
What do you think? You can have your say by posting below.
If you do not already have an account
Click here to Register
.
Is Latifi driving a repainted FW42 because I can't understand how he's spinning so much in a car that handles a million times better than the 2019 one?
Sorry, only registered users may post in this forum.