Spanish GP: Qualifying disappointment for Williams Racing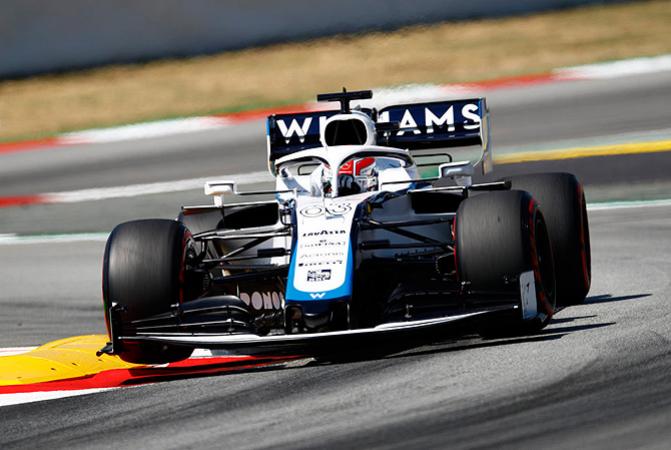 By Andrew Hooper
August 15 2020
Qualifying for the 2020 Spanish GP would see both Williams Racing drivers fail to make it past the opening period. George Russell would finish in 18th and Nicholas Latifi 19th. Despite making changes overnight the team failed to turn things around and both drivers would see their pace off from what they on paper thought was possible. But that has been the story for the whole weekend to this point. Barcelona is certainly proving to be a difficult track for the Williams team. But having said that the session would see thenm closer to the likes of Haas and Alfa Romeo.
Williams Racing Spanish GP Qualifying
Team Summary:
After three difficult practice sessions it was now down to qualfying for the Willimas Racing Team for the 2020 Spanish Grand Prix. Both Williams drivers were out very early having the track to themselves. The Williams drivers were first and second as they were the only drivers to set times with Nicholas quicker than George. Both would pit as we had a rush of drivers coming out. Both Williams drivers would return for their second runs. All twenty casr were out running as Hamilton went fastest with a1nm:17.037 with everyone on the softr tyre. Perez was second followed by Stroll. Both Williams drivers were on improved seciod runs and would finish in 15th and 19th. Bottas was now fourth followed by Verstappen, Sainz, Leclerc, Gasly, Ricciardo, and Albon tenth.
Everyone except for the racing Points were back out including both Williams. The Williams drivers would finish the period in 18th and 19th with the pair separated by 0.5s. Hamilton had improved to do a 1m:16.872 from Perez, Verstappen, Bottas, Leclerc, Stroll, Gasly, Albon, Sainz, and Vettel tenth. Again it was very much the cae that the Williams team was fighting with Haas and Alfa Romeo.

The second period would again see Hamilton fastest with a 1m:16.013 from Bottas, Verstappen, Sainz, Perez, Stroll, Norris, Albon, and Ricciardo tenth after the first runs. The second soft tyre runs would see the Mercedes pair and Verstappen remain in their pits with the final order for the top ten being Hamilton from Bottas, Verstappen, Stroll, Gasly, Sainz, Perez, Leclerc, Albon, and Norris tenth. The final period of qualifying would see Hamilton taking pole from Bottas, Verstappen, Perez, Stroll, Albon, Sainz, Norris, Leclerc and Gasly tenth. The result of qualifying for Williams Racing were pretty much as George had felt that they could have turned out with it been a difficult session. Sunday's race is going to be another tough time for the team but at least it would seem that they will be able to possibly run closer and compete with the likes of Haas and Alfa Romeo.
George Russell:
George was also out for his first timed run also on the soft tyre but his timed lap was slower than Nicholas as he could only manage a 1m:19.560. George would also pit returning quickly for second run on the soft tyre. George would set a 1m:18.099 to be 15th after his second run. This was a great lap to find so much time, a difference of 1.5s. George would also return for his final run in the period. George would drop to 16th and would fail to improve dropping to 18th. he would be out of qualifying after a great effort on his part.
Nicholas Latifi:
Nicholas would be first out for Williams in the opening period. He would be running on the soft tyre. Nicholas would finish his first lap with a 1m:19.231 to go quickest as he was the only driver to set a time. He would pit and return on a new set of soft tyres. Nicholas would improve with a 1m:18.937 to be 19th. Nicholas would return for a final run and would improve with a 1m:18.532 to be 19th. This would see his qualifying finish.
View a Printer Friendly version of this Story.
Spanish GP: Qualifying disappointment for Williams Racing
Discussion started by Williams F1 , 15/08/2020 15:19
Williams F1
15/08/2020 15:19
What do you think? You can have your say by posting below.
If you do not already have an account
Click here to Register
.
Sorry, only registered users may post in this forum.