For Sure Championship: Stunning Button effort, Massa leads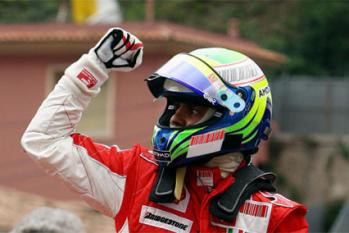 By Phil Huff
May 10 2009
It's all change in the RealBrawnGP.com For Sure Championship 2009, although it's still Felipe Massa leading the charge. Brawn GP's Rubens Barrichello has dropped from seventh to 10th overall, saying 'for sure' an average of just 0.4 times per press conference.
However, team mate Jenson Button has overtaken Lewis Hamilton to take second place, following an incredible effort in Spain - he managed to not only utter 'for sure' five times in one press conference, but a stunning three times in a single answer.
Lewis Hamilton attempted to improve his position by inventing a new phrase of 'for course', but did not realise that only comments in official FIA press conferences count towards the championship. You can view is attempt here, at around the 1m55s mark.
Mark Webber continues to disappoint, failing to mention 'for sure' at all, despite having five opportunities to do so. He clearly fails to recognise the importance of the championship, and is doing nothing but disappointing his legions of fans with his frankly lamentable performance.
Elsewhere, all is not a pleasant as it should be, with some parties suggesting that Massa's continued dominance of the championship is bad for the sport.
"This is clearly further evidence that the FIA are trying to rig the competition in favour of a Ferrari driver," commented F1 language consultant Elaine Conedoff. "It's also quite clear that, with Kimi Raikkonen managing just half Massa's average, Ferrari aren't ensuring Kimi remains competitive."
It's understood that Ferrari are organising immediate press conference simulations at Fiorano, while Luca di Montezemolo has instructed the team to work on multiple strategies to allow Raikkonen to deploy an optimum number of 'for sure's' at each GP weekend.
F1's language standards adjudicator, Major Nameup, remains displeased with developments thus far. "Despite a crackdown on the use of 'for sure', we are concerned that each driver is still insisting on using the phrase. Jenson Button, with his latest effort, is getting perilously close to a ban, or at least a copy of a thesaurus. This cannot continue as it is but, at the end of the day, I turn off the lights."
FIA Formula One Drivers World Championship 2009

Pos
Driver
Team
Events
For Sure
FS/Ev*
1
Massa
Ferrari
1
4
4.00
2
Button
Brawn GP
10
27
2.70
3
Hamilton
McLaren
3
8
2.67
4
Raikkonen
Ferrari
2
4
2.00
5
Alonso
Renault
3
4
1.33
6
Buemi
Toro Rosso
1
1
1.00
-
Piquet
Renault
1
1
1.00
8
Heidfeld
BMW Sauber
2
1
0.50
-
Kubica
BMW Sauber
2
1
0.50
10
Barrichello
Brawn GP
5
2
0.40
11
Vettel
Red Bull
9
3
0.33
12
Trulli
Toyota
5
1
0.20
13
Bourdais
Toro Rosso
1
0
0.00
-
Fisichella
Force India
1
0
0.00
-
Kovalainen
McLaren
1
0
0.00
-
Nakajima
Williams
1
0
0.00
-
Rosberg
Williams
1
0
0.00
18
Glock
Toyota
3
0
0.00
19
Webber
Red Bull
5
0
0.00
20
Sutil
Force India
-
-
-.--
* The RealBrawnGP.com For Sure Championship monitors the official FIA press conferences. The Thursday, Friday, Qualifying and Race conferences from each Grand Prix weekend are counted, but only for driver appearances. An 'event' is defined as one such press conference, and the total usage of 'for sure' over the season will be divided by the total number of events a driver has participated in to produce a For Sure per Event figure. In the event of a draw, the driver with the least 'events' will take the lead, they having been given fewer opportunities to use the vital phrase.