Chris Walker joins Rizla Suzuki for BSB 2007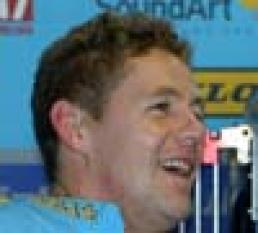 Raceline Photography
By blue2bikes
October 28 2006
Not surprisingly, it has now been officially announced that Chris Walker has signed a contract with Rizla Suzuki for 2007, to compete in the British Superbike series alongside Cal Crutchlow. After Chris' outstanding race win at the Race of Champions as previously reported, Chris was really the best choice adding experience to the team alongside his much younger team-mate - which will almost undoubtedly strengthen the team for their attack at regaining the British Championship after a disappointing season, with James Haydon through injury, and Shane Byrne with bike failures and not having had enough pre-season practice time on the Rizla Suzuki prior to racing.

Talking to Chris on press day at the National Exhibition Motorcycle show, he said, "I am really looking forward to competing in my home series once again, especially aboard the Rizla Suzuki. It's a fast machine, in fact it is a lot faster than the Kawasaki which I rode in the World Superbike series, and can't wait to get to Valencia to get some real test and set-up time aboard the bike.

I think everyone knew how much I wanted to ride, and it was number one on my list and I can't thank Rizla Suzuki and the whole team for this opportunity to compete in the British Superbike Championship once again. I have watched the series over the past couple of years, and the competition is fierce and of extremely high quality - the task before us is immense."

Chris has never won our home series, and has finished in second place on four occasions, and he is certainly in the mood for his return to racing at home. His fans have long awaited his return, and he will certainly be cheered on by everyone if the Race of Champions is anything to go by, with his fans cheering his every move.

At the National Exhibition Motorcycle Show, being held this week, Chris has been inundated with fans hardly giving him a chance to get his breath, wishing him well for next year. His will to win is still very strong, and I feel sure he won't disappoint when the series restarts on Easter weekend 2007.

Other news from the British Superbike series is that Jay Vincent has decided to give up racing after a great career spanning 18 years, and at 32 years of age has decided that it would be better to retire now than to go on and suffer injuries. Jay will be missed from the paddock, but he hopes to continue his connections with racing, so it's a matter of watch this space for future news of Jay.

Leon Haslam has won the MCN 'man of the year' award as voted for by the readers. Leon said, "I am over the moon at receiving this award, and knowing that it has been voted for by the fans makes it even more special. The reception I got from the fans at Brands Hatch was amazing, and I am really grateful to them for their support. Winning this award makes up for me not winning the title, but it also makes me want to want it even more next year."

Does the statement above mean that he is going to return to the British Championship series, or go on to pastures new? Who knows, but I would suspect that wherever he goes he will certainly be a crowd pleaser. Having said that, with Chris and Leon in the British championship what a series that would turn out to be!