Entry information for World Superbike 2007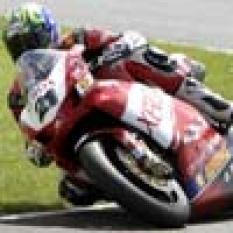 Raceline Photography
By blue2bikes
February 8 2007
The full listings for the forthcoming World Superbike series have been announced, along with all the teams and riders for each race throughout the series - although some places are as yet to be announced, the grid is full for the major championship race.
Present World Champion Troy Bayliss has elected to stay with his number 21 plate, as opposed to the traditional number 1 plate. Troy left the last test session early (held at Phillip Island, Australia) after setting a blistering pace - setting a new unofficial record lap time, and beating his previous Superpole record by 1.5 seconds.

© Raceline Photography
Dean Ellison who is in his first season in the series (after competing in the British Superbike series) aboard a 999RS Ducati with Team Pedercini, will have his work cut out when competing at the European and world circuits, but will have a good chance of getting some top positions when competing at the three circuits earmarked in the UK - namely Donington Park, Silverstone and Brands Hatch.
Craig Jones, who had his first rookie season in the Superbike class aboard the Foggy Petronas bike during 2006, has now stepped down to the Supersport class aboard a Honda - a bike he is more than familiar with as he competed in the 600cc Supersports class for Ekerold in the British series during 2005 - although it is stated that he is riding for Ekerold Honda Racing this has a yet to be confirmed by Ekerold.
Craig wowed the crowds aboard the 600cc Supersports machine throughout 2005 in the British series, and should be in with a good chance of at least attending the steps of the podium throughout this year.
With the thrilling end to the season last year, this year is looking like it could be one of the best years for the World Superbike series. Even though Troy Bayliss dominated the test sessions, there is nothing to state that Noriyuki Haga and former champions James Toseland and Troy Corser should not be at the front challenging - along with Max Biaggi, Yukio Kagayama to name just a few.
Alfa Romeo will sponsor the WSBK, along with sponsoring of the Ducati Corse Team. The first race in the series is just a few weeks away, starting on 24th February at Qatar Doha/Losail, with the third race of the series returning to Donington Park on 1st April 2007.
2007 Entry List: SBK Superbike World Championship
The permanent entry list for the 2007 SBK Superbike World Championship has been announced by the FIM:
3 Max Biaggi ITA, Team Alstare Suzuki Corona Extra, GSX-R1000 K7
71 Yukio Kagayama JAP, Team Alstare Suzuki Corona Extra, GSX-R1000 K7
10 Fonsi Nieto ESP, PSG-1 Kawasaki Corse, ZX-10R
55 Régis Laconi FRA, PSG-1 Kawasaki Corse, ZX-10R
11 Troy Corser AUS, Yamaha Motor Italia, YZF-R1
41 Noriyuki Haga JAP, Yamaha Motor Italia, YZF-R1
21 Troy Bayliss AUS, Ducati Xerox Team, 999 F07
57 Lorenzo Lanzi ITA, Ducati Xerox Team, 999 F07
25 Joshua Brookes AUS, Alto Evolution Honda, CBR 1000RR
31 Karl Muggeridge AUS, Alto Evolution Honda, CBR 1000RR
36 Jiri Drazdak CSK, Yamaha Jr. Pro SBK Racing, YZF-R1
38 Shin'ichi Nakatomi JAP, Yamaha YZF, YZF-R1
TBA Yamaha YZF, YZF-R1
42 Dean Ellison ENG, Team Pedercini, Ducati 999 RS
TBA Team Pedercini, Ducati 999 RS
44 Roberto Rolfo ITA, Ten Kate Honda Team, CBR 1000RR
52 James Toseland ENG, Ten Kate Honda Team, CBR 1000RR
53 Alessandro Polita ITA, Celani Team Suzuki Italia, GSX-R1000 K6
73 Christian Zaiser AUT, LBR Racing Team, MV Agusta
76 Max Neukirchner BRD, Suzuki Germany, GSX-R1000 K6
84 Michel Fabrizio ITA, D.F.X. Treme, Honda CBR 1000RR
99 Steve Martin AUS, D.F.X. Treme, Honda CBR 1000RR
111 Rubén Xaus ESP, Team Sterilgarda, Ducati 999 F06
2007 Entry List: Supersport World Championship
The permanent entry list for the 2007 Supersport World Championship has been announced by the FIM:
4 Lorenzo Alfonsi ITA, Althea Honda Team, CBR 600RR
21 Katsuaki Fujiwara JAP, Althea Honda Team, CBR 600RR
7 Pere Riba ESP, Team Gil Motor Sport, Kawasaki ZX-6RR
9 Fabien Foret FRA, Team Gil Motor Sport, Kawasaki ZX-6RR
8 Chris Peris CAN, Yamaha-MOTO1, YZF-R6
11 Kevin Curtain AUS, Yamaha SSP Racing, YZF-R6
23 Broc Parkes AUS, Yamaha SSP Racing, YZF-R6
12 Javier Fores ESP, HP Racing, Honda CBR 600RR
16 Sébastien Charpentier FRA, Ten Kate Honda Team, CBR 600RR
54 Kenan Sofuoglu TUR, Ten Kate Honda Team, CBR 600RR
17 Miguel Praia POR, Team Parkalgar, Honda CBR 600RR
116 Simone Sanna ITA, Team Parkalgar, Honda CBR 600RR
18 Craig Jones ENG, Ekerold Honda Racing, CBR 600RR
25 Tatu Lauslehto FIN, Intermoto Czech Klaffi, Honda CBR 600RR
37 William de Angelis RSM, Intermoto Czech Klaffi, Honda CBR 600RR
26 Joan Lascorz ESP, Glaner Motocard.com, Honda CBR 600RR
31 Vesa Kallio FIN, Team Hoegee Suzuki, GSX600R
77 Barry Veneman NED, Team Hoegee Suzuki, GSX600R
32 Yoann Tiberio FRA, Stiggy Motorsport Honda, CBR 600RR
127 Robbin Harms DAN, Stiggy Motorsport Honda, CBR 600RR
34 Davide Giuliano ITA, Lightspeed Kawasaki supported, ZX-6RR
35 Gilles Boccolini ITA, Team PMS Corse, Kawasaki ZX-6RR
38 Grégory Leblanc FRA, Vazy Racing Team, Honda CBR 600RR
39 David Forner García ESP, Yamaha Spain, YZF-R6
44 David Salom Fuentes ESP, Yamaha Spain, YZF-R6
45 Gianluca Vizziello ITA, RG Team, Yamaha YZF-R6
46 Jesco Gunther BRD, CRS Grand Prix, Honda CBR 600RR
55 Massimo Roccoli ITA, Yamaha Team Italia, YZF-R6
60 Vladimir Ivanov RUS, Vector Racing Team, Yamaha YZF-R6
69 Gianluca Nannelli ITA, Team Caracchi SC, Ducati 749 R
73 Yves Polzer AUT, LBR Ducati Racing, 749 R
94 David Checa ESP, Yamaha-GMT 94, YZF-R6
194 Sébastien Gimbert FRA, Yamaha-GMT 94, YZF-R6
96 Nikola Milovanovic SVE, Benjan Motoren, Honda CBR 600RR
121 Arnaud Vincent FRA, Millet Racing, Yamaha YZF-R6
169 Julien Enjolras FRA, Tati Team Beaujolais Racing, Yamaha YZF-R6
2007 Entry List: Superstock 1000 FIM Cup
The permanent entry list for the 2007 Superstock 1000 FIM Cup has been announced by the FIM:
3 Mark Aitchison AUS, Celani Team Suzuki Italia, GSX-R1000 K6
37 Raffaele Felice ITA, Celani Team Suzuki Italia, GSX-R1000 K6
4 Napoleone Loic FRA, EVR Corse, MV Agusta
5 Bram Appelo NED, EAB Ten Kate Racing Team, Honda CBR 1000RR
10 Franck Millet ITA, Biassono Racing Team, MV Agusta
86 Ayrton Badovini ITA, Biassono Racing Team, MV Agusta
11 Dennis Sacchetti ITA, Gimotorsport, MV Agusta
99 Danilo dell'Omo ITA, Gimotorsport, MV Agusta
13 Viktor Kispataki MAG, Full-Gas Racing Team, Suzuki GSX-R1000 K6
34 Balazs Nemeth MAG, Full-Gas Racing Team, Suzuki GSX-R1000 K6
14 Lorenzo Baroni ITA, Team Sterilgarda, Ducati 1098S
29 Niccolo Rosso ITA, Team Sterilgarda, Ducati 1098S
15 Matteo Baiocco ITA, Umbria Bkie, Yamaha YZF-R1
16 Raymond Schouten NED, Some Racing, Yamaha YZF-R1
24 Rene Mahr BRD, Some Racing, Yamaha YZF-R1
18 Matt Bond GBR, Mist Suzuki, GSX-R1000 K6
19 Xavier Simeon BEL, Team Alstare Suzuki Corona Extra, GSX-R1000 K6
21 Wim van den Broeck BEL, Team Zone Rouge, Yamaha YZF-R1
55 Olivier Depoorter BEL, Team Zone Rouge, Yamaha YZF-R1
24 Marko Jerman SLO, DBR Racing Team, Suzuki GSX-R1000 K6
39 David Perret FRA, DBR Racing Team, Suzuki GSX-R1000 K6
25 Dario Giusepetti BRD, MGM Racing-performance, Yamaha YZF-R1
88 Timo Gieseler BRD, MGM Racing-performance, Yamaha YZF-R1
27 Nicky Moore USA, Team Pedercini, Ducati 1098S
32 Sheridan Morais RSA, Team Pedercini, Ducati 1098S
33 Marko Rohtlaan EST, Azione Corse, Honda CBR 1000RR
42 Leonardo Biliotti Leuthe BRD, Billi.ssimi Race, MV Agusta
49 Arne Tode BRD, Racing Dirk Van Mol, Honda CBR 1000RR
51 Michele Pirro ITA, Team Lorenzini by Leoni, Yamaha YZF-R1
71 Claudio Corti ITA, Team Lorenzini by Leoni, Yamaha YZF-R1
56 Daniel Sutter SUI, Peko Racing, Yamaha YZF-R1
57 Ilario Dionisi ITA, Team Cruciani Moto Suzuki Italia, GSX-R1000 K6
59 Nicolo Canepa ITA, Ducati Xerox Junior Team, 1098S
155 Brendan Roberts AUS, Ducati Xerox Junior Team, 1098S
75 Luka Nedog SLO, Team Ducati SC Caracchi, 1098S
77 Barry Burrel GBR, MS Racing, Honda CBR 1000RR
96 Matej Smrz CSK, MS Racing, Honda CBR 1000RR
83 Didier Van Keymeulen BEL, TTSL-MGM Racing, Yamaha YZF-R1
2007 Entry List: Superstock 600 European Championship
The permanent entry list for the 2007 Superstock 600 European Championship has been announced by the FIM:
4 Mathieu Gines FRA, MOTO 1, Yamaha YZF-R6
7 Renato Constantini ITA, Team Italia Megabike AX # 52, Honda CBR 600RR
8 Andrea Antonelli ITA, Team Italia Megabike AX # 52, Honda CBR 600RR
10 Leon Hunt GBR, CRS Grand Prix, Honda CBR 600RR
11 Ashley Carlucci ITA, Lightspeed Kawasaki Supported, ZX-6RR
12 Angelo Colitti ITA, Lightspeed Kawasaki Supported, ZX-6RR
18 Daniel Brill GBR, Mist Suzuki, GSX600R
20 Sylvain Barrier FRA, Coutelle Junior Team, Yamaha YZF-R6
21 Maxime Berger FRA, Team Trasimeno, Yamaha YZF-R6
22 Gabriele Poma ITA, Team Trasimeno, Yamaha YZF-R6
24 Daniele Beretta ITA, Team Cruciani Moto Suzuki Italia, GSX600R
30 Michael Savary SUI, Millet Honda Racing, Yamaha YZF-R6
31 Giuseppe Barone ITA, Team Rumi Azione Corse, Honda CBR 600RR
43 Daniele Rossi ITA, Team Rumi Azione Corse, Honda CBR 600RR
34 Yannick Guerra ESP, Holiday Gym SBK, Yamaha YZF-R6
35 Radostin Todorov BUL, Team Bulgaria, Yamaha YZF-R6
41 Gregory Junod SUI, Team O-SIX, Kawasaki ZX-6RR
44 Gino Rea GBR, Beowulf-Racing.com, Suzuki GSX600R
47 Eddi Lamarra ITA, Team Lorini, Honda CBR 600RR
48 Vladimir Leonov RUS, Vector Racing, Yamaha YZF-R6
55 Vincent Lonbois BEL, MTM Racing, Suzuki GSX600R
57 Kenny Tirsgaard DAN, TKR Suzuki Switzerland, GSX600R
64 Francesc Gamell Castillo ESP, Yamaha Spain, YZF-R6
112 Josep Pedro Subirats ESP, Yamaha Spain, YZF-R6
66 Branco Srdanov NED, MQP Racing Team, Yamaha YZF-R6
99 Roy ten Napel NED, MQP Racing Team, Yamaha YZF-R6
69 Ondrej Jezek CSK, Gold Fren Team Erinac, Kawasaki ZX-6RR
75 Dennis Sigloch SUI, Peko Racing Team, Yamaha YZF-R6
81 Patrick Vostarek CSK, Intermoto Czech Klaffi, Honda CBR 600RR
89 Domenico Colucci ITA, Ducati Xerox Junior Team, 749 R
111 Michal Sembera CSK, EAB Ten Kate Racing, Honda CBR 600RR
114 Nicolas Pirot BEL, Team Zone Rouge, Yamaha YZF-R6
119 Michele Magnoni ITA, Bevilacqua Corse, Yamaha YZF-R6
199 Gregg Black GBR, Politas Racing Team, Yamaha YZF-R6