World Supersport podium and points for Craig Jones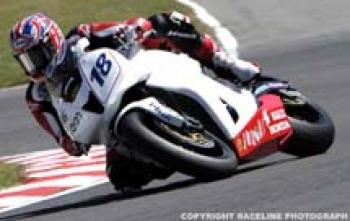 © Raceline Photography
By blue2bikes
October 2 2007
British rider Craig Jones finally got the result he has been fighting for all season during Sunday's World Supersport race, taking place in Vallelunga, Italy. Having taken pole position for the race, it was to be Craig's best performance of the 2007 season, and of his World Supersport career to date.
Having fallen out of contention whilst leading the race during the last home round at Brands Hatch, on 5th August, and sustaining a cracked pelvis; Craig took a very creditable fifth place at the Eurospeedway Lausitz in Germany, on 9th September.
Having had three weeks to regain his fitness levels, Craig went all out to show he was still a force to be reckoned with, and was just as hungry for a win. Aboard his Reve Ekerold 600cc Honda, Craig not only got the better of former World Champion Sébastien Charpentier at the start of the race, but also of the newly crowned champion Kenan Sofuoglu, and sprinted away from the following pack.
As the racing settled down into its rhythm, Craig was being reeled in by Sofuoglu, who managed to catch Craig and take the lead. Craig retook the lead just as the red flag was displayed, due to a crash leaving débris and oil on the track. The red flag incident meant that the results would be taken from the preceding lap, which meant that Craig would lose first place and be relegated to second behind Sofuoglu.
Craig was gutted by this decision, but said later that he was happy to have shown that he can indeed run at the front - and his bad luck has now passed. Craig also stated that he wishes to stay in the World Supersport series, and talks have been going on for some time now as to his future, which he will make known as soon as he can.
The final round of the series takes place at Magny-Cours in France, on 7th October.
Top ten positions are as follows:
1 Kenan Sofuoglu TUR 251
2 Fabien Foret FRA 128
3 Broc Parkes AUS 113
4 Katsuaki Fujiwara JAP 93
5 Massimo Roccoli ITA 84
6 Robbin Harms DAN 83
7 Craig Jones ENG 78
8 Barry Veneman NED 70
9 Anthony West AUS 66
10 Sébastien Charpentier FRA 51